Der Rosenkavalier, Glyndebourne |

reviews, news & interviews
Der Rosenkavalier, Glyndebourne
Der Rosenkavalier, Glyndebourne
Richard Jones finds new order in Strauss and Hofmannsthal's rococo comedy for music
What spontaneous use might a silver rose take on after its formal presentation by a chubby cherub of a cavalier to a bartered bride-to-be? This and a thousand other score-co-ordinated details are things you never can predict in the hands of that chameleonic yet rigorous director Richard Jones. He throws out most of the meticulous stage directions in Hugo von Hofmannsthal's rococo libretto for Richard Strauss and finds his own. You may not like them – I mostly did – but you can't say that this isn't quality work in tandem with a team of near-ideal Glyndebourne singers and beautifully if often unobtrusively paced conducting of the London Philharmonic Orchestra by Robin Ticciati.
Jones gets you thinking, as always, about the myriad implications of a musical fantasia composed in 1910, looking back to the 1740s and perfectly capable of taking on 1930s film references (Marlene Dietrich as Catherine the Great is one of many striking templates). Much of the strictly choreographed action, with input from Sarah Fahie and performers in straight lines downstage, is counterintuitive to the naturalism Hofmannsthal had in mind, but it works if you let it.The re-imaginings are sometimes dark, always done with the light touch recommended by the opera's principal character, the 30-something Marschallin with her consciousness of passing time. (Pictured below, Kate Royal's Marschallin with Tara Erraught as Octavian playing maid Mariandel.)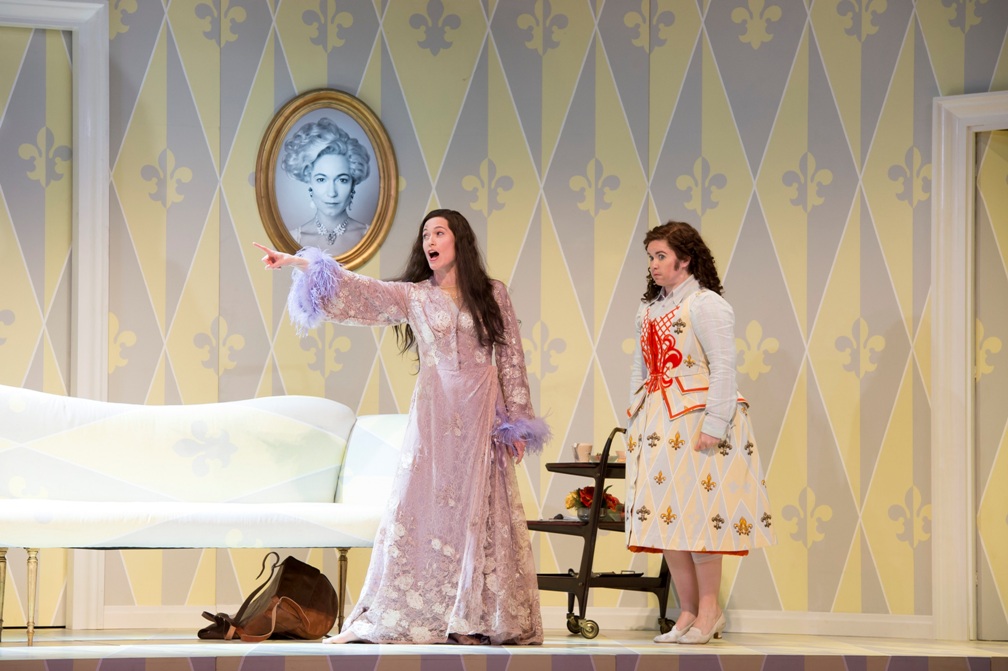 Let's start with the stage coup that sets up her soliloquy on that theme, extracting a general meditation on instability from the prospect of a middle-aged man marrying a young girl for money and her own situation as the lover of a teenage boy. She's not alone; a bald, bespectacled, bearded gentleman with a notebook materializes at the back of the room. The minute she lies down on the long couch, we get the reference. There are ripples of knowing mirth in the audience, but only for a few seconds while the chamber orchestra sets up its "once upon a time" framework. As Kate Royal, unpredictably poised and diamantine as the opera's heart and soul once the fluttery vibrato settles, launches into her meditation on how this young girl doomed to a churlish older man is just like her younger self, we listen. You can hear a pin drop in the silences Ticciati judges so well, and time stands still with her monologue on stopping all the clocks, as it has the minute she's observed that her hairdresser has "made an old woman" out of her.
What women are made of by men is a crucial theme of the opera, even if Strauss and Hofmannsthal's pre-feminist stance never allows the social straitjacket to be loosened. The Marschallin first appears stark naked under a shower, Venus Anodyomine – the first surprise, no bed onstage for the sex scene of the orchestral prelude, where the only rumpled sheets on the first night were in the orchestra, soon smoothed as Ticciati got the players under flexible control. Our gracious lady's styles are dictated by an accordion-card of fashion plates, deliciously mirrored (all is symmetry in a Jones production) by the semi-clad girlie pictures unfolded by Baron Ochs's lunkish retinue to the climax of the famous Act Two waltz. Sophie, the horse at a dealers' fair, is made to stand on a table while bids are placed; did the Marschallin realize that sending her own lover was the girl's only chance of escape?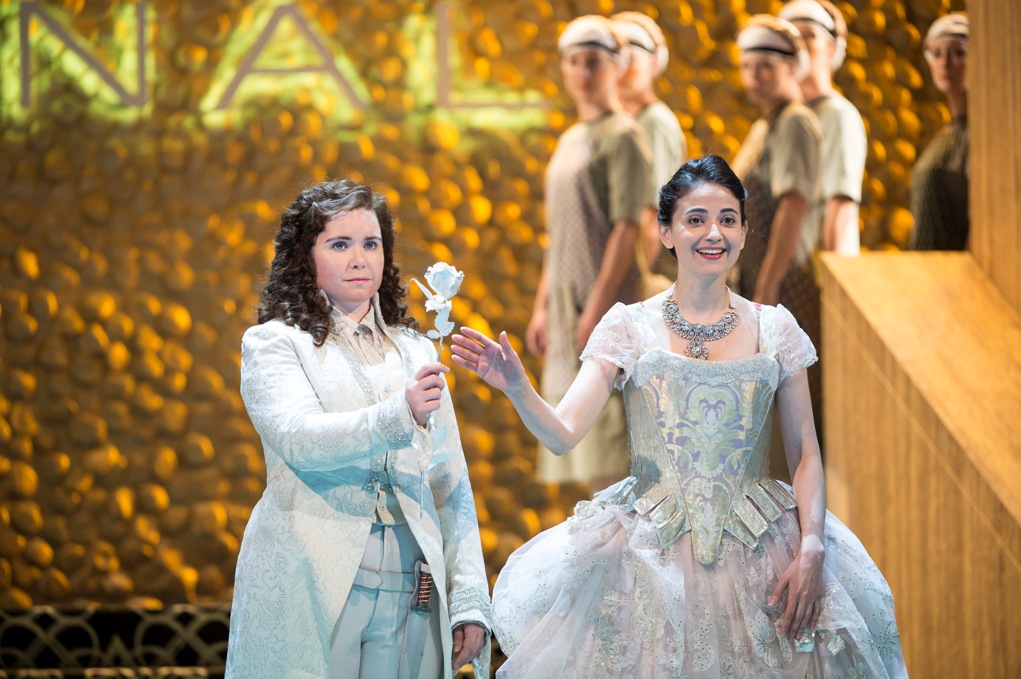 There are no boring bits, which may delight the many folk who dread the Act Three masquerade in a louche tavern. Jones is the master of making sticky operatic moments work, as his party scene for Tchaikovsky's Queen of Spades spookily proved. This is inspired, too, and it made me cry with laughter. Mimi Jordan Sherin's lighting, the Dayglo designs of Paul Steinberg, and Nicky Gillibrand's hybrid costumes do their genius work setting up the Baron's discomfiture as the hired helps do weird routines and a noose drops from the triangular ceiling. There are three doors, too – all we need to set up a climactic trio which Jones leaves well alone, other than a sudden look from the older woman to the younger. After it, Sophie goes to follow the Marschallin as if magnetized, then Octavian does the same. The most wrenching moment in the final scene belongs not to the renunciatory Marschallin but to Sophie, as she crumples in despair at the thought that her new love has just walked out of the door for good.
Do we believe in Tara Erraught's naughty, dimpled little Cupid as the 17-year-old lover of the experienced Marschallin? Not really, though that may be part of the intended weirdness, and her vocal ardour, if often pressed to sharpness, is informed by meaningful physical gestures at each point (everyone knows how to lead, and be led by, their hands). What a funny, lovable mug, too. She/he is utterly convincing when lovestruck at first sight by a spirited virgin in Act Two (pictured above with Teodora Gheorghiu's Sophie). The scenes between the rosebearer and his circumscribed object of desire (Gheorghiu, perfectly spirited if vocally a little pale at times) are among the best, beautifully detailed as their second duet gives way to the apprehension by intriguers Valzacchi (Christopher Gillett) and Annina (Helene Schneiderman, wonderfully weird in the letter scene and when she apes a discarded peasant "wife").
Lars Woldt's Ochs is riveting and original: not repulsive, as he too often can be, but genuinely funny, uncouth and Bunterish in his Austrian country wear. We begin to sympathise as, bum-sore and humiliated, he takes up a position on the couch in nouveau-riche Faninal's proto-fascistic hallway as self-protective as the Marschallin's in the previous act – though a glass of wine or three stop him resorting to her foetal position (Woldt pictured above with Helene Schneiderman's Annina). Vocally, it's a nuanced performance – and the first time I've heard "heu", in the phrase "you must have a haystack in the vicinity", sung on a high note piano as Strauss asks. Very well, no bottom C in Act One, but you can't have quite everything.
This is the biggest voice on stage, but the others don't have to battle since Ticciati keeps the glinting, jewel-studded orchestra down as a magic carpet, stupendous in the velvety conspiratorial tarantella that launches Act 3, and vitally rosy for the last 20 minutes. The singing may be variable but the performances aren't: everyone is there to serve Jones's off-kilter and unyielding slice of story-telling, down to Miranda Keys' opulent-sounding, red-wigged duenna, Alun Rhys-Jenkins as Faninal's insistently sinister Major-Domo and the non-singing charactacterisations of Joseph Bader as Ochs's tall, goofy bastard son, bemused but ultimately dazzled as we all are by Andrej Dunaev's Italian Tenor and of Daniel Francis-Swaby as a winningly Marschallin-struck adolescent Mohammed (pictured above with Royal's Marschallin).
So out with every drop of tired old business, in with the new order. In an utterly natural and admirable speech before the Prelude, Glyndebourne chatelain Gus Christie told us how his dear, recently departed old dad George might have had something to say about certain aspects, but would have gone with it. Go with it, too, and you'll be tickled as well as touched and amazed.
MORE RICHARD STRAUSS ON THEARTSDESK

Der Rosenkavalier, Royal Opera (2009). Uneven revival of John Schlesinger's 25-year-old production
Capriccio, Grange Park Opera (2010). Lively staging, stylish singing and a welcome intrusion of wartime reality
Salome, Royal Opera (2010). Angela Denoke's mercurial Salome (pictured below by Clive Barda) shimmers in Strauss's monstrously beautiful opera
Ariadne auf Naxos, Welsh National Opera (2010). Hoffmansthal's libretto is all about fidelity. This updating is faithful, up to a point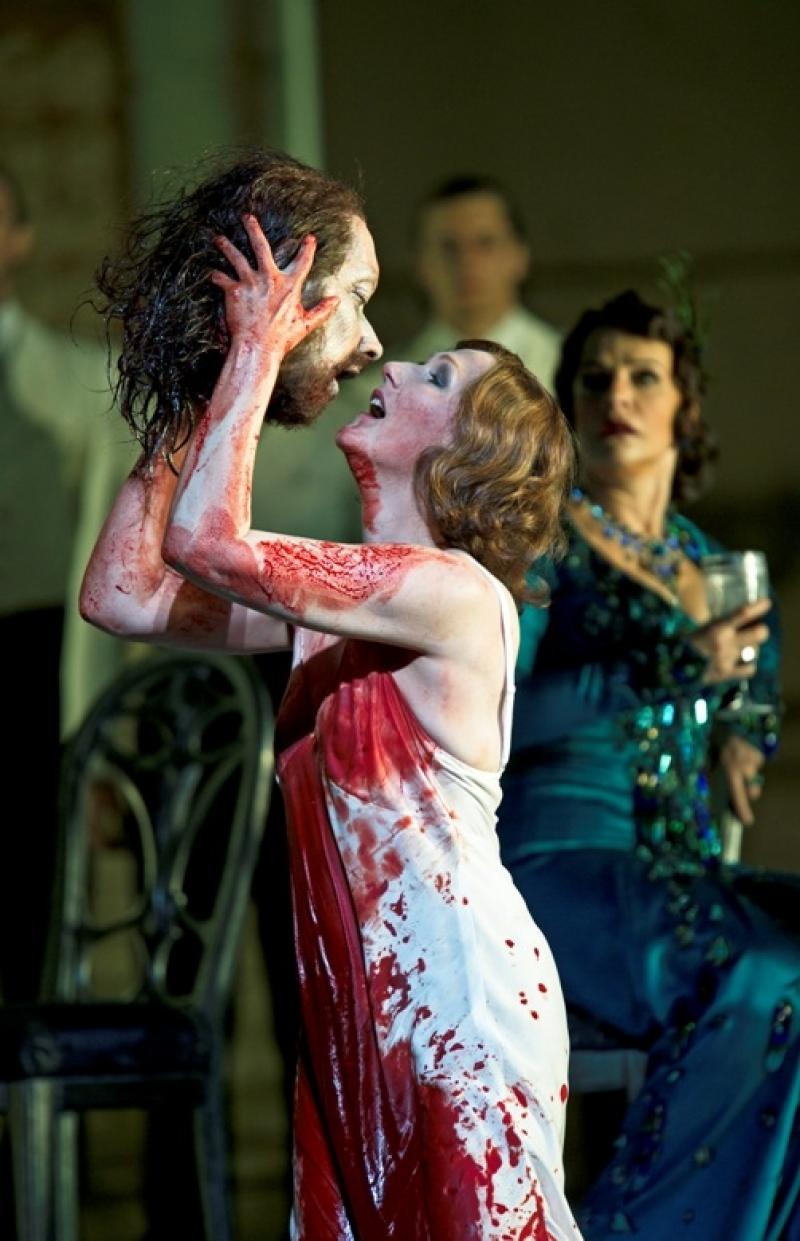 Intermezzo, Scottish Opera (2011). Soprano Anita Bader graces a Klimtian take on Richard Strauss's domestic comedy
Die Frau ohne Schatten, Mariinsky Opera (2011). Strauss's massive fairy tale makes a rare outing in Gergiev's musically strong venture at the Edinburgh Festival
Der Rosenkavalier, English National Opera (2012). David McVicar and Edward Gardner deliver a riveting account of Strauss's popular opera with Amanda Roocroft as the Marschallin
Intermezzo, Buxton Festival (2012). Fine style in Strauss's comedy-with-feeling
Ariadne auf Naxos, Glyndebourne Festival Opera (2013). Strauss's opera reluctantly enters the Battle of Britain courtesy of a young German director
Capriccio, Royal Opera (2013). Renée Fleming leads superlative cast in concert performance of Strauss's operatic debate

Elektra, Royal Opera (2013). Revival with Christine Goerke in the title role hits the horrid heart of the matter in Strauss's poleaxing masterpiece
Die Frau ohne Schatten, Royal Opera (2014). Compelling dream-interpretation of Strauss's myth graced by fine singing and Semyon Bychkov's conducting
Salome, BBC Proms (2014). Nina Stemme stuns with Donald Runnicles and the Deutsche Oper Berlin in a giddying account of Strauss's incredible score at the Proms
Ariadne auf Naxos, Royal Opera (2014). Two nymphs are the real revelation in this revival of evergreen hybrid
Salome, Symphony Hall, Birmingham (2015). Lise Lindstrom steals the show from Karabits and Bournemouth SO as a sensual Strauss anti-heroine in concert
Der Rosenkavalier, Royal Opera (2016). Robert Carsen's handsome production with Renée Fleming is elevated by superb orchestral playing
Overleaf: watch Tara Erraught sing Sesto's aria 'Deh, per questo istante' from Mozart's La clemenza di Tito
rating
Explore topics
Share this article