Don Carlo, Royal Opera review - Lise Davidsen soars above routine |

reviews, news & interviews
Don Carlo, Royal Opera review - Lise Davidsen soars above routine
Don Carlo, Royal Opera review - Lise Davidsen soars above routine
Fine voices aren't quite enough in Verdi's epic royal tragedy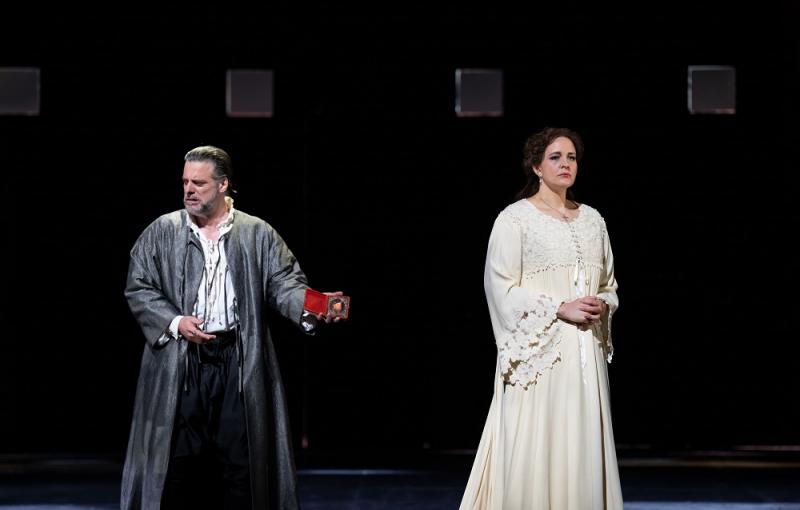 Philip II (John Relyea) confronts Elisabetta (Lisa Davidsen) with the portrait of his son found in her casket
Not a good start. The tenor (Brian Jagde) walks downstage and sings loudly, if securely, to the audience: hardly a characterisation of an idealistic young Infante meditating on love. The next voice, the Page's, is barely heard (Ella Taylor gets better). Then we have The Presence: Lise Davidsen, who you know is Elisabeth de Valois in the only carefree mode she's to experience throughout the opera.
Davidsen holds this otherwise rather tired, if well sung and scrupulously conducted, revival of Nicholas Hytner's respectable production together. Yes, nearly all the figures in Verdi's adaptation of Schiller's great play about the repressive Philip II of Spain and his loose-cannon son are archetypes, but we need to know who they are or what they stand for.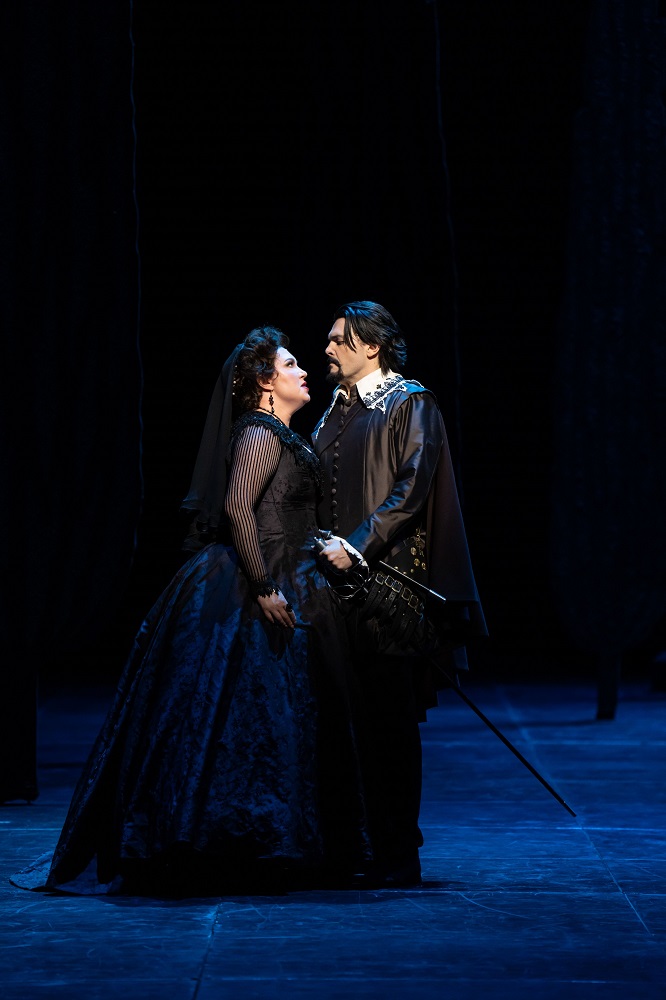 Luca Micheletti (pictured right with Yulia Matochkina) doesn't cut much of a dash as Carlo's freedom-fighting friend Rodrigo, Marquis of Posa – odd, since the baritone's other credentials in his biography include "actor". Like Jagde, he's limited to stock gestures which don't really mean anything, unlike Davidsen's eloquent use of hands and arms. Micheletti is slightly overparted, too, a lyric baritone who can't quite carry the weight up top; he does his death-throes with a breath-control worthy of Hvorostovsky, but the trouble with high notes isn't incorporated, as it could be, into the dying agony.
Yulia Matochkina as Princess Eboli, in love with Carlo and (as it later transpires) the King's mistress, also has trouble with the final full pelt of her big aria, "O don fatale", but up to that point she's been the exemplary Verdi mezzo, as at ease in the lightness of the veil song as the jilted fury of Act 3 Scene 1. John Relyea comes closest to Davidsen in creating a real person, with his distinctive bass hue approaching the ideal pathos for "Ella giammai m'amo" ("She never loved me"), and slightly casting Taras Shtonda's Grand Inquisitor in the shade; the vocal dynamic should be the other way around, but the scene is well done. Conductor Bertrand de Billy may not be a fiery Verdian, but he's a master of colour, and the jet-black orchestral hues here are as imposing as they can be; at the opposite end of the register, the Prelude to Act 3 is exquisite reverie.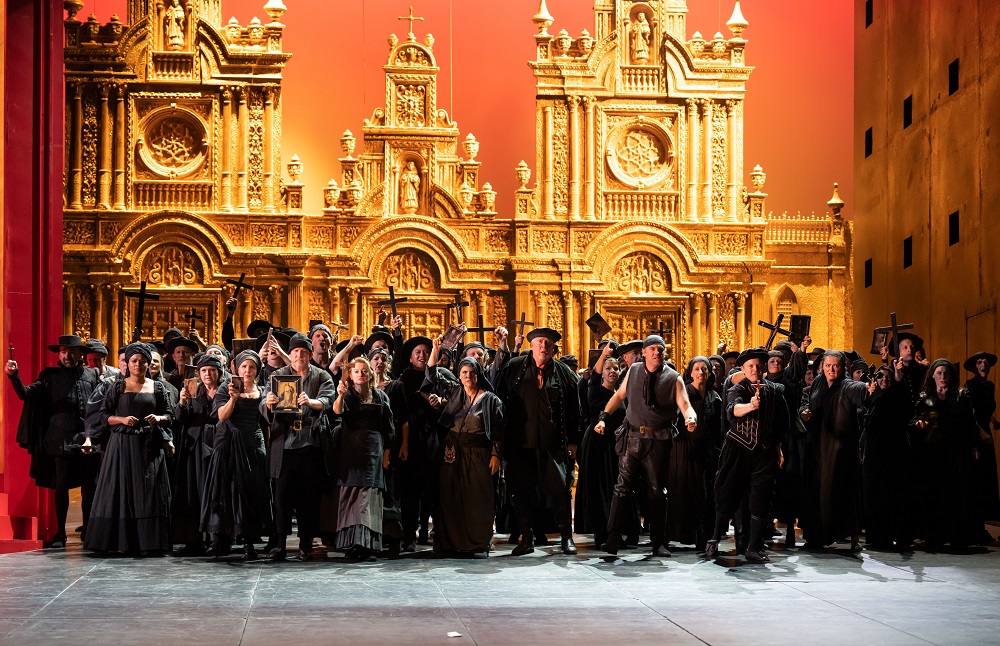 When the singing is merely serviceable, you focus on Bob Crowley's sets, veering between striking and ugly, and Mark Henderson's lighting, sometimes too dark, painfully red to make the point about Philip's rivers of blood in his colloquy with the protesting Posa. Emphasis on Carlo in isolation between scenes places a burden on Jagde that his under-nuanced performance can't sustain, but he certainly has the money notes.
The crowd in the auto-da-fé scene (pictured above) is exactly what Adele Thomas parodies in her new production of Il trovatore, but the silliness is offset by the noble tones of the six Flemish deputies singing lustrously in unison and the perfection of the Voice from Heaven as stunningly sung by Sarah Dufresne, a singer on the Royal Opera's Jette Parker Young Artists Programme destined for great things.
Those great things from Davidsen (pictured above with Jagde) are already here. Promised by her superlative role in the Verdi Requiem as conducted by Pappano, her Verdian credentials are as impressive as her Wagnerian ones. As a lesson in perfect singing, the big Act Five aria summing up all the love and waste of her tragic predicament, "Tu che le le vanità" 9"You who knew the emptiness"), is alone worth the price of admission. But it's time for a new production of Don Carlo where the director cares as much for the expressive meaning in each role as Davidsen does for hers.
It's time for a new production of 'Don Carlo' where the director cares as much for the expressive meaning in each role as Davidsen does for hers
rating
Explore topics
Share this article