Falstaff, The Grange Festival review - belly laughs and bags of fun |

reviews, news & interviews
Falstaff, The Grange Festival review - belly laughs and bags of fun
Falstaff, The Grange Festival review - belly laughs and bags of fun
Brimful of delights, this new production is one of the Grange Festival's finest to date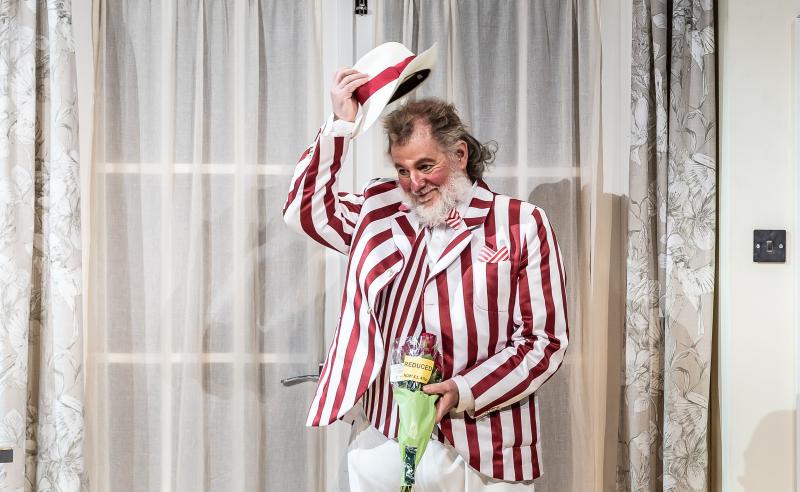 Sir John in Love: Robert Hayward (Falstaff) is the big-bellied heart of the drama
What is the perfect country house opera? A Midsummer Night's Dream? L'elisir? Cenerentola? Figaro? All are strong contenders, but in the absence of anyone brave enough to stage Gerald Barry's The Importance of Being Earnest the winner – surely – must be Falstaff.
Verdi's late, great comedy ticks all the essential boxes – charming love story, outrageous comedy, a hero we love to hate (and hate to love), and a plot that gives everyone their just deserts – but also has something few other operas enjoy so fully. Falstaff is a comedy of wealth and success. Nothing is ever really at risk, beyond a little dignity. The jokes may be deliciously cruel, but Verdi mocks only those whose status and stature inoculates them against real danger, real consequences. There's definite comfort to be taken in this as you sit, bow-tie chafing, champagne chilling, in one of the prettier estates in one of England's prettiest counties.
Falstaff is also all but bomb-proof. It invites good productions, as seen most recently in Garsington's award-nominated 2018 staging. But that one's director Bruno Ravella has a serious new rival in Christopher Luscombe's irresistible new production for the Grange Festival. Bringing Sir John's escapades right up to date, Luscombe delivers a pitch-perfect contemporary comedy – less Merry Wives and more Real Housewives of Windsor.
The curtain opens on the Star and Garter – a local pub-hotel where oak panelling and floorboards have long since given way to lino (the posh sort) and textured wallpaper, bright with hot-pink accents. Holding court at the bar is ageing hippy Sir John Falstaff (KBE) – a symphony of crushed velvet harem pants, clashing-print waistcoats and mandarin collars. He has his practised eye on yummy mummies of Windsor Alice and Meg, whose riverside villas boast breakfast bars and walk-in larders (well-stocked, no doubt, with Pinot, nut milk and Waitrose essentials).
A private mooring, sternly signed, allows the love-struck Fenton to glide right up to the house to woo Nanetta in his little boat – just one of the many delights of Simon Higlett's impeccably observed designs, and a set that reinvents itself with brilliant ease to accommodate not only pub, kitchen and riverside but also a rather lovely Windsor Great Park (complete, you guessed it, with a certain elderly lady walking her corgi).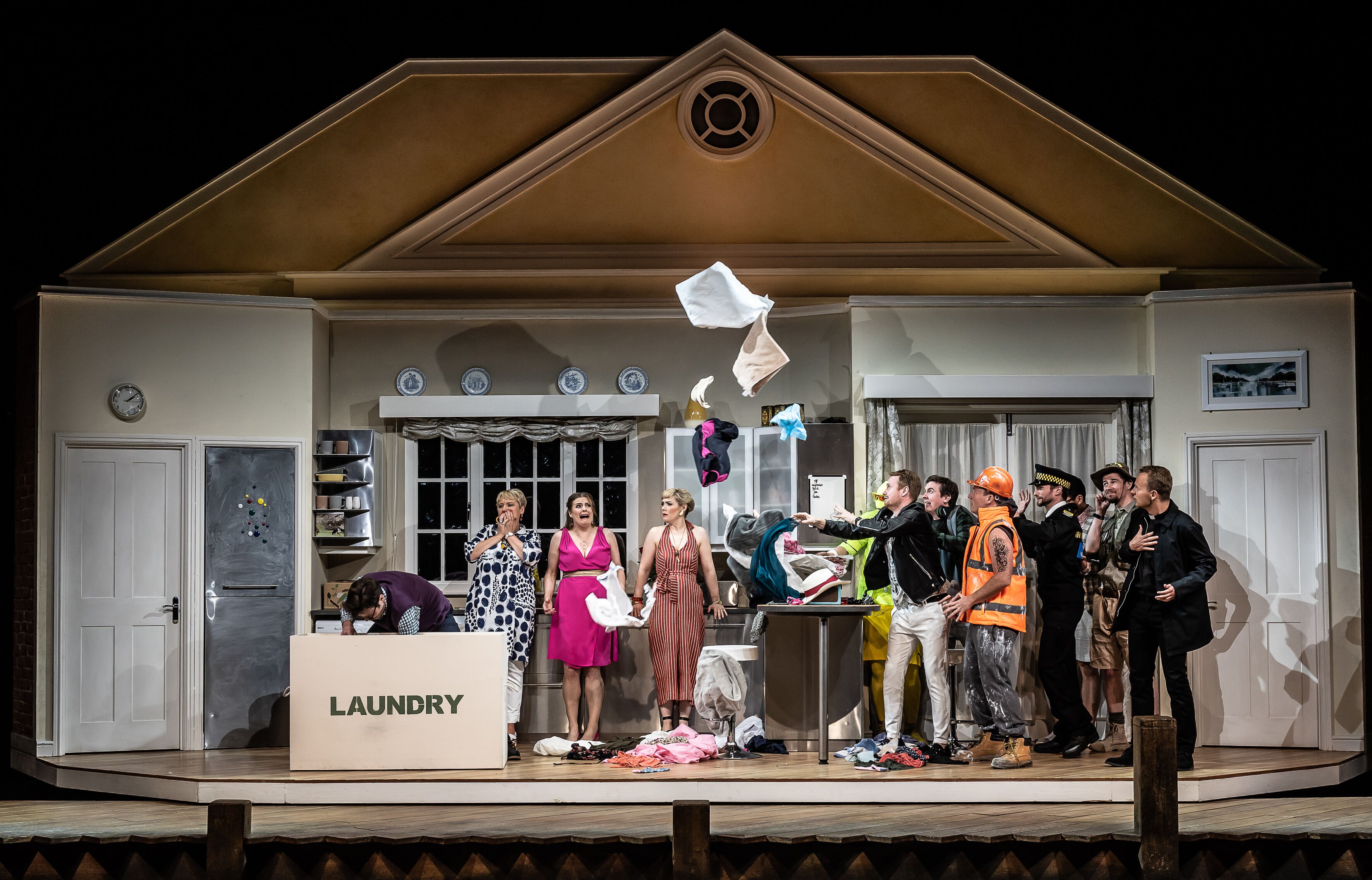 There's a real sense of creative glee here – a shared joke that seems to have spread to a cast who all seem to be having a ball. An unusually youthful Alice, Meg and Nanetta (Elin Pritchard, Angela Simkin and Rhian Lois) make for a deliciously energetic, intimate conspiracy, with Susan Bickley watching over them as an indulgent Mistress Quickly. Pritchard's Alice is enchanting now – piquant, energetic, brightly sung – but given a decade it'll be a knock-out. Good luck to the Falstaff who tries his hand with her.
Lois's Nanetta, by contrast, feels almost too worldly – attractively sung, but with just a little more gloss and finish than suits this other-worldly fairy queen. She's delightfully partnered by Alessandro Fisher's Fenton though, whose "Dal labbro" is enough to make you curse its brisk interruption by Alice and her fellow masqueraders. Nicholas Lester is luxury casting as the tightly-wound Ford.
Blustering and big-bellied, a good-hearted chancer rather than anything more lecherous or lubricious, Robert Hayward is an appealing "vecchio John", growing old disgracefully. If he doesn't quite take us to the brink in his Act III opener, then neither does Luscombe's production, which is much more interested in punchlines than come-uppances. Inflecting comedy carefully through his music – this is no pantomime, nor ever comes closer – he anchors a performance which, musically, tends to run away with itself. On opening night conductor Francesco Cilluffo didn't quite have control of his forces, though there were some lovely sounds from the Bournemouth Symphony Orchestra, especially the woodwind. Doubtless this will settle as the run progresses, giving all the more reason to head to Hampshire for this sunniest of summer treats – big-hearted and light-footed in equal measure.
Luscombe's production is less 'Merry Wives' and more 'Real Housewives of Windsor'
rating
Explore topics
Share this article