First Persons: co-music directors Jasdeep Singh Degun and Laurence Cummings on their new Opera North 'Orpheus' |

reviews, news & interviews
First Persons: co-music directors Jasdeep Singh Degun and Laurence Cummings on their new Opera North 'Orpheus'
First Persons: co-music directors Jasdeep Singh Degun and Laurence Cummings on their new Opera North 'Orpheus'
Premiering tonight in Leeds, a project that's so much more than lip-service to diversity
Jasdeep Singh Degun and Laurence Cummings in rehearsal for 'Orpheus'
We believe that with Orpheus, we are creating something which will invite audiences to rethink what opera can and should be. Inspired by Monteverdi's 1607 work L'Orfeo, it grew out of Opera North's long-standing relationship with South Asian Arts-uk, a Leeds-based centre of excellence for South Asian music and dance.
Sung in Italian and Urdu with excerpts in Malayalam, Bengali, Panjabi, Hindi and Tamil, it brings together European baroque and Indian classical music in a way which has never been heard before.
We are only too aware that we are working with two massive musical traditions, but the first thing that struck us when we started rehearsing was that there were more similarities in our approaches to music-making than differences. That was the moment when we realised we were on to something and this could actually be a very fruitful collaboration. Which is not to say that it hasn't been without its challenges! There have been lessons to learn every single day, but the overwhelming feeling in the rehearsal room has been one of respect for each other.
In fact, the more we think about it, the more incredible it is that we have so many truly talented musicians gathered together under the same roof (pictured above:Sanchita Pal's Nymph with Dean Robinson's Pluto, Chandra Chakraborty's Proserpine and Kezia Bienek's Messenger) .These really are the crème de la crème of both Indian classical and baroque instrumentalists and the sound they produce is something else. We can honestly say the quality of music and musicianship they bring to the table is absolutely phenomenal.
It is very easy for lip service to be paid to diversity and inclusion, but it was essential for us that we approached this project in a truly collaborative way, engaging meaningfully with each other's musical heritage and culture and with a commitment to giving equal weight to each, rather than simply producing Monteverdi with Indian embellishments. For Jasdeep, it has meant the massive challenge of composing additional repertoire for the Indian classical musicians that acknowledges their way of playing while also paying heed to Monteverdi and the operatic tradition - and ensuring a coherent result! No easy task but one that has evolved into something very special during the rehearsal process.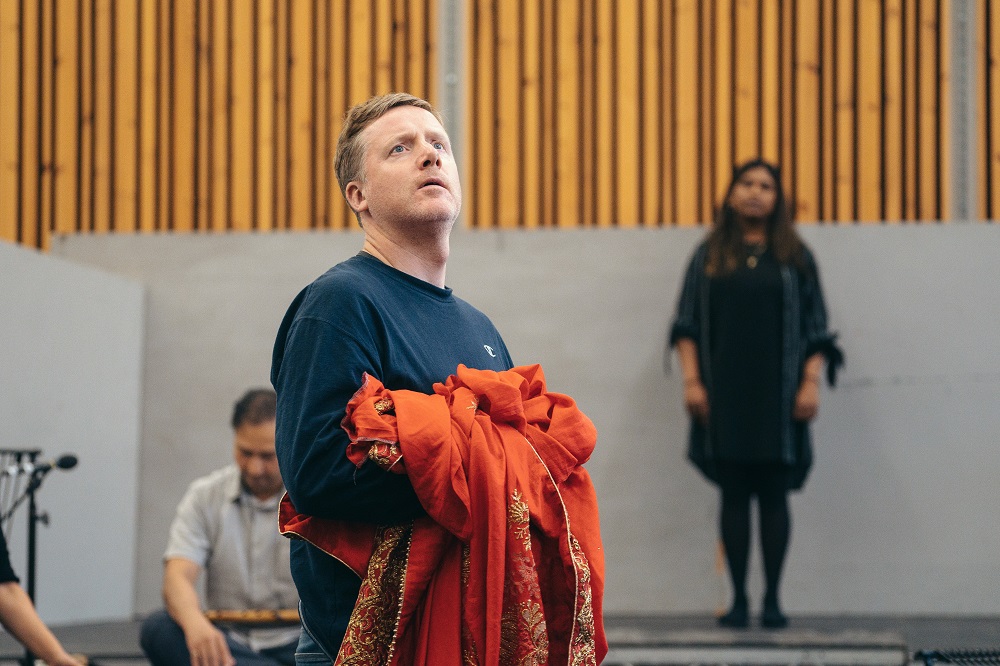 The cast brings together musicians from both musical traditions which means we have operatic tenor Nicholas Watts taking on the role of Orpheus (pictured above with Yarlinie Thanabalasingh as Hope) alongside Ashnaa Sasikaran, a British-Tamil Carnatic singer, as Eurydice. Audiences can also expect to see and hear instruments that are never usually encountered in the same space: the bowed strings of the violin and the tar shehnai, the hammered strings of the santoor, the plucked strings of the theorbo and sitar, as well as the harpsichord and lirone, and the rhythms of the tabla to name but a few.
States in India are like countries in Europe. Each region has its own musical identity so there is a lot of diversity even within the umbrella term 'Indian classical musicians'. Orpheus features people from, for example, the Bengali tradition, from Punjab, from southern Tamil Nadu, each with their own culture, language and folk music (pictured below: Krpal Singh Panesar with Jasdeep Singh Degun).. Every musician brings to the table a whole breadth of knowledge specific to their region which makes for a fascinating cultural encounter.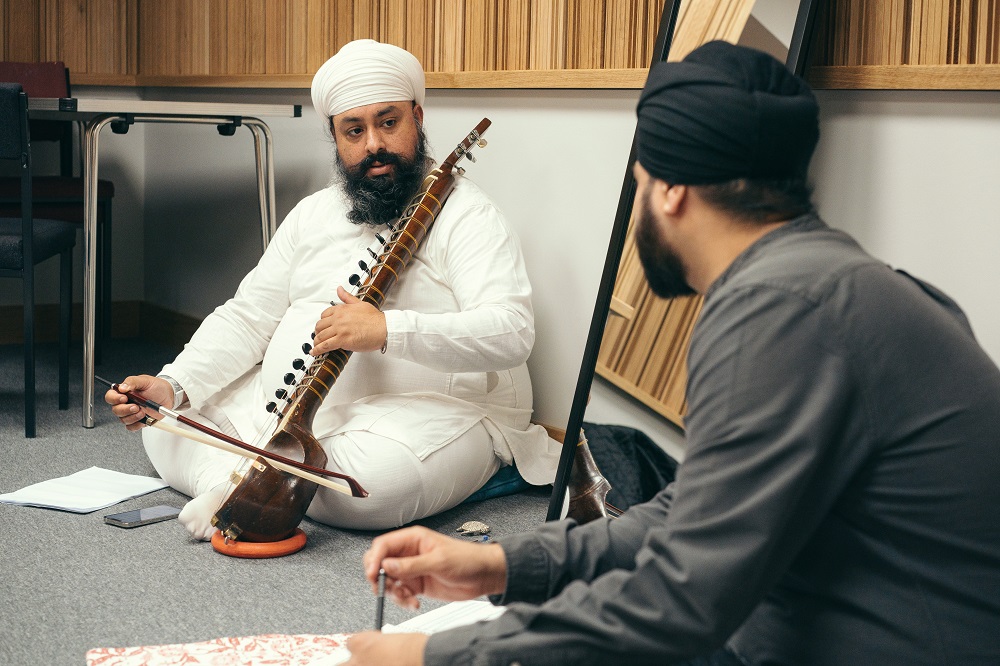 What has also been an incredibly exciting aspect of working with each other has been the opportunity to go back to the basics of what makes music happen. Orpheus uses the power of music to do the impossible – which is what putting on an opera can sometimes feel like! It has been so refreshing to have the opportunity to strip away so many of the usual things that we encompass ourselves with when we create opera for the stage. Combining the different sound worlds, the different beliefs and the different approaches has been so inspiring. Regardless of our previous experience, each one of us has been working out of our comfort zone. We have all had occasions when we have needed to ask someone else how certain things work, and that process in itself has been fascinating. Every single artist involved will have learned so much by the end of this project.
It is important to stress that we do not expect the audience to know anything before they come to the theatre. They really do not need to have any prior knowledge of the myth, of baroque instruments, of Indian classical music or of opera. They just need to be open to having a good time and being drawn into a story which explores the universal themes of overriding love, loss and grief through incredible music. What we can promise them in return is that they will discover all kinds of things along the way and leave all the richer for it.
Opera North's new production of Orpheus in collaboration with South Asian Arts-uk opens on 14 October 2022 at Leeds Grand Theatre before touring to Nottingham Theatre Royal, Newcastle Theatre Royal and The Lowry at Salford Quays. The show will also be available on demand from OperaVision from 31 October for six months
It was essential for us that we approached this project in a truly collaborative way, engaging meaningfully with each other's musical heritage and culture
Explore topics
Share this article