La bella dormente nel bosco/L'enfant et les sortilèges, Royal College of Music review - pure theatrical magic |

reviews, news & interviews
La bella dormente nel bosco/L'enfant et les sortilèges, Royal College of Music review - pure theatrical magic
La bella dormente nel bosco/L'enfant et les sortilèges, Royal College of Music review - pure theatrical magic
Fairytale operas by Respighi and Ravel come together to create enchantment and danger
The fairies bless the christening of The Princess in Respighi's fairytale opera
Childhood fantasies and adult fears – sometimes it's a fine line between the two. And it's one that director Liam Steel walks with unerring precision in his ravishing new double-bill for the Royal College of Music: an overflowing toybox of invention and imagination that conceals, right at the bottom, something rather nasty and very real indeed.
The production brings together Ravel's familiar L'enfant et les sortilèges – Colette's compact fable of a naughty boy who is taught a fantastical lesson in humanity – with a rarity, Respighi's La bella dormente nel bosco. Premiered in 1922 and reworked extensively, this Sleeping Beauty retelling started life as a marionette opera, and even in its later forms retains something of that strange, magical artifice.
Rather than fight tension that's wired into glistening score sewn together with the silver threads of harps and high woodwind, Steel and designer Michael Pavelka lean into it with a staging that puts puppets front and centre – illusions all the more enchanting for being performed in plain sight.
A framing prologue introduces us to a small boy, whose tatty copy of Sleeping Beauty lies beside him on the floor. But his playtime is interrupted; his mother sweeps his toys aside, leading him away with a man who stands silently in the background. More of them later.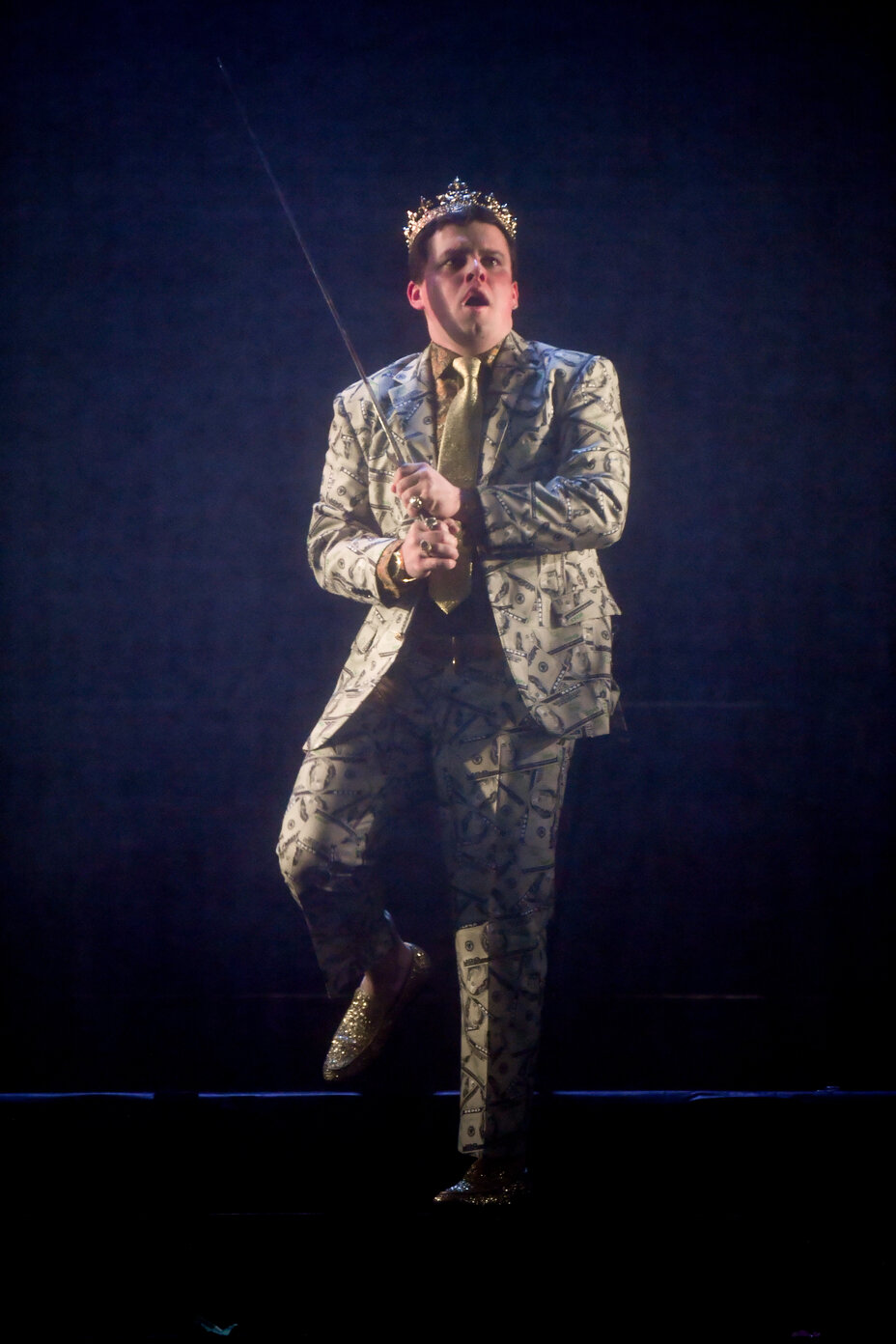 Meantime, we're suddenly inside the story itself. Everything here is alive, whether it's a cat, curling up under a tail flicked by his own puppeteer, trees that bend and assemble on command, or some ingenious frogs – a perfect illusion. The courtiers are wearable puppets – human from the waist down, wooden from the waist up, manipulated by the singers themselves. It's like Brecht, fairytale-style. Best of all are the fairies – suspended, glowing and darting, in mid-air by little more than some clear plastic binbags and fairy-lights.
Respighi's score has never met a composer it didn't like. There's a lot of Massenet here (the Blue Fairy's silvery coloratura owns the debt openly), some Debussy, Stravinsky, even a swerve into Wagner in a climactic love-duet for The Princess (Lylis O'Hara) and Prince April (Dafydd Jones pictured above). But, as patchworks go, it's a charming one, full of the all the orchestral colour you'd expect – as well as some you wouldn't.
Conductor Michael Rosewell helps draw out all these inflections from his student orchestra, while a strong cast (one of two) throw themselves at all of Steel's challenges with gusto. Seonwoo Lee's Blue Fairy dispatches immaculate volleys of sweetness – an other-worldly foil to O'Hara's full-blooded Princess (no pastels here). But the stand-out is young Welsh tenor Dafydd Jones – gleaming bright of tone, and gloriously even right through the range – whose Prince is ready to step out onto a major stage tomorrow. I predict big things.
It's all thoroughly delightful, and if the evening ended there it would be very good indeed. But it's in the second half that this show becomes something else. Steel doesn't so much weave the operas together, as expose connections that were already there. The princess that Ravel's small boy called out to in his dreams the night before, becomes Respighi's; the small boy of the start of the evening is revealed as Ravel's L'enfant, his lashing-out here less tantrum-rage than damaged, self-destructive sadness.
The opera's echoes of WWI are picked up in a 1950s setting. The boy's mother (a war widow?) is wrapped up in her new man, who threatens the child with his belt. This violence sets the afternoon of destruction in motion, innocent outbursts transformed into echoes and symptoms of abuse. When the two cats croon their raunchy duet, they are briefly replaced by the mother and her lover – a projection of the child's feverish fears.
Steel doesn't forget to bring the delight too. The playful set never ceases giving up its secrets. Mr Arithmetic appears from inside a schoolroom desk; The Armchair is a scarecrow made from stuffing; The Teapot becomes a Mexican wrestler, complete with kettle-mask; the shepherd's dead sheep combine bloody throats and nifty choreography. It's all giddily resourceful. Lexie Moon balance sullenness and warmth in a carefully pitched, understated performance as L'enfant, Sofia Kirwan-Baez (pictured in penultimate image) gives us plenty of vocal glitz as Fire and Daniel Barrett relishes the manic comedy of the Grandfather Clock.
But the test of any L'enfant is the ending. Does that final cry of "Maman!" get you where it hurts? Absolutely. Steel finds the spot and then presses harder. Fears and fantasies, pleasure and pain: it's all one in this gloriously topsy-turvy psychoanalytic dreamworld.
The double-bill is at the Royal College of Music's Britten Theatre until 18 March
Steel conjures a gloriously topsy-turvy psychoanalytic dreamworld
rating
Explore topics
Share this article