La bohème, Scottish Opera – pandemic Puccini |

reviews, news & interviews
La bohème, Scottish Opera – pandemic Puccini
La bohème, Scottish Opera – pandemic Puccini
Top-quality cast and players put on a potted version in a parking lot
Monday, 07 September 2020
Elizabthe Llewellyn as Mimi and Rhian Lois as Musetta
Picture the scene. A vast steel gazebo covers a nondescript parking lot next to an industrial unit in Glasgow. With a clear plastic covering, it is the most rudimentary of shelters, sides open to admit the roar of the M8 and the wailing of sirens, carried on a keen autumnal breeze.
About 100 people, all wearing masks, are seated at a random scattering of mismatched but carefully distanced chairs and tables, loosely grouped around a central stage. Around the perimeter, a scattering of tents, shipping containers, and flatbed lorry trailers, one of which is furnished to look like a dilapidated living room in which two men are pottering about aimlessly. Next to it, the huge roller shutter doors of a warehouse are open, with figures dimly visible moving in the shadows.
Without preamble, loud music begins. It turns out that the figures in the building are an orchestra, the men on the truck are the poet Rodolfo (Samuel Sakker) and the painter Marcello (Roland Wood), and this is Puccini's La bohème performed by Scottish Opera in the age of Coronavirus (general view of the set up pictured below by Christopher Lambton). After five months in the shadows, the company has just started the painful process of trying to perform to live audiences while adhering to restrictions and the best interpretations of safe performance practice. For this first night, there were almost as many front of house staff as there were people in the audience: everyone guided to allocated seats grouped in "pods", contact-free ticketing, wipeable programme notes, sanitiser everywhere. It seemed busy and bustling but the numbers are sobering: with just six performances in all, this production will reach only 600 people at £20 a ticket, compared to the thousands that would cheerfully pay £60 for this opera in Glasgow's Theatre Royal or the Edinburgh Festival Theatre. At the same time the company is launching a series of free "Pop Up Opera" shows – bits of The Gondoliers and Don Giovanni – that run all over Scotland for the rest of this month.
This was a truncated Bohème, both in length, a mere hour and a half without pauses or interval, and in scale, with a much reduced cast – no whining Benoit, no chorus or children's chorus – and a score originally pared down by Jonathan Dove for City of Birmingham Touring Opera in 1985. The plot, somewhat thin at the best of times, suffers a little from the loss of depth and context brought by minor characters, but the reduction in the orchestral score is barely noticeable, particularly since by necessity everything was amplified, singers included, to rise above ambient city noise, so volume was never lacking. The conductor Stuart Stratford, unflappable, held it all together with a precision the more remarkable for the wide open spaces between his band and the cast.
Publicity material described the production, directed by Roxana Haines, as "inspired by the current pandemic", but thankfully she steered clear of too many cheap laughs, the main comic vehicle being the upstaging antics of the dancer-actor Jessica Rhodes. As the officious waitress at Café Momus, set on the central stage, she was liberal with her clipboard and air freshener while flirting outrageously with Schaunard (Arthur Bruce) from behind face mask and visor. Some ad libs: "mind you don't touch the handrail!" and "If I dance I'll need to sanitise" were presumably not in Amanda Holden's original translation but did not intrude. Rhian Lois was cheerfully over the top as the mercenary Musetta, though her waltz number could have been less brash and a shade more seductive.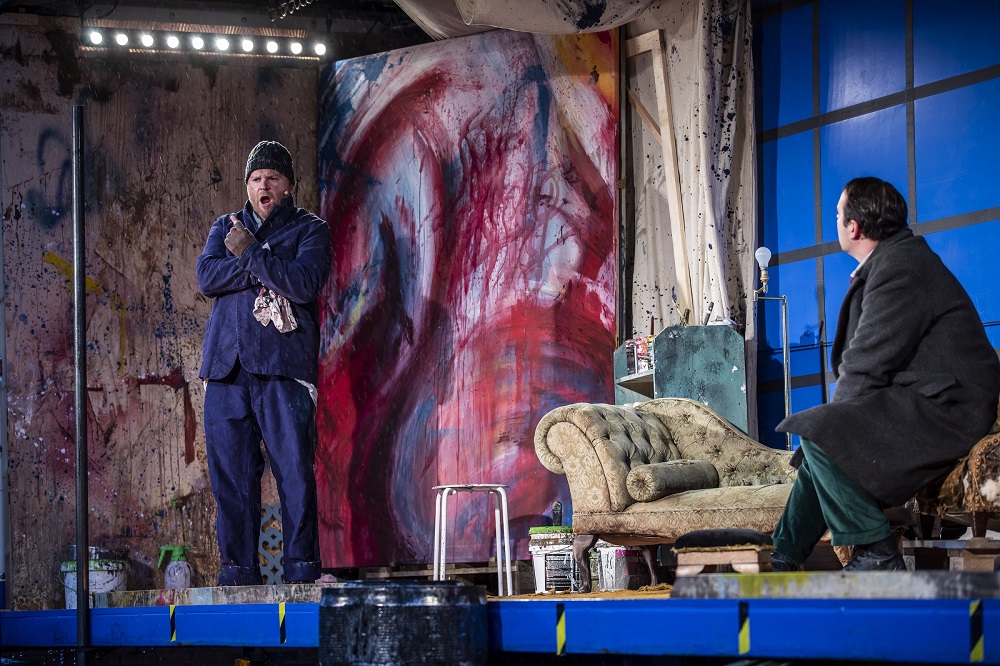 We come now to the central performances of Elizabeth Llewellyn as Mimi and Samuel Sakker as Rodolfo (pictured above by James Glossop, on the right with Roland Wood's Marcello). How do you fumble around on stage for a dropped key and sing "Your tiny hand is frozen" when you can't get to within two metres of your opposite number? The answer, interestingly, is that it doesn't really matter. Rodolfo sang with such unbridled passion, and with such obvious joy at being accidentally cooped up with the lovely Mimi, that their being unable to touch scarcely seemed important. For her part Llewellyn delivered her great set-piece aria with immense conviction and unflinching sincerity – a rich, glorious voice that I hope we'll hear at Scottish Opera again.
I spent this short evening very much in two minds. On the one hand I was in awe of the massive effort required to bring this show to life: the construction of the gazebo, conversion of the trucks, the installation of the spider's web of wiring for amplification, lighting and TV monitors, the adaptation to crazily unfamiliar rehearsal and performance conditions. It is a credit to the company that they set themselves this challenge and rose to it magnificently. But part of me was reluctant to accept that this was really opera, and that this might be the closest we get for some time to the traditional collective experience of more than a thousand people in a theatre. Suspension of disbelief is difficult when a raw wind is whipping around your neck. Having said that, I was deeply moved by the staging at the very end of the opera. Unable to clasp Mimi in her dying moment, Rodolfo stood still, clearly heartbroken and at a loss. Onto the stage at this moment came Jessica Rhodes, now dressed as a doctor, to give him a tender embrace through layers of PPE. It brought the real world of Covid-19 onto the operatic stage with heartfelt insight.