La Damnation de Faust, Glyndebourne review – bleak and compelling makeover |

reviews, news & interviews
La Damnation de Faust, Glyndebourne review – bleak and compelling makeover
La Damnation de Faust, Glyndebourne review – bleak and compelling makeover
Berlioz's Romantic Everyman seen in a sobering light
All the devils are here: inside Richard Jones's theatre of cruelty for Glyndebourne's new staging of 'Le Damnation de Faust'
Mid-career, moving ever further away from composing for concert platform and church towards the stage, Berlioz found himself unsure where his take on Faust belonged. In the end he hedged his bets and titled it a "dramatic legend". Staging it as an opera, as he really wanted, requires the work of a theatrical plastic surgeon.
Connective tissue is needed to flesh out the story, to join the four limbs of the work and stitch together its self-contained archetypes of 19th-century music drama: military march, ballet, drinking chorus, archaic ballad and so on.
To raise the curtain on Glyndebourne this year, director Richard Jones wields the scalpel with audacity, finesse and disturbing realism. Extra lines of Goethe (adapted by Agathe Mélinand) give the introduction to Faust's damnation a facelift. The well-worn Minuet for Will 'o' the Wisps is neatly excised, then grafted on to the end as a knowing encore (pictured below, Christopher Purves as Mephistopheles with dancers), and in the tradition of danced conclusions to opera-ballets by the likes of Rameau and Gluck. Ingenious flashbacks use the peasants' chorus and Hungarian march of Part 1 to show us Faust the unhappy child and hapless teacher at a military school. The squaddies recur throughout, and so does the presentation of the model anti-hero Faust as a failure – at philosophy, at love, at life.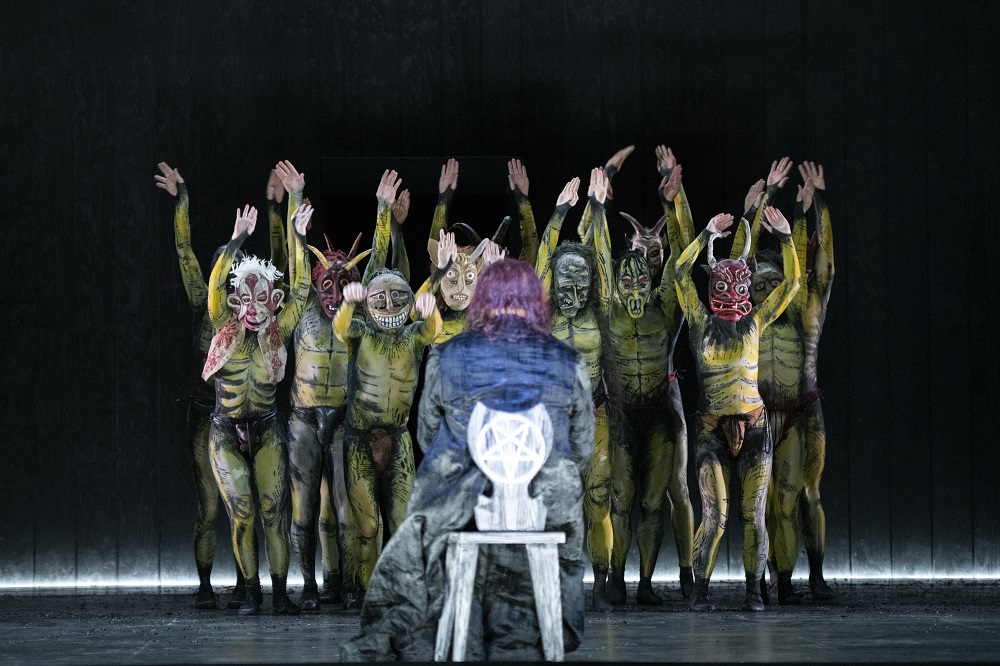 Following a devout childhood, Berlioz had less and less time for organised paternalistic religion. Jones follows suit, and anyone expecting a pious Easter hymn to lift Faust from suicidal thoughts, or a radiantly redemptive apotheosis, will be disappointed (and hasn't seen much of Jones's work). The devil really does have the last laugh but for the most part this is a bleak and illuminating representation of human weakness and how ordinary people come to do terrible things.
Drawing "period" sonorities from the London Philharmonic Orchestra, conductor Robin Ticciati works with the hellish visions of Hyemi Shin's set designs to emphasise the extremities of Berlioz's weird and wonderful scoring. Some frenetic moments in the pit and on stage could be laid down to first-night nerves, though coordination with the upper reaches of the excellent Glyndebourne Chorus needs improving. As their master of ceremonies, presiding over his own theatre of cruelty, Mephistopheles was sung with terrific venom and sandpaper tone by Christopher Purves. Julie Boulianne captured Marguerite's youth, beauty and vulnerability in her keenly focused mezzo no less than in her silent presence as an abused barmaid in Auerbach's cellar (pictured below centre with Allan Clayton and Purves) – still the most overextended stretch of the piece – and the pregnant victim of Faust's casual narcissism.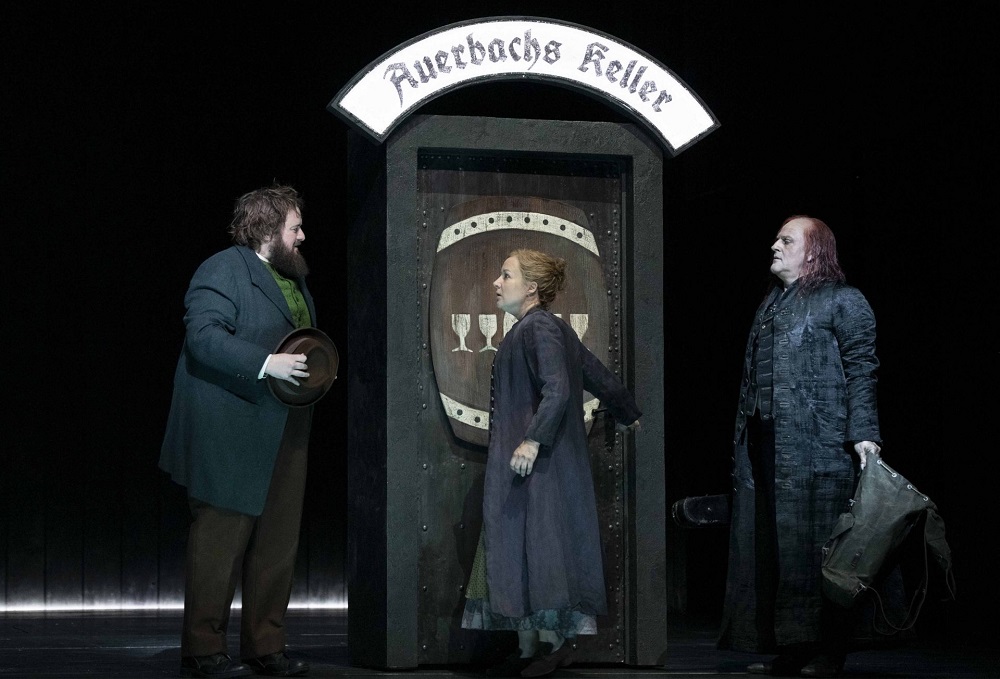 For me, the evening belonged to Allan Clayton's Faust: an intensely sympathetic portrayal, all the more remarkable for the unsparing clarity of its insight, always elegantly sung and sustained with all the volume and subtlety one could wish for. His great hymn to nature, the point at which Faust most nearly touches the sublime, was over far too soon: a vision no less tantalising for its unprepossessing mise-en-scène of four bedraggled-looking trees. But hell awaits for this bumbling Everyman, a private hell of guilt and loneliness in the wake of Marguerite's execution that no amount of reading Goethe will relieve.
The Damnation of Faust at Glyndebourne until 10 July
Director Richard Jones wields the scalpel with audacity, finesse and disturbing realism
rating
Explore topics
Share this article