The Legend of the Invisible City of Kitezh, Dutch National Opera, OperaVision review - fairy-tale good and evil made real |

reviews, news & interviews
The Legend of the Invisible City of Kitezh, Dutch National Opera, OperaVision review - fairy-tale good and evil made real
The Legend of the Invisible City of Kitezh, Dutch National Opera, OperaVision review - fairy-tale good and evil made real
Rimsky-Korsakov's myth resonates in the highest musical and production standards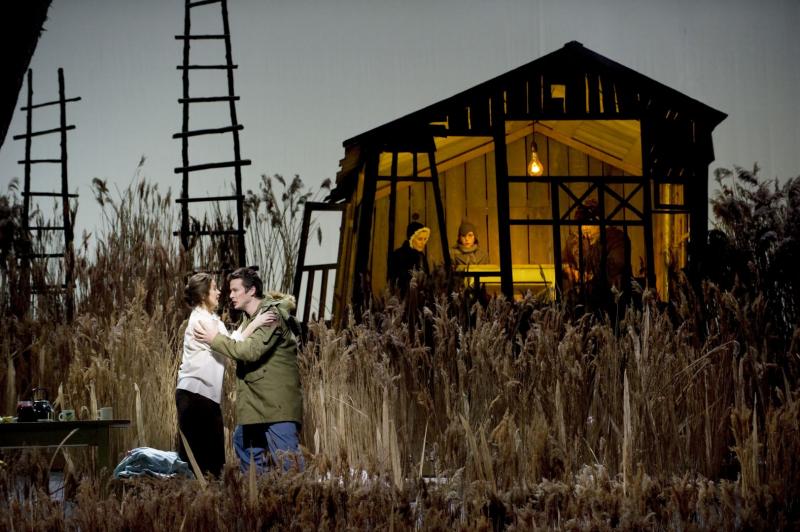 Fevroniya (Svetlana Ignatovich) meets her prince (Maxim Aksenov)
How do you render pure goodness interesting? Unorthodox director Dmitri Tcherniakov and radiant young soprano Svetlana Ignatovich make us smile and break our hearts with their take on the maiden Fevroniya: living at one with nature, seeing God in everything and destroyed by her encounter with civic life.
There may be a touch too much religion and even putative
Russian
nationalism of the kind manipulated by Putin in Vladimir Belsky's poetic rendering of a myth, marrying the legend of a saint with the story of a city that vanishes to protect itself from the invading Tatars. But Rimsky-Korsakov's rainbow-coloured score, in turn glowing and surprisingly violent (for him), is surely his greatest, and can only be done on the highest level, as it is here by the
Dutch
National Opera under its superlative music director, Marc Albrecht, with top Russians in the cast.
Tcherniakov is on a roll with Rimsky, whose operatic time seems to have come again: this is a dark answer to the spring beauty of his Snow Maiden for Paris Opera, and a welcome addition to the online treasury of OperaVision, available for free much longer than the Sadko for the Bolshoi Gavin Dixon reviewed last week. The score seems to be complete (there may be cuts, but only small ones); the one previous production of Kitezh I've seen, by the late, great Harry Kupfer for Berlin's Komische Oper, shed about an hour's worth of music (Gergiev's two Mariinsky concert performances at the Barbican told the whole story). At three hours there is no easily discardable music, but you need patience to go with Fevroniya's final vision of a resurrected Kitezh.
There are the kind of symmetries here that another great director, Richard Jones, always finds, illuminating what may have puzzled us in the first place. Fevroniya's forest is a blasted marsh with a few trees and a half-ruined cabin, what remains perhaps after some ecological disaster in the near future (Tcherniakov is helpfully unspecific). It still looks painterly in Tcherniakov's own designs, lit by Gleb Filshtinsky, but It blooms, both in the first and last acts, only in Fevroniya's imagination. Her friends, a crane, a bear and an elk (the translation here has 'goat'), are a boy, an old man and an old woman who's painted a canvas to provide the only splash of colour in the bleached landscape. The citizens of Little and Greater Kitezh gather in bleak community halls; the small group of four and the slain gather together to share a table and break bread back in the "forest" towards the end.
It's simple, real, moving, and horrifying when the invaders wreak their expected devastation. Tcherniakov has a way of getting even the chorus - magnificent, the Dutch house's regulars plus the Netherlands Concert Choir to play the Tatars in the second and third acts - to react believably to every situation. Ignatovich's mobile responses are riveting throughout, matched to an impressive technique; her youth is reflected in tenor Maxim Aksenov's Prince Vsevolod, who meets Fevroniya in the woods and summons her to Kitezh to marry him. John Daszak turns in a vivd performance in the most complex role, the treacherous drunkard Grishka Kuterma, more an edgy psychopath than a tipsy loafer (pictured above with chorus and Gennady Bezzubenkov on the left). Redemption doesn't seem on the cards for him despite Fevroniya's special pleading.
Luxury comes in the shape of three great basses familiar from Gergiev's Mariinsky company: Vladimir Vaneev as Vsevolod's father Yuri, very moving in his prayer as the greater Kitezhans expect annihilation in the hypnotic Act Three Scene One; Gennady Bezzubenkov, luxury casting as the Gusli (here guitar) Player of Act Two; and Vladimir Ognovenko as threatening Tatar Burunday. Golden sounds, too, from Alexey Markov as prince's right-hand man Poyarok and Mayram Sokolova (page/boy in the original, Poyarok's sympathetic wife according to Tcherniakov).
The versatile Albrecht, who's clearly to Amsterdam's fine house what Antonio Pappano is to the Royal Opera, catches all the jewelled facets of the score and makes the violence more real, less two-dimensional villainous roustabout, than usual. That the company could manage this many-charactered epic is probably due to the sharing with La Scala Milan and Barcelona's Liceu; certainly it's a perfect jewel in the company's crown. I wonder if any of our houses will be able to afford this kind of thing post C-19 - remember that Opera North did The Snow Maiden proud a couple of seasons back - but certainly Rimsky-Korsakov is beginning to take his place alongside the greats worldwide.