Sadko, Bolshoi Opera online review - medieval Russia meets reality TV
Sadko, Bolshoi Opera online review - medieval Russia meets reality TV
Tcherniakov reimagines Rimsky-Korsakov's fairy-tale, without losing the magic
Nazhmiddin Mavlyanov as Sadko
Russia came late to the coronavirus lockdown, and will be leaving early – this evening Vladimir Putin announced that national measures were coming to an end, though the disease still rages there.
The country's theatres were quick into action when the lockdown began, and throughout April and May have been offering plays,
ballets
and
operas
online. Publicity for these has been minimal, and English subtitles a rarity (there were none for this performance), but for those who could find them, and then struggle though the language barrier, they have provided a fascinating window on domestic theatre in Russia, otherwise only available to the well-travelled.
Rimsky-Korsakov's Sadko is a case in point, an opera central to the repertoire in Russia but rarely performed elsewhere. It's a large-scale, nationalistic affair, with rousing choruses and folksong arias. The story comes from a bylina, an epic oral poem of the Russian folk tradition, and tells of how the historic city of Novgorod came to be connected to the sea. Sadko is a folk musician in Novgorod; he plays the gusli, a kind of folk zither. He meets Volkhova, daughter of the Ocean King, who tells him how he can make a fortune by catching golden fish. Sadko returns to Novgorod and catches the golden fish in a large-scale crowd scene. He then sets sail in search of more riches. After a mutiny, he is thrown overboard, and ends up in the world of the Ocean King, where he again meets Volkohava and marries her (though he already has a wife in Novgorod, Lyubava – the story gets a bit tenuous here). Ultimately, Volkohava sacrifices herself for Sadko, and transforms into the river that then connects Novgorod to the ocean, occasioning much rejoicing at the finale.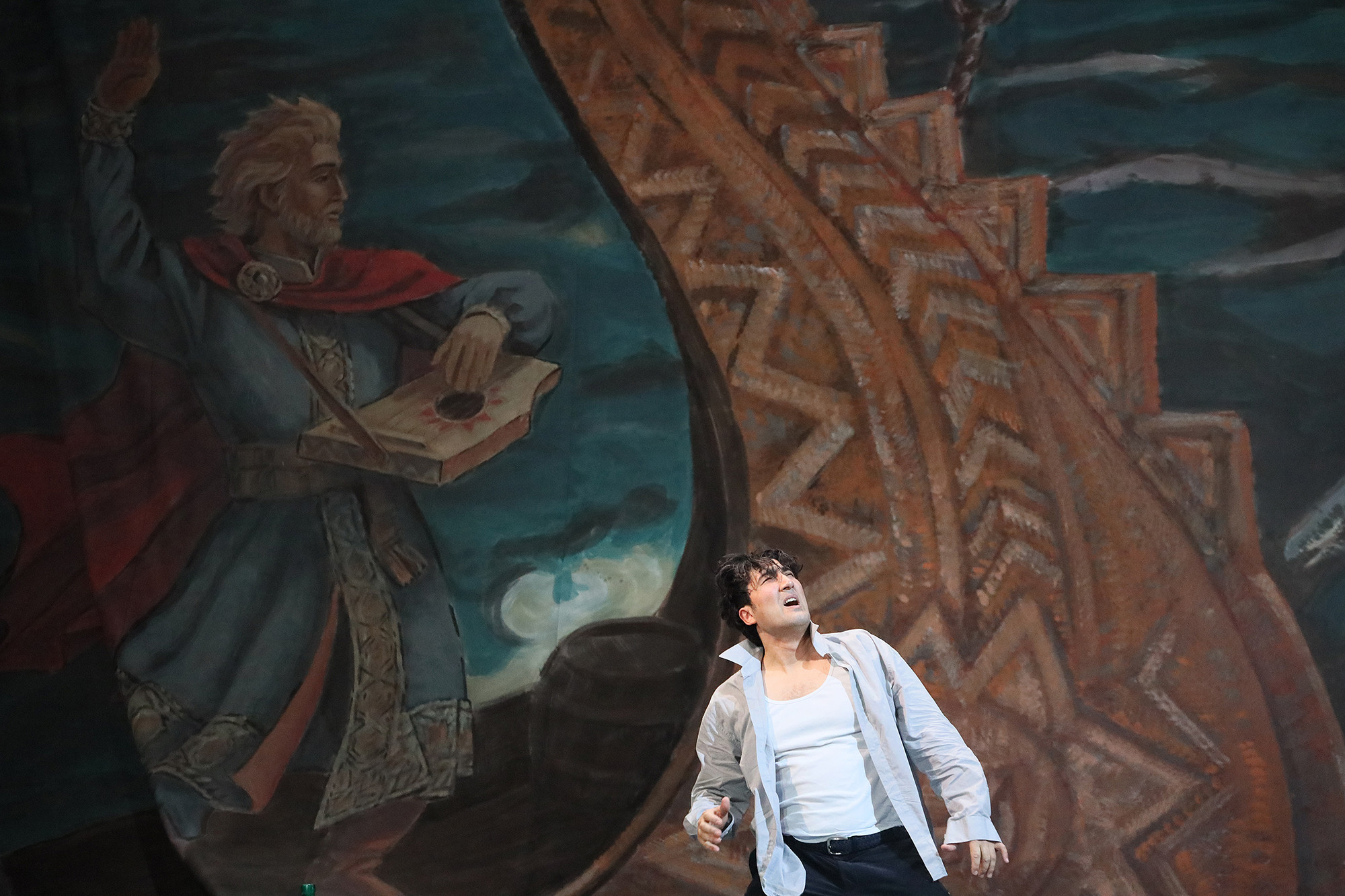 This production was directed by Dmitri Tcherniakov, for many years the enfant terrible of the Russian opera scene. But it turns out he's no longer enfant, and this broadcast was timed to coincide with his 50th birthday. As ever, there is a "big idea" behind Tcherniakov's interpretation. Before the music starts, we see a video projection with interviews given by the three main characters, Sadko (Nazhmiddin Mavlyanov, pictured above), Lyubava (Ekaterina Semenchuk) and Volkhova (Aida Garifullina). They are all in modern, casual dress, and are answering questions, reality-TV style, about their favourite holidays and such like. As the music begins, we see Sadko on an empty stage in front of an arch advertising a theme park – "Park for the Fulfilment of Desires". The suggestion is that everything that follows has been constructed for the entertainment of the three main characters.
They remain in modern dress throughout, but most of the other stagecraft is traditional, especially the crowd scenes, which are all spectacular. Tcherniakov's reading diverges again in the last three scenes. The underwater kingdom is presented as a glitzy parade of anthropomorphic sea creatures. Then, where Volkhova should transform into a river, she instead changes from period to modern dress and leaves with her suitcase. The final scene should present the celebrations in Novgorod, but instead Tcherniakov begins it with an empty stage, and then brings the chorus on, all in identical boiler suits, with the word "Park" across the front, as if they have merely been actors in the previous scenes. But Sadko resists the intrusion of reality, and spends the whole scene redressing the characters and bringing on the sets, which now appear in a disordered jumble at the back of the stage. It's a clever conceit: Moscow critics at the February premiere hated it, but it achieves a rare balance by adding a thoughtful layer to the otherwise naïve fairy story, and without obscuring the original tale.
Musically, this was a reliable and consistent performance, from an all-Slav cast who clearly know the opera well. Nazhmiddin Mavlyanov has a suitably rich tenor for Sadko. His acting seems stilted, though that may be a consequence of the disjointed relationship between the character and his surroundings in Tcherniakov's interpretation. Mezzo Ekaterina Semenchuk is probably the best-known name here, at least in the West. She is excellent as Lyubava, Sadko's wife, but it is a tiny role, and all she gets to do is complain that he in not there, or complain that he is about to leave again. Aida Garifullina (pictured below) brings a beautiful coloratura soprano voice to the role of Volkhova, light in colour, but with the support and projection to fill the Bolshoi.
Surprisingly, the bass voices are the only disappointment in this cast. Nikolay Didenko is weak as the Ocean King and Sergei Murzaev doesn't have much to offer as the Christian saint who comes to break up his heathen underwater party. Fortunately, the Viking Guest picks up the slack. Three guests, Viking, Indian and Venetian, all sing an ethnically flavoured aria in the fourth scene. As the Viking, Stanislav Trofimov is a proper weighty Russian bass, exactly what Rimsky's looking for. Conductor Timur Zangiev leads a well-paced performance, though opera on this scale is more a question of crowd control. That said, the Bolshoi Chorus are on fine form too, and this is an opera that really shows off their strengths.
The broadcast was a co-production with the French television channel Mezzo (you can watch it on their website if you take out a subscription, mezzo.tv). Camerawork is unobtrusive and gives a good sense of the sheer scale of the production, especially in the chorus scenes, where top and side angles are put to good use. At a time when visiting a real opera house is a frustratingly distant prospect, let alone one in Russia, this provided a few hours of welcome escape. Tcherniakov's reimagining leaves a lot of open questions, but it is still a satisfying way to experience this beguiling opera.
Tcherniakov leaves many questions open, but he's found a satisfying way to experience this beguiling opera
rating
Explore topics
Share this article