Eugene Onegin, Bolshoi Opera, Royal Opera House |

reviews, news & interviews
Eugene Onegin, Bolshoi Opera, Royal Opera House
Eugene Onegin, Bolshoi Opera, Royal Opera House
Dmitri Tcherniakov's take on Tchaikovsky is deeply upsetting and dazzling to watch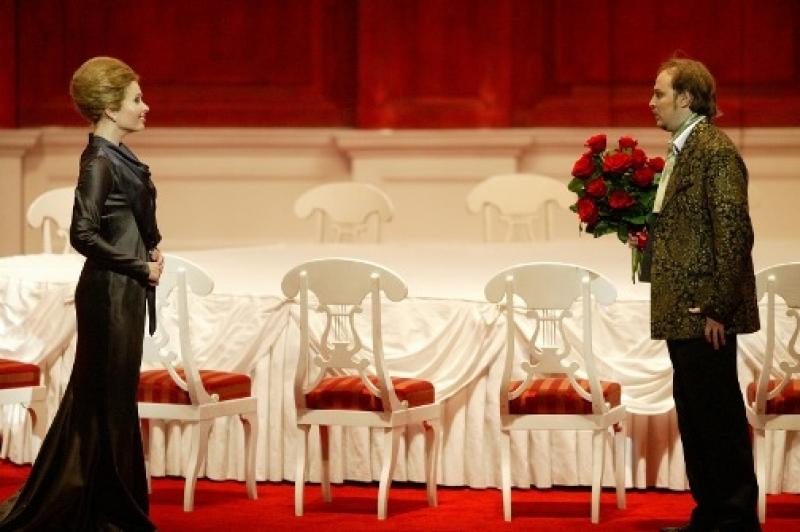 Ekaterina Shcherbachenko's newly married high-society hostess meets old flame Onegin (Vladislav Sulimsky in this image)
Nobody knows any real happiness, and human kindness is rarely to be found, in Dmitri Tcherniakov's Bolshoi production of Tchaikovsky's "lyric scenes" - the most disciplined and real piece of operatic teamwork I've seen ever to come from the Russian establishment.
Hollow laughter and senseless mirth envelop the traumatised, semi-autistic Tatyana of Ekaterina Shcherbachenko, one of two perfect heroines in this double-cast run and worthy of the fuss that surrounded her dewy triumph as 2009 Cardiff Singer of the World. Yet here you think not, what a marvellous singer - which she is - but instead, how painful, how humiliating and how truthful.
All the characters in this true ensemble piece either have to join the line of guests around the one big dinner table that dominates events first in the country - helpful that they take up the "peasants' chorus" early on, so there's no need for a sensitive Russian to think of cutting it as Stanislavsky once did - and later in St Petersburg, or suffer the consequences. The period is, what? 1940s/50s dacha Russia - think Mikhailkov's Chekhovian-cum-thriller Burnt by the Sun - for Acts One and Two, which run with no interval, followed by a 1960s/70s apparatchik life of frozen luxury.
The three protagonists are outsiders: aloof Onegin, uncomfortable in provincial society; his friend the poet Lensky, here a marginal butt of mockery driven to play an angry fool - as well as the secondary role of birthday-poet Triquet - with fatal consequences; and Tatyana, sitting apart from her mother's fellow guests as the curtain rises for an already sensitive handling of Tchaikovsky's melancholy introduction.
There is, I'd better say straightaway, a problem with director-designer Tcherniakov's stunningly realistic and dazzlingly lit sets. The table chez Madame Larina is placed well upstage, with only a little of the action brought further forward. Even then, and in the closer yet paradoxically more frigid celebrations of the civic red room in Act Three, the singers struggle to be heard above Dmitri Jurowski's pointedly ungraceful conducting of the Bolshoi Theatre Orchestra. These are the same problems of acoustic distancing experienced in Katie Mitchell's ENO Idomeneo, and it's a pity, because none of the voices is small and anything but authentically Russian in technique and projection. Surely the boxing in of the set slightly behind the proscenium arch is to blame.
The leading men in this alternate cast both have their moments. Roman Shulakov starts off sounding like a bottled-up baritone but hits his stride for Lensky's clownish anger and painful alienation at the second act party, and by the time he delivers what in Pushkin's original verse-novel are the verses on the eve of his death - delivered here to a sentimental but concerned old lady in the aftermath of the ball - we do get to hear a genuinely moving and sensitive tenor aria. Vasily Ladiuk is nowhere near as charismatic or as good an actor as Mariusz Kwiecien, to be seen on alternate nights and in the compelling DVD of this production. But he does boast an effortless and full baritone, not as honeyed as Hvorostovsky's, say, but equally able to unfold his lecture to the lovestruck Tatyana in long and sympathetic lines. There's a slightly overblown Gremin from Mikhail Kazakov, sinister and self-important controller of his trophy wife Tatyana in Act Three, and another real bass, Valery Gilmanov, doubling as "duel second" Zaretsky and Captain Petrovich - luxury casting.
As are the character-part ladies. In the well drawn cameo of a tippling, slightly hysterical Madame Larina, we have a former Aida and Tosca, Irina Rubtsova; as Tatyana's concerned Nurse, acting out the silly old woman but clearly deeply worried by her charge's odd behaviour, there's Irina Udalova, who once sang the role of the heroine and Turandot to boot. These are both excellent voices, indispensible for the opening duet/quartet. Oksana Volkova's true-contralto extension graces the little aria for Tatyana's flightier sister Olga, putting on merriment like everyone else but quickly angered as Onegin is later to be by the slappable blank expression of our bookish heroine.
It turns out to be Tatyana's only way of coping with the social pressure. Left alone, she begins at last to relate to the phantoms of real people. The Letter Scene (pictured right) is scarily intense, Shcherbachenko's lacerating lovelorn girl furiously addressing Onegin's empty chair and seemingly summoning from her inner frustration the electric storm which hits at this great arioso's emotional climax. Again, you almost forget how beautifully she's delivering the phrases - it was her unbelievably nuanced performance of this which really clinched her Cardiff win, about which the judges were unusually unanimous - so intense is her body language. Just as powerful is her discomfort at a party which culminates not in a duel as such but a horrifying scuffle in which Lensky gets accidentally shot by his own rifle. If you think that sounds like a cop-out, you should see it: I've never come away from the second act feeling more jelly-limbed or upset.
In Act Three (pictured below), Tatyana is a beehive-haired, glacial society hostess, swapping one form of social frigidity for another; but she collapses unexpectedly and heartstoppingly in her new husband's arms under the pressure of Onegin's return. It's a pity Ladiuk's stereotyped hand gestures of despair are no match for Shcherbachenko's riveting performance in the final confrontation, again uncomfortable to watch.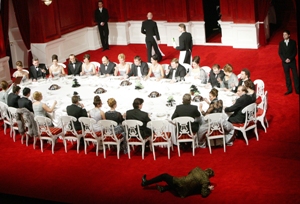 At least here the big guns of Dmitri Jurowski's conducting are more appropriate than in a heavy-laden first act (we should be grateful, at least, that he restores the trenchant original passages Tchaikovsky later papered over with imperial display). Perhaps the young Dmitri is trying to reflect the deep unhappiness at the heart of Tcherniakov's vision, but certainly he lacks the elegance and supple sympathy with the singers that so distinguished his better-known brother's conducting of Onegin at Glyndebourne. Oddly, it matters relatively little in this unified show, unquestionably the most disquieting, perfectly thought-through and visually arresting production of the opera I've ever been privileged to see. Gospodi moy, how times have changed at the Bolshoi.
Watch Ekaterina Shcherbachenko sing Liu's "Signore, ascolta" from Puccini's Turandot in the 2009 Cardiff Singer of the World finale (YouTube):


See part of the Bel Air documentary accompanying the DVD of Tcherniakov's production, with alternative stars Tatyana Monogarova and Marius Kwiecien, (YouTube):