Madam Butterfly, Welsh National Opera |

reviews, news & interviews
Madam Butterfly, Welsh National Opera
Madam Butterfly, Welsh National Opera
East German staging of Puccini's japonaiserie mellowed by time and language
Saturday, 16 February 2013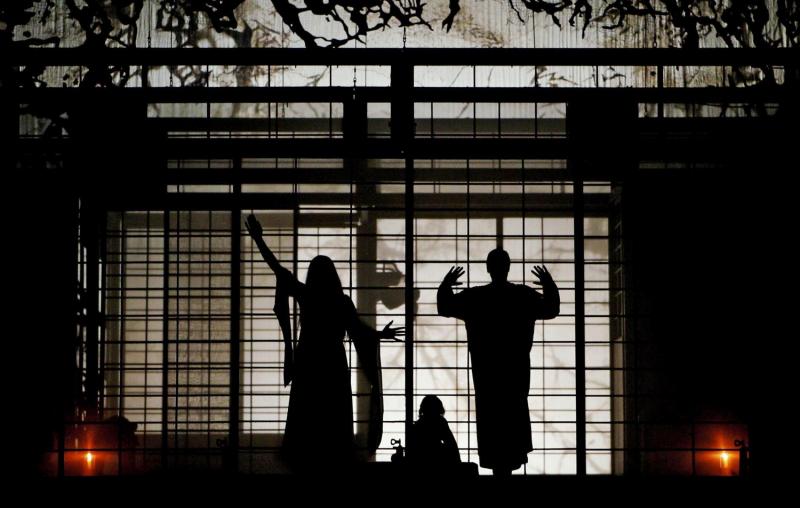 Butterfly, Trouble and Suzuki: in a Japanese fly-trap
Last week Lulu, this week Cio-Cio San, next week the Vixen Bystrouška. These are the three exemplars of David Pountney's "Free Spirits" – as he labels his first themed season with WNO. But it's hard to see poor little Butterfly, pinned to a board by the cruel American sailor-lepidopterist, as a free anything.
Like a trapped fly, Suzuki calls her; and if there's a free spirit in Puccini's opera, it might rather be Pinkerton himself, "dropping anchor at random," as he boasts to Sharpless: not such an inspiring thought.
Joachim Herz's production, now 35 years old, was rough and aggressive when new. I remember apologising to the American friend I saw it with for its brutal anti-Americanism. In those days WNO sang it in English and the politics were direct. Now, in Italian, it has a softer edge and there is no monkeying with the words, though the music is a hybrid of Puccini's various revisions (three acts, but no "Fiorito asil" for Pinkerton).
It now seems a model production, beautifully rehearsed by Caroline Chaney, stylishly Japanese when required in the first act, cleverly westernising later as Cio-Cio San practises being Mrs.Pinkerton. Reinhart Zimmermann's delicate sliding screens are ideal as design and perfection as a practical, mobile setting, bearing in mind that this is an opera in three acts but only a single set. Chaney complements them with cleverly managed stage movement and telling, sensitive groupings, expressive of the culture clash which – if Madam Butterfly is anything but operatic soap – is both the landscape and the cause of its tragedy. The chorus work, as ever, is excellent (chorus pictured below).
In keeping with all this, the revival is strongly acted, perhaps less strongly – though certainly not weakly – sung. Cheryl Barker is convincing as the coy, simpering schoolgirl of the first act, slightly less so as the teenage mother of Acts 2 and 3, but a thoughtful, versatile vocal actress nonetheless, only somewhat short on colour in the voice, not quite able to flood the sound with emotion at key moments. Gwyn Hughes Jones is likewise more monochrome than recently at ENO, stylish but without great warmth in the voice, careful though to avoid caricaturing this irretrievably mindless if not unfeeling (listen to his music) Yankee fantasist.
It's tough on Pinkerton that, after the exquisite duet that ends the first act, he more or less vanishes, along with most of the other characters, leaving Butterfly and her Suzuki, touchingly done here by Claire Bradshaw, to hope and mope alone, with occasional visits from the ever-optimistic marriage broker, Goro (Philip Lloyd Holtam, very polished). Alan Opie's Consul struggles up the hill from Nagasaki now and then, helpless rather than Sharpless, an exact vignette: but he too gets little music after Act 1, which one regrets here as always. Instead Puccini offers cameos: the Bonze (Julian Close, a fine but brief rage), the suitor Yamadori (Alastair Moore), and above all the silent Trouble (are there such children?), a remarkable début by Jacob Adams, son of the orchestra's leader.
Hard to improve on any of these, or on the orchestra itself, under the French conductor Frédéric Chaslin: refined playing after their more robust brilliance in Lulu, with just a slight tendency to cover the singers – not usually a Puccini problem.