A Night at the Opera, BBC Philharmonic, Glassberg, BBC Proms review - six of the best |

reviews, news & interviews
A Night at the Opera, BBC Philharmonic, Glassberg, BBC Proms review - six of the best
A Night at the Opera, BBC Philharmonic, Glassberg, BBC Proms review - six of the best
Operatic plums plus, possibly over-curated but gorgeously sung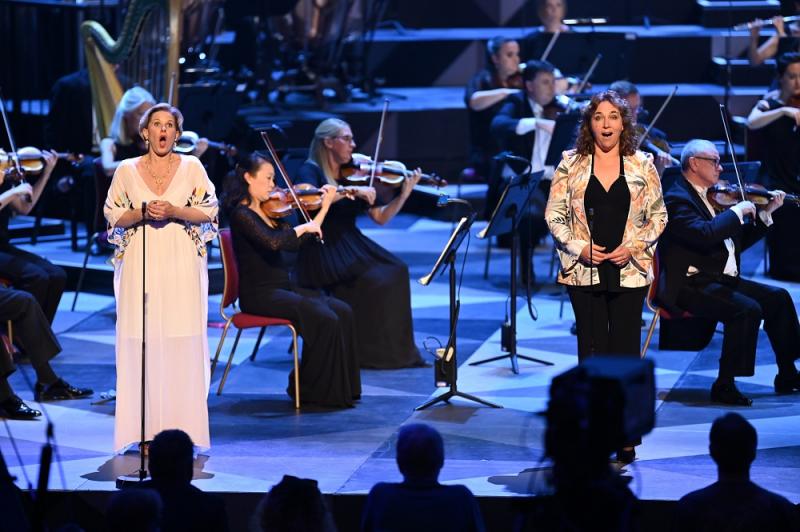 Sally Matthews and Christine Rice sing Humperdinck's 'Evening Prayer'
This delectable Prom hid behind the title "To Soothe the Aching Heart" the failsafe concept of a programme of the world's favourite opera extracts, plus some. Take six British opera stars – three sopranos, two tenors and a mezzo – and assign them the business of comforting us all.
Whether you felt soothed by what followed wasn't really the point; this was a gulp-it-down sundae of a Monday night, a feast of indulgence in which the singers, who probably needed comforting too after more than a year of cancelled contracts, simply gave everything, mixing, matching and sometimes hitting the high notes alone.
The selections were maybe a little bit over-curated, supposedly travelling through the history of opera while simultaneously focusing on the concepts of love and loss. Trying to be everything to everyone turned out sometimes a bit random, three big chunks of very famous favourites tending to overbalance the rest. It got off to a slightly weird start with instrumental extracts, the Sinfonia, "Danza infernale" and "Ballo a cavallo", from Francesca Caccini's La liberazione di Ruggiero dell'isola d'Alcina, the first opera by a female composer, written in Renaissance Florence. This music was full of startling effects (a drum swooping mid-note, à la Bartók, just one example) that made it sound as if it could have been written yesterday. It hadn't much to do with the rest of the concert, and the BBC Philharmonic was maybe not its ideal vehicle even with vibrato suppressed, but it was good to hear it.
The soprano Sally Matthews was waiting in the wings to perform Leonore's "Abscheulicher!... Komm, Hoffnung" from Beethoven's Fidelio, with tenor Nicky Spence as Florestan for "Gott! Welch'dunkel hier" and the duet "O namenlose Freude" (Spence pictured above with Natalya Romaniw in the concluding duet from Janáček's Jenůfa) . This evening was anything but a competition, but Matthews's was perhaps the outstanding performance: her gigantic vocal range, grand-scale technical power and ability to own the character and her emotion could leave you longing to hear her in the complete opera. Nicky Spence's Florestan had elegance and integrity and the duet was indeed nameless joy, perhaps that of hearing this music live again, for it had been everywhere just before the pandemic rode roughshod over Beethoven's anniversary year in 2020.
A brief pop back to the 18th century with Christine Rice singing a finely calibrated account of Gluck's "Che faro senza Euridice?" paved the way for Puccini's La bohème, again two big arias plus duet. Mimi and Rodolfo were incarnated by the splendid soprano Natalya Romaniw and Freddie De Tommaso, an idiomatically Italianate tenor from Tunbridge Wells, who together simply raised the roof.
Part 2's beginning found the Carmen extracts going a tad wild on occasion; and the delicate, straight-laced farewell duet "Io t'abbraccio" from Handel's Rodelinda sat awkwardly amid all that lavish romanticism, gorgeously sung though it was by Nardus Williams (pictured right) and Rice. Thence to Humperdinck's Hänsel und Gretel for the last big assemblage: a magical "Sandman" song from Williams (we could have done with hearing much more from her in this programme), the "Evening Prayer" from Matthews and Rice and the "Dream Pantomime" giving the orchestra its moment to shine, the conductor Ben Glassberg creating just the right sense of wide-eyed wonder for this beloved tear-jerker.
Ending with the final scene from Janáček's Jenůfa, with Romaniw and Spence, was perhaps a better idea on paper than in reality – it's transcendent, but very concise – and if we'd hoped for an encore involving all six stars, we didn't get one. Still, even if the total effect wasn't precisely soothing, it was uplifting, inspiring and tremendously enjoyable. "Who needs the world if we can comfort each other?" sing Jenůfa and Laca. Quite.
A gulp-it-down sundae, a feast of indulgence in which the singers simply gave everything
rating
Explore topics
Share this article