Johnston, BBCNOW, Bancroft, BBC Proms - laments and luminosity |

reviews, news & interviews
Johnston, BBCNOW, Bancroft, BBC Proms - laments and luminosity
Johnston, BBCNOW, Bancroft, BBC Proms - laments and luminosity
A finely formed programme that both mourned and celebrated
Guy Johnston: the most gentlemanly of soloists
The Proms are back, even if they don't yet feel remotely normal. With audiences timid about mass events, and about a third of the arena roped off to protect a TV camera mounted on something vaguely resembling a diplodocus, yesterday's seemed less of a Prom than – well, a decent concert on a wet Monday night.
This fifth Prom of the season had lost both its original star attractions, cellist Sol Gabetta and conductor Elim Chan, who had each withdrawn for logistical travel reasons. Enter Guy Johnston and Ryan Bancroft to save the day, though, and the programme remained as planned, fresh, varied and ingenious. It was an inspired idea to begin with Purcell's "Dido's Lament" and end with Brahms's Fourth Symphony, which closes with a Passacaglia built in a similar way. The Lament, in a transcription by Leopold Stokowski, sounded exquisitely poignant on string orchestra, with Alice Neary's rich-toned solo cello channelling the Queen of Carthage, and I think we all quietly appreciated the appropriate nature of the piece.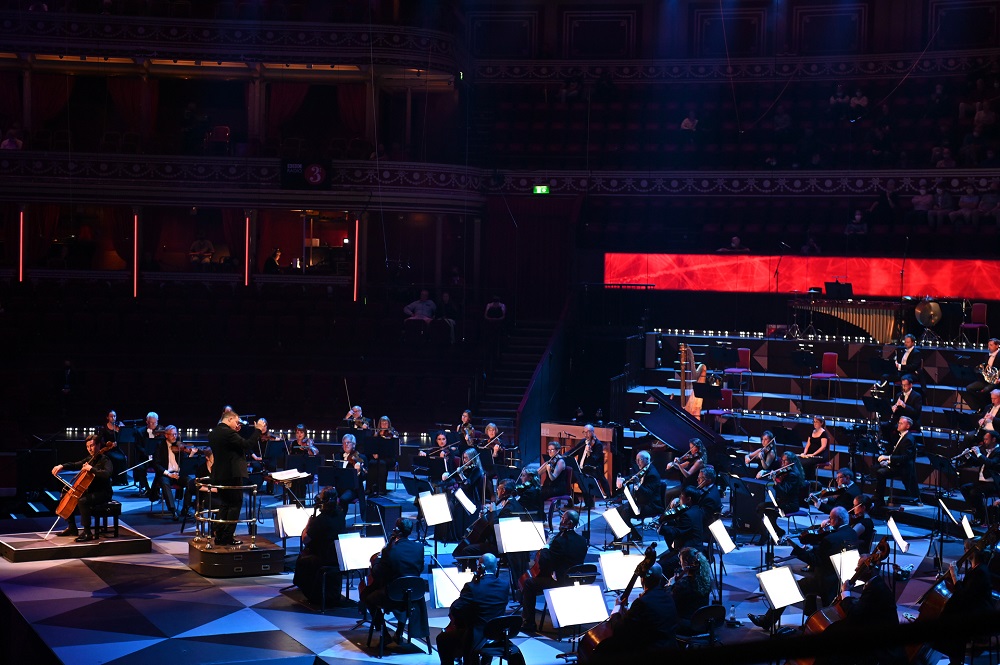 The American composer Elizabeth Ogonek's Cloudline, a world premiere of a co-commission between the BBC and Los Angeles Philharmonic, contained an oblique relevance to "Dido's Lament": in her vivid programme note, she explains that she wrote the piece while hooked on watching the television drama Killing Eve, which apparently featured the Stokowski version. The progress of Cloudline involved, to some degree, "this comical image of a decadently clad Villanelle… swinging from cloud to cloud as she prepared to pounce on her next victim". You might not guess that from the actual work, but it is certainly full of colour and cleverly constructed to reflect the weird, disconnected sense of life during the pandemic. Its energy is carefully paced, only to dissipate unexpectedly from time to time, leaving a vague sense of dread hanging in the background to wonky-tuned percussion, wisps of clarinet and whirls of strings.
In comparison to this deliberately nebulous approach, Saint-Saëns's First Cello Concerto seemed an electron microscope image of clarity and taut construction. The prolific polymath Parisian is one of the anniversary composers celebrated at this year's Proms, and hooray for that: his music is still ridiculously underrated, given its technical excellence, finesse and panache, and we're probably not wrong to blame The Carnival of the Animals, marvellous though it is. Guy Johnston was a magnificent soloist, delivering luminous, long-spun melodies like the most gentlemanly of baritones, and presenting virtuoso torrents as if they were second nature.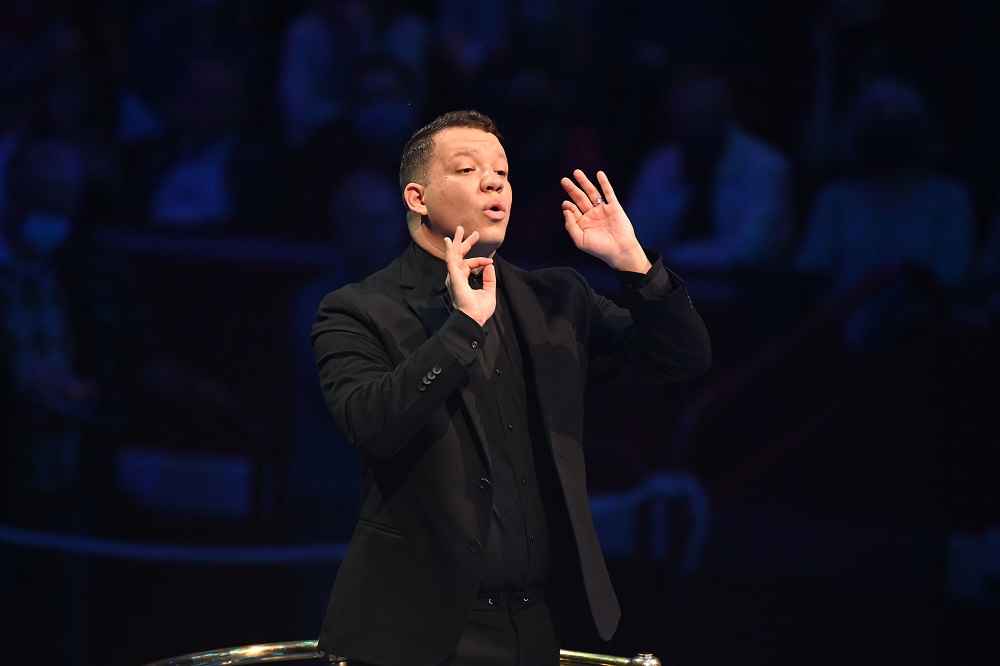 To finish, then, Brahms's Fourth – and symphonies don't get much better than that one. What a treat it is to hear it living and breathing again, even with the orchestra spread out for distancing across what's already a notoriously difficult performance space for the players. If there were a few small ensemble glitches, it is no wonder, though the Albert Hall acoustics (some things never change) muddy out most in any case. Ryan Bancroft, the energetic, positive and unpretentious American conductor (pictured above) who became BBCNOW's principal conductor this season, chose strong tempi and brought warmth and glow to this austere masterpiece.
Yet it's not a coincidence that the climactic Passacaglia shares its basic construction with "Dido's Lament": this movement (hat-tip to Stephen Johnson's excellent programme notes) has a distinct idea behind it, its theme adapted from Bach's cantata No. 150, "Nach dir, Herr, verlanget mich" ("My soul longs for thee, O God"), in which the suffering spirit longs for heavenly comfort. It's a form of existential angst and what was missing from this otherwise enjoyable account was that extra edge of tension, drive and imperative: the sense that the Passacaglia really is, like "Dido's Lament", a matter of life and death.
Ryan Bancroft brought warmth and glow to this austere masterpiece
rating
Explore topics
Share this article