Norma, Royal Opera |

reviews, news & interviews
Norma, Royal Opera
Norma, Royal Opera
This contemporary religious fantasy of a Norma creates a striking spectacle
Tuesday, 13 September 2016
Designer Alfons Flores creates a compelling temple of horror
You wait ages for a Norma, and then three come along at once. English National Opera saw something nasty in the woodshed back in February with their 19th-century American take on Bellini, while up at the Edinburgh Festival this summer the opera's original Romans and Druids traded togas for Tricolores and relocated to Nazi-occupied Paris.
Now, bringing things right up to date, the Royal Opera give us a contemporary clerical fantasy of a production courtesy of La Fura dels Baus's Àlex Ollé
.
The "fearful wood" of Felice Romani's libretto remains, but is here transfigured by designer Alfons Flores from nature's doing into something terribly and horribly man-made. Framing the stage's church interiors are a series of tree-like pillars, each fashioned (it gradually becomes evident in Marco Filibeck's half-light) from hundreds of jutting wooden crucifixes. The effect is grotesque, uncanny, like ossuary art made from skulls and bones. Here the skeleton of Christianity itself is taken to pieces, its symbolism fractured and rendered meaningless through insistent, clamouring repetition. As the evening progresses these crucifixes only multiply, crowding in on the characters from all sides – even above, in a bizarre fusion of a Baldacchino and an oversized crown of thorns. Christianity here is swollen and bloated Alice In Wonderland style – even the thurible is gigantic, the incense-spewing twin of Santiago's Botafumeiro.
Into this giant temple to superstition comes a cast all enslaved to its service. Uniforms range from cassocks and robes to the white cloaks, masks and pointed capirotes of Easter Week. Even the children, masked as well, are already in thrall to this all-powerful religion that has replaced neutral community space and interactions with its own all-consuming agenda. Bizarrely in this quasi-Catholic setup women are permitted to be priests (how else was Ollé to make sense of Norma's status?), a gesture that rings hollow in so militarised and orthodox a society.
The sole escape from this confining church interior is the opening to Act II. Suddenly we find ourselves in a modern playroom. Cartoons play on the television, toys are strewn on the floor while Norma's two children, bright in their pyjamas, cuddle up on the sofa. Into this familiar domestic space comes Norma herself (Sonya Yoncheva, pictured above), knife in hand. Laying out a child on plastic sheeting she prepares for murder. It's manipulative, calculated stuff, but has the desired effect. The live-by-the-sword extremity of orthodox religion has no place in domestic life as we know it, Ollé makes emphatically clear. Norma and her colleagues might sport the most modern of clerical trousersuits, but their religion is still a blunt, medieval instrument.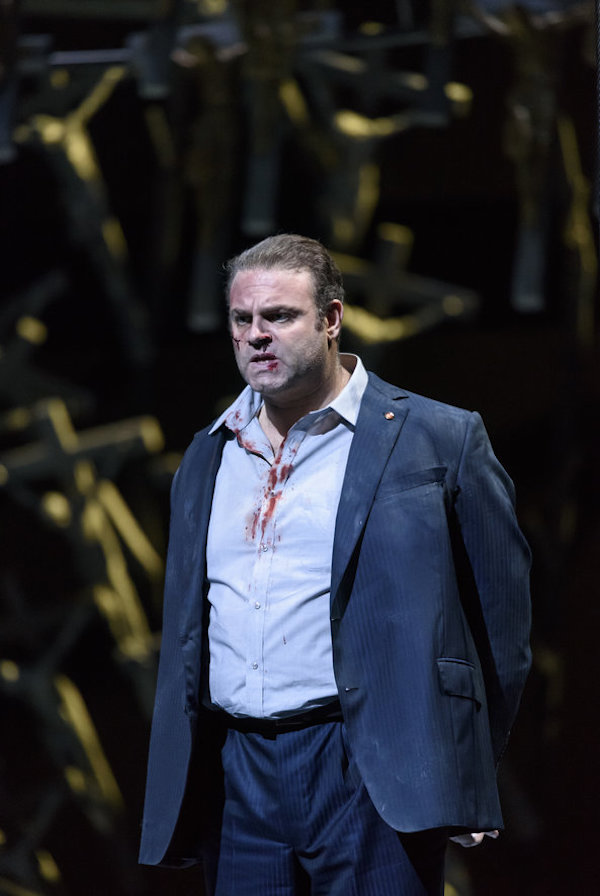 Most of the talk leading up to this production has centred on the role of Norma – abandoned by Anna Netrebko in April on the grounds that her voice has evolved away from the role. Stepping up for her own role debut was Bulgarian soprano Sonya Yoncheva – a choice last night's premiere gave Pappano and the Royal Opera little cause to regret. Hers is still a Norma in progress. There's power, stamina and above all star quality here, but also currently a lack of control. "Casta Diva" came on and off the breath, as did much of Act I, and top notes sometimes felt snatched, the extremes of register not full joined up with the main body of the voice. But, both musically and dramatically, this is going to be a superb role for her – something we saw increasingly sustained proof of in Act II, where vocal colour and emotional urgency finally came together.
Joseph Calleja's Pollione (pictured above right) – also a role debut – had a more mixed night. Strained and uneven in Act I, finding space at the bottom of the voice that he simply couldn't carry up to the top, things did improve towards the end, but it remains to be seen whether this caddish Roman proconsul really is a good role for him. Mezzo Sonia Ganassi struggled as Adalgisa, unfocused in tone and finding little of the character's innocent beauty, written so clearly into Bellini's delicate vocal lines, while Brindley Sherratt (Oroveso) seemed to be having an uncharacteristically poor night, struggling badly at the opening, though recovering to deliver a strong finale together with a very unexpected plot twist. Pappano's orchestra deliver a crisp and not over-sentimental account of the score, though with two principals new to their roles one wonders how many tempi were not of his choosing.
This is a show that will polarise audiences. Some will struggle with the baby-and-bathwater directorial relocation, making a nonsense of the libretto, others will adore the spectacle and spirit Ollé brings to this difficult piece. It's often hard to find the real woman in Norma, the priestess-mother, the would-be murderer of her children, but between them Yoncheva and Ollé do bring both her and her oppressive, orthodox world into focus. Let's hope this Norma gets a revival, because my instinct is that this ambitious, sometimes unwieldy, production will only improve.
Norma is at the Royal Opera House until 8 October
It remains to be seen whether this caddish Roman proconsul really is a good role for Calleja
rating
Explore topics
Share this article