The Silver Tassie, BBCSO, Barbican review - a bracing memorial for the WW1 anniversary |

reviews, news & interviews
The Silver Tassie, BBCSO, Barbican review - a bracing memorial for the WW1 anniversary
The Silver Tassie, BBCSO, Barbican review - a bracing memorial for the WW1 anniversary
An exceptional concert performance brings Turnage's opera back to blistering life
The second act of 'The Silver Tassie' as semi-staged by Kenneth Richardson
In a week of flickering memorial candles and cascading poppies we've all been asked to contemplate the pity of war – to remember and to seek consolation in beauty and silence. But before we can earn that consolation and mourn in that silence there must surely be rage and noise, bloody specificity before aesthetic abstraction.
No composer does rage better than
Mark Anthony Turnage
, and the return of his First World War opera
The Silver Tassie
is a bruising, battering experience – a memorial to a conflict we may only know in sepia, but whose wounds were red and raw.
Premiered to huge success by English National Opera in 2000 and revived in 2002, The Silver Tassie has been unperformed since then – a 16-year silence that is as baffling as the fact that no opera company has seized on this anniversary year as an opportunity to stage the piece. Thankfully the BBC Symphony Orchestra has stepped into the breach with this meticulous semi-staging, and a cast that suggests a hunger – among singers at least – for a magnificent ensemble piece.
The story, adapted from a Sean O'Casey play by Amanda Holden, is a simple one: Harry Heegan is a young man in his prime – three-time winner of football trophy The Silver Tassie. After a final victory, feted by all, he heads back to France where he is paralysed, and neighbour Teddy is blinded. The two broken men must then return home and try to turn survival into living.
Holden's libretto wears its skill lightly, transforming a slightly over-heated protest-play into something cooler and more matter-of-fact – creating emotional space for Turnage's music to fill. This he does with his orchestra, a beast of an ensemble whose heartbeat is the hard hit of percussion (whose thwacks, strafes, gasps and groans are legion), but whose voice is softened by a keening saxophone and strings that swell gently forwards in the startling Second Act – an oratorio in miniature that takes us into the trenches, but as if in a dream, in its collage of musical and conversational fragments. Because, for all the ferocity and whiplash energy of the score, it's the gentleness that gets you.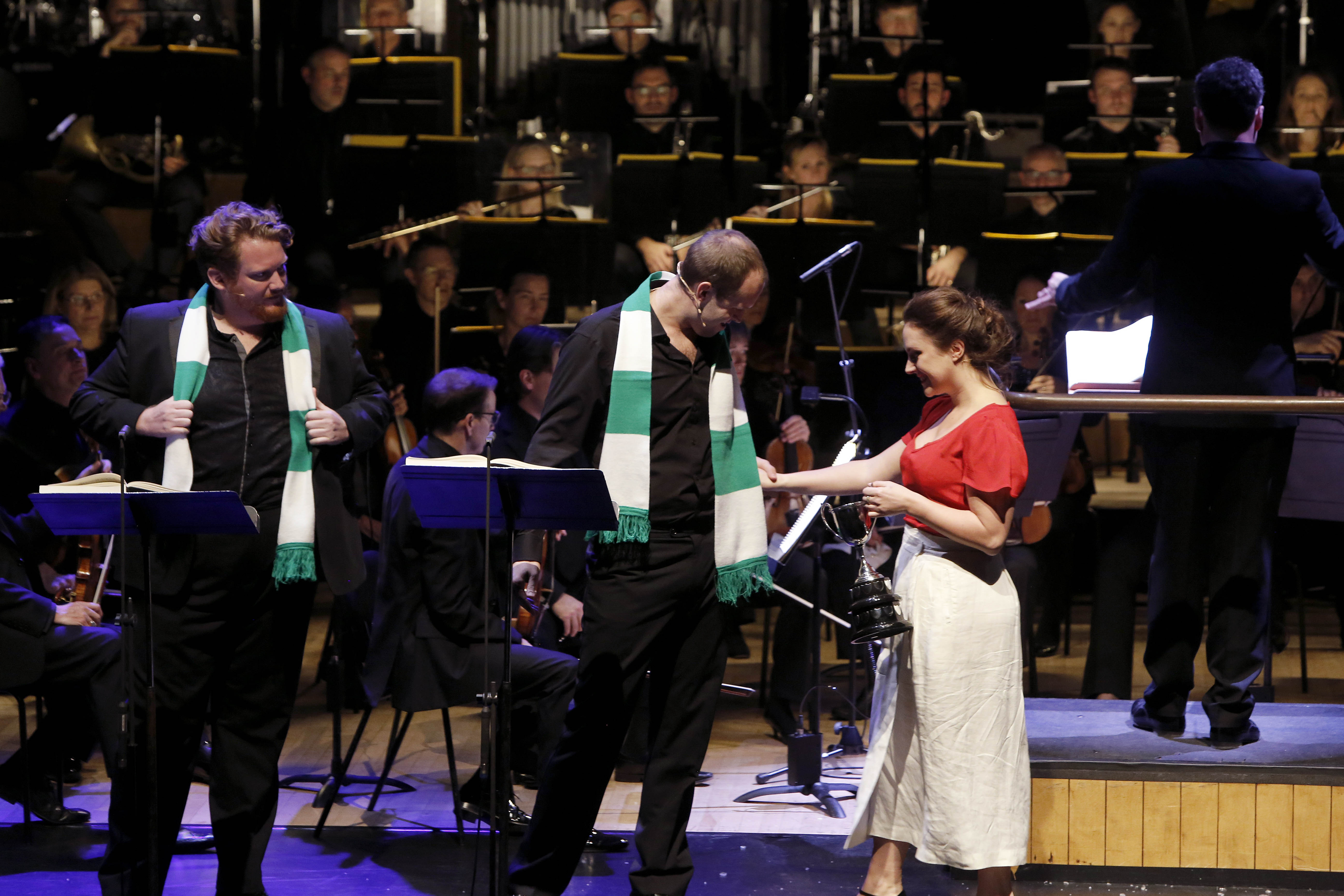 Has Turnage ever unbent musically more than he does here in music that announces its kinship not just to Britten and Tippett but also the 20th-century English songwriters? It's Gurney and Butterworth and Finzi that you hear in Harry's aching Act IV music (sung with such rueful tenderness by Ashley Riches, pictured right in the centre) and softening the sardonic bite of Act III's scherzo. There's so much to say about this symphonic score, and the inner logic of its four-act/four-movement structure, but suffice it to say that, stripped of the gloss of a premiere, it's still an infinitely satisfying and varied thing. The slight bagginess of the Act I exposition sets us up for a drama that tightens and twists with each further Act, coming to a sharp point in Harry and Teddy's final duet, before an unexpected coda – a quartet that turns its gaze from death to life – spins us on our heel.
Ryan Wigglesworth marshalled the BBCSO (as well as the men of the BBC SIngers and the impressive boys of the Finchley Children's Music Group) in a wonderfully nervy, energised performance, catching the cross-currents of a score that's never still. The sheer force of the orchestral writing when heard out of a pit and the breadth of the Barbican stage required some gentle miking of the soloists, barely perceptible but, I suspect, very helpful.
And the cast – what a cast. From Sally Matthews' Susie, unbuttoning from chilly, God-botherer to seize-the-day sexuality and Marcus Farnsworth's thuggish Teddy (pictured left, caught in a marital battle of wills with a radiant Claire Booth), to the heartbreaking optimism of Mark le Brocq as Harry's father Sylvester (apoplectic with pride – an irrepressible figure unable to squash himself down into the confined and decorous space of grief) and the glib brilliance of Anthony Gregory's Staff Officer, there wasn't weak link. At the heart of it, Ashley Riches' Harry took us from blithe confidence to bitter rage, singing Turnage's grateful lines like the songs they are, but never afraid to smudge and muddy this hero.
Kenneth Richardson's staging did just enough but not too much – more suggestion than statement, creating the illusion of space in the awkward corridor left to him on the concert platform. But it does make you yearn for a proper staging with space to spare. Surely, after this, someone could be persuaded?