Spell Book/La liberazione di Ruggiero dell'isola di Alcina, Longborough Festival review - the pitfalls of diversity
Spell Book/La liberazione di Ruggiero dell'isola di Alcina, Longborough Festival review - the pitfalls of diversity
Music of charm or character not always trusted in its presentation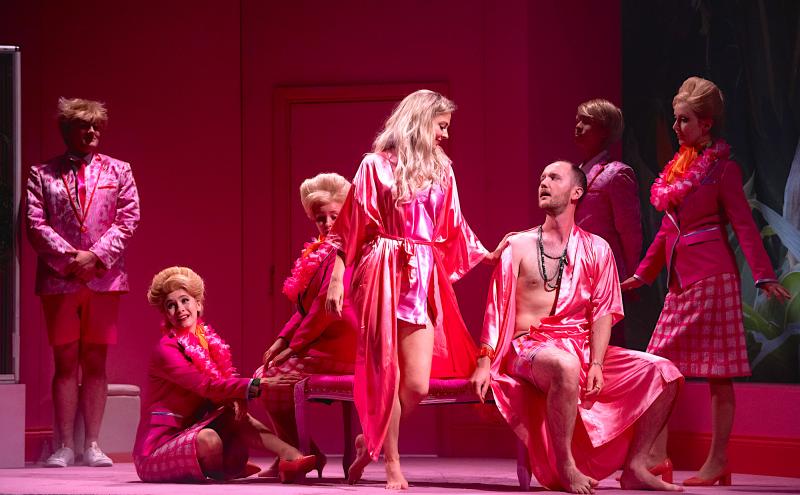 'La liberazione di Ruggiero': Lauren Joyanne Morris and Oskar McCarthy
Diversity is a great idea, but it can sometimes contain the seeds of its own downfall. Positive discrimination is an obvious, frequent example.
But there are two different cases in Longborough's double bill of Freya Waley-Cohen's
Spell Book
and
Francesca Caccini
's
La liberazione di Ruggiero dall'isola di Alcina
, the one case to do with the character of the work itself, the other to do mainly with the philosophy behind its performance here.
Francesca Caccini was the daughter of Giulio Caccini, a composer and singer in Florence around 1600, well-known to music students, at least by name, as the author of one of the earliest operas (Euridice) and a member of the Florentine Camerata, a study group that, among other things, theorised about ancient Greek music and ways of applying its supposed methods to the music of their own day. Simple history tells us that the result of these cogitations was so-called monody – one voice singing to an instrumental accompaniment (as if nobody had ever done that before) – which led soon to opera, Monteverdi etc.
Well, maybe. But in any case operas started to get written, and Francesca wrote several, of which all but this one, La liberazione di Ruggiero (1625), are lost. Naturally one wants to know what this one is like. As a matter of fact you can find that out on Spotify, but we didn't find it out at Longborough, because the conductor, Yshani Perinpanayagam, had made her own arrangement to specifications which, to tell the truth, turned out to be something rather more than an arrangement: something like a travesty, a complete change of character (pictured below, Freya Waley-Cohen).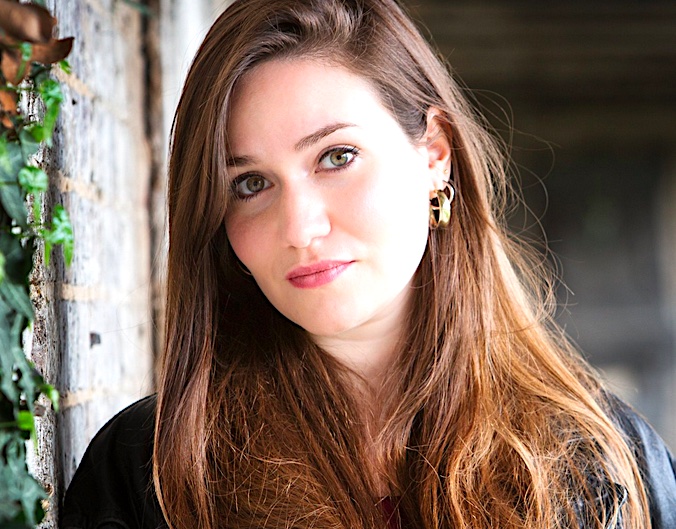 For a start she re-orchestrated it, including instruments – clarinet and piano – that didn't exist in Francesca's day. Fair enough: these were the instruments to hand for Spell Book. But she also added orchestral music where Francesca probably (I haven't seen the score) had only continuo – keyboard and bass. She added new harmonies and textures, and at the end she abandoned the Caccini score entirely and featured a whizz-bang pop number for Ruggiero, who having, as in Handel, escaped the sorceress Alcina's clutches, no doubt feels entitled to express his emotions in the spirit of a new age of release from the old constraints.
But surely the whole point of presenting La liberazione at this moment and on this stage is to show, quite rightly, that women have also composed beautiful music that we should be hearing. Elena Sartori's recording (Glossa, GCD 923902) achieves that well enough. Perinpanayagam's approach achieves something rather different: it implies that, on the contrary, Francesca's work can't quite be trusted to engage us for its full 80 minutes, and needs all the help it can get. She may be right; the piece is musically charming but dramatically inert, too heavily preluded with loyal dedications to their relevant highnesses, too drawn out in the island scenes, too obscure in its dénouement. But if you're arguing, argue. Don't equivocate.
Jenny Ogilvie's staging, set in a sort of de luxe south sea paradise, all vulgar pinks, oranges and scarlets, with massage parlours and cocktail bars (designer April Dalton), also seemed a bit uncertain about the validity of this kind of courtly spectacle. But the music was mostly well sung, under Longborough's excellent Emerging Artists scheme. Particularly strong were the Alcina, Lauren Joyanne Morris, a bright, agile soprano with a lively stage presence, Oskar McCarthy as a fit-looking and -sounding Ruggiero, and Joe Chalmers as Neptune, re-cast here as chairman of a somewhat noisy, clubbable gathering for the performance of this specially-composed opera. Plenty of promise elsewhere, but also the odd disappointment.
Spell Book (cast pictured above) comes at things from a rather different angle. Freya Waley-Cohen's score is a setting of poems by Rebecca Tamás, nominally about various kinds of witch casting various kinds of spell, but in reality about women in a variety of feminist modes, the mythical, the sexual, the domestic, and so forth. It's unclear whether the composer had staging in mind when she was writing the music: formally the work is a song cycle. In any case its staging proved problematical, didactic in a curiously old-fashioned, Brechtian sort of way, with the instruments onstage and characters scrawling texts on paper curtains that later get ripped down while women in dowdy costumes (most of which at a certain point they discard) drone on in a Seventies or Eighties way about bodies, menstruation and vulvas.
In her programme note Waley-Cohen confesses that after reading Tamás she "started to have strange and witchy dreams." But, perhaps fortunately, music is a secretive art that keeps its counsel about such matters, and the music of Spell Book is vivid and arresting without obvious graphic links to the poems. In fact there is an odd disconnect between the vocal music and the instrumental. The texts are set clearly and directly, sometimes reflecting but often resisting hysterical temptations, and are very well, expressively sung by four young sopranos and mezzos (Sarah Richmond, Bernadette Johns, Nia Coleman, Jessica Robinson) and a high countertenor, Keith Pun.
Meanwhile the accompaniment, for piano quintet with flute and clarinet, seems to brood on its own nightmares, sometimes excitedly, sometimes morosely, always in a particular, focused manner, rather as one remembers dreams in single frames. This is not pretty music, but it is striking, tightly composed, highly individual. The playing, by Chroma under Perinpanayagam, seemed excellent. Exactly what it taught us about women, and witches, may be best left unsaid.
The whole point of presenting 'La liberazione' at this moment and on this stage is to show, quite rightly, that women have also composed beautiful music that we should be hearing
rating
Explore topics
Share this article