theartsdesk in Brno - a visionary at home in his 'Moravian Bayreuth' |

reviews, news & interviews
theartsdesk in Brno - a visionary at home in his 'Moravian Bayreuth'
theartsdesk in Brno - a visionary at home in his 'Moravian Bayreuth'
Jiří Heřman delivers remarkable Janáček and Verdi in Brno's National Theatre
Saturday, 24 December 2022
Early scene from Jiří Heřman's production of 'From the House of the Dead/Glagolitic Mass'
"Visionary," I'm told, is a clichéd word these days. But so long as you don't fling it about too freely, it's apt: for me, there are only two visionary directors working in opera right now. One is our own Richard Jones – though even he can get it wrong occasionally – and non-Czechs probably won't know much about the other as yet.
Jiří Heřman, for seven years the Artistic Director of the National Theatre Brno's Janáček Opera, whose new production of Janáček's From the House of the Dead in an unprecedented yoking with the Glagolitic Mass I was there in to see, along with a revival of his 2020 take on Verdi's Nabucco, delivered what for me was the highlight of the city's 2018 Janáček Festival, a biennial event of dazzling magnitude – and that first experience wasn't of a Janáček opera. Czechia was celebrating its centenary as a nation-state (admittedly it started out with Slovakia, and ties are still strong). So the obvious choice was Smetana's national epic Libuše.
How on earth to stage this pageant? As Heřman told me in his office beneath a large portrait of who else but Janáček, "it was a challenge for me, especially as part of a Janáček Festival, because as you know Janáček was not really a fan of Smetana, and also this special festival opera has become a fixture of the national holiday celebrating the anniversary of the foundation of Czechoslovakia. I had the idea to present it as a concept which includes that foundation and all the history since then with all the Czech presidents who for us were very important, and let's say the situation here was that not everyone was very happy with our recent president. For me first president Tomáš Masaryk and later Václav Havel – these two are the keys, I hope, to the future of the Czech nation. [the two as depicted in the production pictured below].
"It was a gift in a way that we had to be at the exhibition site, because the opera house was newly reconstructed and we had just The Cunning Little Vixen on the new main stage. The main exhibition spaces were inaugurated by Masaryk, so somehow I felt his energy was there, and we could also use an immense venue, possibly the biggest space in Europe, and I liked the idea of having Prague's National Theatre built in the hall. Of course there was some controversy, because no-one expected that this peace opera would be in confrontation with the ideas of how we are today, how we are connected with Czech history, to go to the roots of for me the most important president, Masaryk".
Would it have changed if it had been done this year? "Actually we plan to revive it for the Smetana bicentenary. I'm not sure if it will still work, I may have to change it, because already the period of the recent president is now about to finish. But maybe in 2024 It will be the same situation; let's see who the new president will be. I must say I don't have any preference right now." Would the issue of Czechia's support for Ukraine come into the picture? "Yes, I think we are one of the countries which are really supporting in the third wave of refugees. We also engaged some Ukrainian singers here." I saw Eduard Martyniuk, recently arrived from Odesa, as Shapkin in From the House of the Dead and one of the tenor soloists in the Glagolitic Mass, and his wife Anastasiya Martyniuk making an unusually strong impression as the usually sidelined Fenena in Nabucco, here a passionate equal of Csilla Boross's Abigaille.
2018's other great success was Heřman's Vixen production, which I only saw on OperaVision; yet its narrative linked to the original creator of Vixen Sharpears in Brno's newspaper Lidové noviny, Rudolf Těsnohlídek, and his creation of a children's orphanage in his home town of nearby Bílovice nad Svitavou, made for the best production of the work I've ever seen. Sadly it's not viewable any more, though it may be coming to the UK, and this charming documentary will whet your appetite.
This year the Janáček Festival embraced several smash hits. One was Scottish tenor Nicky Spence, singing what all natives agree was idiomatic Czech alongside Julius Drake, in The Diary of One Who Disappeared at the lovely, 130-year old Mahen Theatre, where the first performances of all Janáček's later operas took place (it's still used for the National Theatre's smaller-scale productions). "It was a surprise," says Heřman, "because they staged it, it was supposed to be a concert in front of the iron curtain. And it was really a highlight of the festival, a huge success. There were reviews which said it was the best Diary of One Who Disappeared here in the Czech Republic."
Nicky will be taking on the role of the bourgeois, beer-swilling, philistine protagonist of The Excursions of Mr Brouček in a new National Theatre production directed by Robert Carsen in 2024 (originally slated for 2020, but we know what happened there). Heřman has a plan to involve him and Drake in a project also including Šárka, the early nationalist-romantic opera Janáček substantially revived in later years, in 2026, when the National Theatre will present all nine major operas in a big overall concept. And then there's the centenary of the composer's death in 2028. (Pictured below: Spence, mezzo Václava Krejčí Housková, Drake and Heřman in Brno).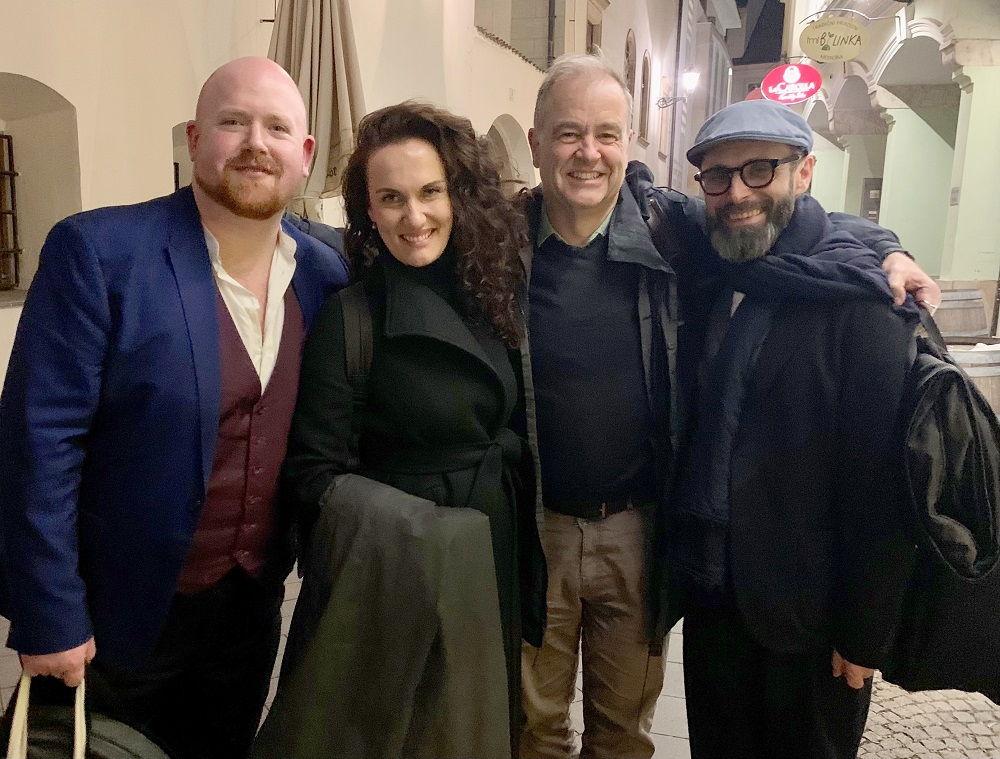 This festival was also special in that Heřman was able to invite three internationally successful Czech conductors back to Brno – Jakub Hrůša to conduct the Dead/Glagolitic fusion, Tomáš Netopil at the helm of the Orchestre de la Suisse Romande in a Geneva Káťa Kabanová, and Tomáš Hanus with his Welsh National Opera in their recent Makropulos Affair (Hanus also conducted WNO's visit to the exhibition centre with From the House of the Dead in 2018). Hrůša, Netopil and Heřman studied at Prague's Academy of Music together and Hrůša collaborated on Rusalka at the city's National Theatre during Heřman's five-year stint as artistic director; he had not worked on any opera in Czechia between then and now.
"It was a very intense three weeks, also to see their very different ways of working, because we don't know how they interpret Janáček abroad, because we have to travel to see them". Netopil's Káťa was "very lyrical, the production of Tatjana Gürbaca was very touching, and we were happy to have Corinne Winters, who performed the role in Salzburg, she was just fabulous. For Tomáš Hanus, that was his triumphant comeback, because he left Brno in I think not a very comfortable situation – it was the same situation as for me at the Prague National Theatre, that if you have to make changes, you are not very popular. Sometimes you are involved in not very pleasant discussions and dialogues, that was not a happy period. But now with the distance his return was a triumph of his Makropulos. He feels Janacek in a very expressive way, he doesn't leave one note without expression. The WNO orchestra is fantastic. They also had a concert – they played the Sinfonietta, I was also happy to hear Peter Grimes Sea Interludes, Biblical Songs by Dvořák with Adam Plachetka. And these conductors witnessed each others' performances.
"Jakub was working with our [National Theatre] orchestra for the first time, and I was really amazed because somehow he's such a great artist, and also human being, he was so inspiring for everyone. Somehow he connected the choir, orchestra, soloists, like one really great group of artists so that they could make this happen". The idea to conjoin From the House of the Dead and the Glagolitic Mass was Hrůša's. Director and conductor agreed to work together on the Dostoyevsky opera in 2018, "then there was one call from Jakub, and he asked me what I thought about the connection with the Glagolitic Mass, because in his opinion the opera doesn't really come to an end. For me it was a challenge because I'd already put together Martinů's Epic of Gilgamesh with Purcell's Dido and Aeneas. I said why not, I like this, and it's not something new that you can see staging of oratorios, but in my work with this ensemble it's very important that they are not only in operas, and we have very good choirs, and I felt that in the Glagolitic Mass [scene pictured above] they would really show their power.
"Then there were a lot of questions; I must say reactions to this staging are different. On one side it's wow, and on the other side it's NO, because this is a concert piece and it should be done as a concert piece. Jakub wanted these pieces to be divided, so the opera first, then the Glagolitic Mass after the interval. Before the summer I said, if I'm thinking about this connection, it seems to me a good idea to make an interval between the second and the third acts, and then directly continue to Glagolitic Mass. The musical connections work for me. These two are actually Janáček's last major works. Some themes, some motifs, are actually connected. Another inspiration for me was the violin concerto that Janáček subtitled 'The Journey of a Soul'. He later used it as the Prelude of From the House of the Dead. There's a violin solo in all three pieces. Listening to the music and reading the scores, my first impression about the Glagolitic Mass was that there are two worlds: one is very light and serene, the other very heavy, full of pain, suffering, guilt, and doubts as well, as in the Agnus Dei. For Jakub, From the House of the Dead is the world of the man, and in Glagolitic Mass the female world is joining, and somehow the women bring the light."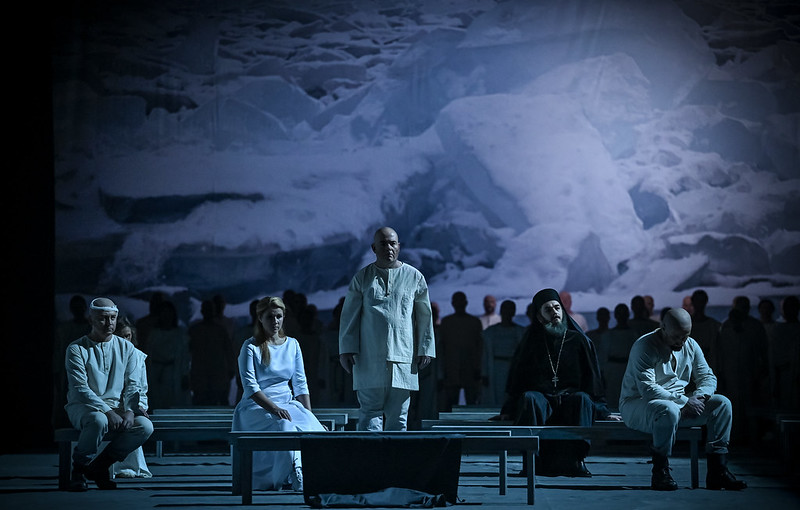 Everything eventually connects in the Mass (penultimate scene pictured above), even if it's not all clear in this take on the preceding opera. The prisoners' narratives of their crimes, in both Janáček and his source, Dostoyevsky, centre around women – the convict Skuratov has murdered the old man who wants to marry his beloved Luisa, and Shishkov kills Akulina because she loves Luka. These women become silent presences, ready to take up roles in the Glagolitic Mass (Kateřina Kněžíková, Czechia's leading soprano, plays Akulina and then takes on the soaring soprano role in the Mass). They are joined by another dignified figure who seems to double as the sorely-missed mother of the 16-year old Tatar boy Alyeya – portrayed convincingly here by Jarmila Balážová – and the mother of Christ. Heřman has had the stage built out in front of the orchestra so that these imagined figures can move in front of us, but also so that the men's monologues have the intimacy Heřman thinks they need, communing directly with the audience (there are also two red-clad guards thundering the timpani to left and right, a physical shock to the system).
Heřman was pleased I'd avoided watching the OperaVision film first so that everything came as a surprise; "the camera only gives you one view, and Glagolitic Mass is made especially on stage that you feel it as a whole space, so you are part of it in the auditorium, it's difficult to make a video from this." Nevertheless I can't recommend too strongly that you watch it all, and the documentary that goes with it, not least because it captures Hrůša's outstanding results; on the night I went, the theatre's second music director, Robert Kružík, was conducting – with remarkable clarity and impact – because Hrůša was with the Vienna Philharmonic. Odd to think that, had I known, I could have taken the train from Brno the next morning for the Sunday daytime repeat concert and been back in time for Nabucco.
And that was the consolation prize for not having been able to make the festival this year. All Heřman's productions are visually striking and these two created unforgettable stage images using the same team of Tomáš Rusín (scenery), Zuzana Štefunková-Rusínová (costumes) and Heřman himself for the very remarkable lighting. Nabucco is all gold, deep blues for the Assyrians and creamy-white for the Jewish people, with some strong video projections; Heřman wants to show Nabucco as a visionary leader with a hand in the architecture of Babylon (pictured below) as well as a man of tragic flaws embroiled in a family tragedy involving his relationships with his two daughters.
I suspect that Dalibor Jenis, the Slovakian baritone around whom the original production was made, might have had a stronger physical impact, but Italian bass-baritone Damiano Salerno's voice and bel canto line had increasing impact, richness and force. Boross's Abigaille was on fire, with the vital flamethrowing upper register, but you also felt that Martyniuk, though she's officially a mezzo, could have managed the role of the more troubled sister too. Idiomatic conducting, too, from Ondrej Olos, and more magnificent choral singing; easily the best Nabucco I've seen on stage.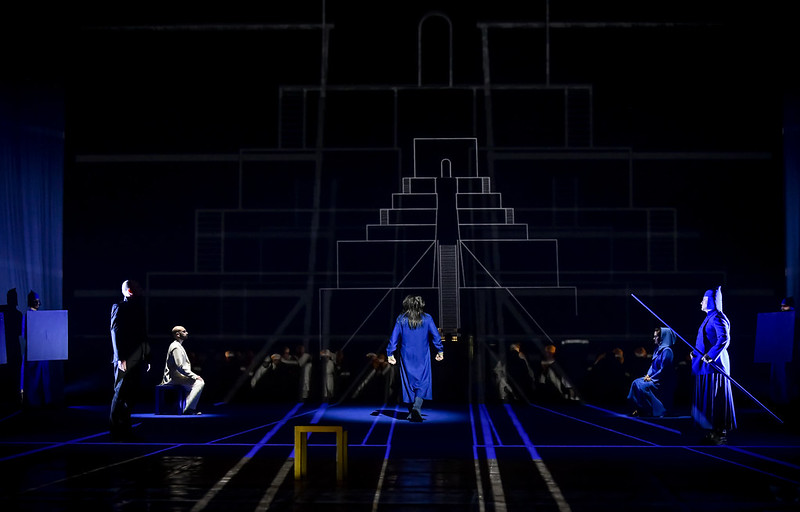 And what a space in which to be immersed. Heřman says of his renovated space that "I feel very good because you have a big stage with side stages, backstage, also the auditorium after the reconstruction is so pleasant, with elevations and good views, the acoustics are good – it's the theatre of my heart. The National Theatre in Prague is completely different with all the gold, very narrow, also somehow attractive, but here in what I call 'Moravian Bayreuth' I feel free to work more with staging ideas, without disturbances". Long may that continue; don't miss a chance to explore a truly wonderful, music and art-loving city in 2024 or '26.
Watch From the House of the Dead/Glagolitic Mass free on OperaVision for the next six months