War and Peace, Welsh National Opera review - an Operation Barbarossa that comes off |

reviews, news & interviews
War and Peace, Welsh National Opera review - an Operation Barbarossa that comes off
War and Peace, Welsh National Opera review - an Operation Barbarossa that comes off
Not quite a masterpiece but a great aural and visual spectacle
Monday, 17 September 2018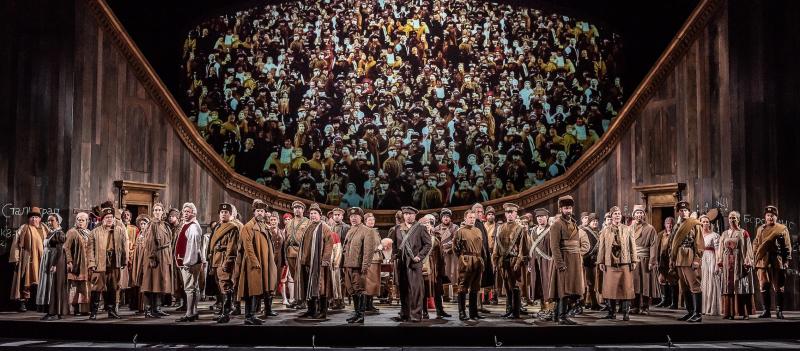 The Russo-Welsh front line holding firm as usual
What lunatic would ever have the idea of turning War and Peace into an opera? Well, maybe if you, a composer, had found yourself in Moscow in June 1941 when news of the German invasion reached the Soviet capital, you might have decided to mount an Operation Barbarossa of your own, and that's in all but name what Prokofiev did. The project occupied him on and off for the rest of his life (he died in 1953 on the same day as Stalin), and it never quite reached a definitive form.
In his new production for WNO, David Pountney has had to take a somewhat intricate view, with the help of the Prokofiev scholar Rita McAllister, on what to include and what to cut out. And the result, if it doesn't quite establish Prokofiev's ramshackle score as a deathless masterpiece, does vindicate it unquestionably as a gripping and sometimes powerful evening in the theatre.
The stage picture is consistently riveting, with brilliant use of back projections
Prokofiev's own libretto, compiled in collaboration with his second wife Mira Mendelson and sung here in McAllister's English translation, is amazingly successful in reducing Tolstoy's epic to some kind of narrative simplicity – that supposed but frequently ignored sine qua non of great opera (Don Carlos and Khovanshchina nota bene). It reduces the novel's complex interweaving of its title elements to two halves, peace then war; it naturally omits whole swathes of plot and hugely reduces the number of characters (no Austerlitz, no Nikolai Rostov, no first wife of Prince Andrei, no final marriage of Natasha and Pierre Bezukhov). It creates two distinct rather than entangled threads: the story of Andrei's love for Natasha, her attempted elopement with Anatole Kuragin, Pierre's intervention; then the Battle of Borodino, Kutuzov's decision to abandon Moscow, the burning of the capital, and the French retreat, interrupted only by the wonderful scene of Andrei's death and reconciliation with Natasha.
All this feeds Prokofiev's two greatest strengths as a composer, his marvellous lyrical gift and his mastery of what one might call the organised orchestral barrage. His War and Peace is that rare thing, a lyricisation of the modern, precisely the fusion that kept getting him, Shostakovich, Myaskovsky and others into such trouble with Soviet authority. Long stretches of dense, dissonant, noisy choral and orchestral texture (including the patriotic Epigraph, which Pountney, surely rightly, places at the very start, before the overture, as allowed by the published full score) will suddenly clarify into radiant melody harmonised in Prokofiev's irresistible, side-slipping way. The style is broadly Romeo and Juliet married to the Fifth Symphony, but with the added distinction of skilful and effective vocal writing and a deeply human narrative.
Pountney's staging plays on his own strengths as well. The stage picture is consistently riveting, with brilliant use of back projections (David Haneke) behind a hemispheric permanent set pinched from Ian Bell's In Parenthesis of 2016 (now, as then, Robert Innes Hopkins). The visual image is hybrid, not just because of the work's obvious universality, but because First World War uniforms were likewise to hand presumably from In Parenthesis, so that Prokofiev's two wars become Pountney's three, with Napoleonic costuming mixed up with hints of the forties, a Soviet uniform, a Nazi salute, a Fascist beret: conceptual virtue made out of brute necessity.
With the WNO chorus in its element especially in the big ensemble scenes that pepper the War section (some of which Prokofiev added to appease the censorship at the time of the Leningrad siege), Pountney's skill as a stage organiser is much in evidence. The section's parade of shortish scenes is cleverly dovetailed, each flowing into the next in a complex montage that integrates unforgettably with the back-projected excerpts from the 1966 Bondarchuk film of Tolstoy's novel.
The domestic scenes, by contrast, have their lapses in among the brilliancies. Pierre's tirade at Anatole over the failed elopement is as rivetingly staged and sung (Mark Le Brocq and Adrian Dwyer) as it is composed. On the other hand, Pountney seriously defuses the death scene by showing it through a window that – even from my stalls seat – partly hid Natasha and concealed the fact (revealed by the production photos) that she has become a Red Cross nurse. Too bad. But mostly these scenes also show the virtues of detailed preparation by a director who, unlike a good many of his colleagues, has a musical head on his shoulders, can read a score, and knows how to make the stage work with the pit. The ball scene (pictured above, with Lauren Michelle and Jonathan McGovern, centre), a late addition, is meticulously staged and choreographed (Denni Sayers) to some of the opera's most exquisite music. Prokofiev, who never saw the complete opera produced, would surely have been enthralled.
It's a tough call for the soloists too. Characters come and go with sometimes long breaks in between. Double and triple casting (an unavoidable recourse) must make engagement tricky. This is nevertheless above all a superb company show enlivened by a whole gallery of vignettes, too numerous to list. Among the leads, Le Brocq, Dwyer and the Natasha, the fresh-voiced American soprano Lauren Michelle, are outstanding. Simon Bailey's shambling Kutuzov (pictured right) is a perfect image of everything that the arrogant, meticulous, over-controlling Napoleon (the excellent David Stout) is not, even if a shade more bottom to the voice would Russify him better. Jonathan McGovern is a vocally solid if dramatically somewhat bland Andrei, charmed by Natasha, no doubt, but not visibly or audibly excited by her.
Tomáš Hanus paces and integrates this whole sprawling canvas with precision, energy and commitment. For a first night, the performance was remarkably trouble free. And the orchestra was having a wonderful time with Prokofiev's idiosyncratic scoring, his sudden explosions of deep brass and soaring strings, his tangled polyphonies and baby ostinatos. War and Peace is a work of so much invention and such imaginative reach that it's a pity its theatrical diffuseness will probably always limit its performance. But at least WNO have now shown us what's possible.