10 Questions for Actress Phoebe Fox |

reviews, news & interviews
10 Questions for Actress Phoebe Fox
10 Questions for Actress Phoebe Fox
Cumberbatch's queen, Mark Strong's guilty secret, and now she's pocket Olivia to Tamsin Greig's Malvolia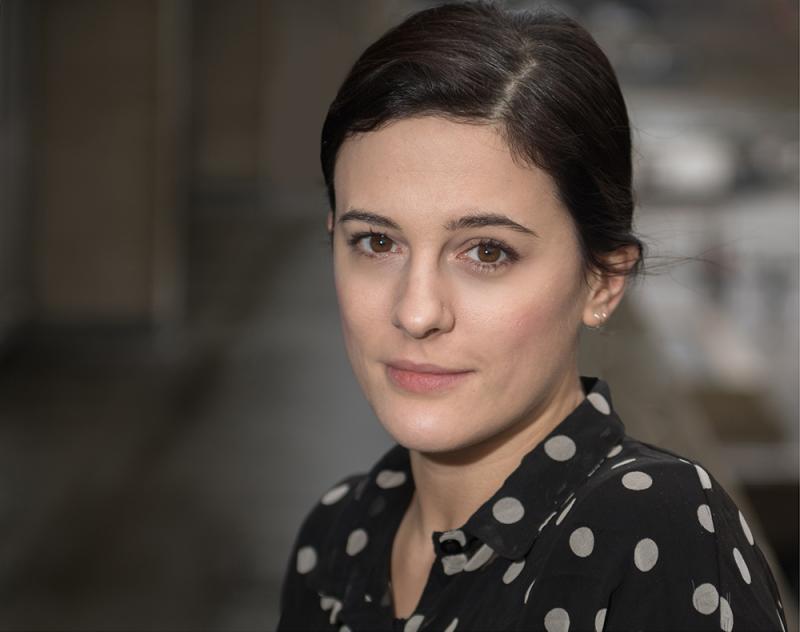 Phoebe Fox: 'I'm a closet character actress'
In London and New York, Phoebe Fox (b. 1987) is known to theatregoers as Catherine, the niece over whom Mark Strong's Eddie Carbone went pazzo. Their physical intimacy, in Ivo van Hove's sizzling Young Vic production of A View from the Bridge, made for an intensely uncomfortable viewing experience. For her return to the stage, Fox is in a frothier one-sided relationship.
In the
National Theatre
's
Twelfth Night
she plays Olivia, the grieving countess who falls in love with a boy she doesn't know is a girl.
Simon Godwin's production has further fun with gender by giving the yellow cross garters to Tamsin Greig's Malvolia (pictured below, in rehearsal with Fox. Image by Marc Brenner). Fox's short Shakespearean career is full of illustrious co-stars: she was Cordelia to Jonathan Pryce's Lear at the Almeida, and Anne to Benedict Cumberbatch's Richard III in the BBC's final instalment of The Hollow Crown: The Wars of the Roses. The latter was one of many eye-catching performances on television: the young Vanessa Bell in Life in Squares, Liz Reitell, Dylan Thomas's fixer and lover in A Poet in New York, a Nazi hunter in Stephen Poliakoff's Close to the Enemy. But among all these period dramas her defining performance so far was in NW, adapted from Zadie Smith's novel. Fox played Leah, whose unspeakable secret is that she she doesn't want children.
The scion of an alternative Fox dynasty, she is daughter of actors Stuart Fox and Prue Clarke. She took three goes to get into RADA, where she met her husband Kyle Soller (known to the nation as the unfortunate Francis Poldark). As she prepares to enter Illyria, Phoebe Fox tells theartsdesk how she got there.
JASPER REES: Simon Godwin also directed you in Anya Reiss's play The Acid Test at the Royal Court. How do you know you're in a production of his?
PHOEBE FOX: What's great about him, and maybe particular, is he's got a huge sense of fun and play which makes him a great director for comedy. There was a real bawdy rowdiness to The Acid Test and I think this production will top that. What's wonderful is that he encourages you to make really big comedic choices with the proviso that once you've gone big you can always pull it back. It makes it really fun and playful. It really is like being a child again.
The idea of a woman falling in love with a man whom she doesn't know is a woman is of course pregnant with comic possibilities. What have you found in Olivia?
What seems to be coming to the fore is that she surprises herself with just how sexually aggressive she is. First and foremost she's nobility and there is a part of her that knows how she should behave but she is sort of driven mad by this boy and ends up doing things that later she'd be really embarrassed about. As Simon says, it's almost as if before her second meeting with Viola she's been giving herself a good talking to: "Whatever you do, don't bite him." And then of course she does. There is a joyful tussle between how she should behave and how she does behave. She's a firecracker. (Pictured below: Phoebe Fox and Tamara Lawrance, as Viola, in rehearsals for Twelfth Night. Image by Marc Brenner)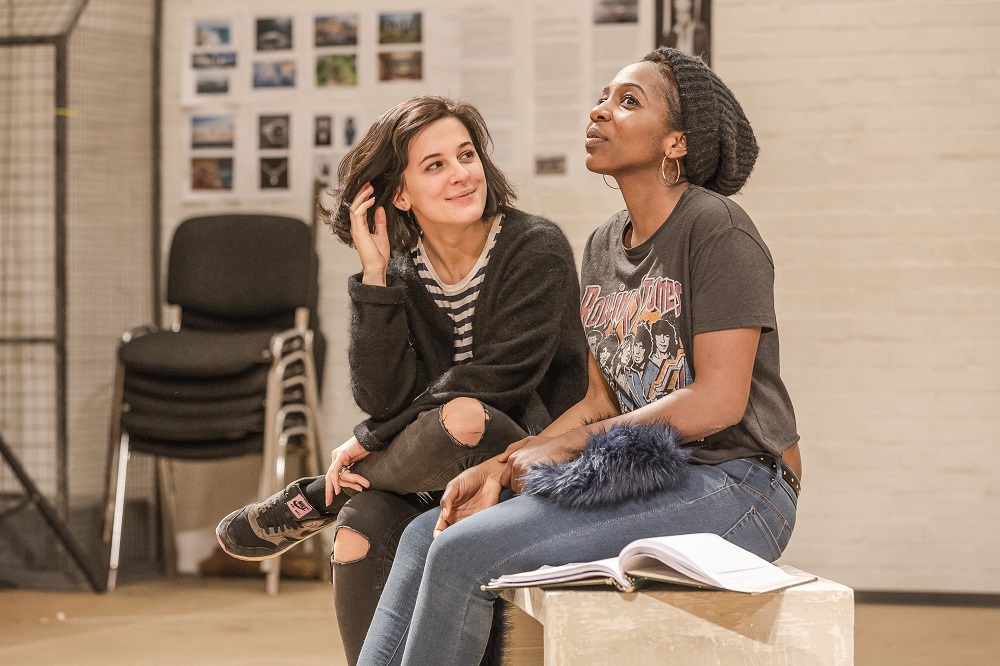 You're not the tallest actress in the room. Are you able to use that to your advantage?
When you're small but dominant, I guess, it's quite an amusing combination. It leads to quite a scrappy personality which I always enjoy seeing on stage because you don't expect someone of that height to be so strong or aggressive. I would say in a way that Olivia is suffering maybe a little bit from short man syndrome. But it's a wonderful contrast. Then at the end the only scene I appear in with Orsino who is in love with me, and we don't see that till the last scene of the play, and of course Ollie Chris who is playing Orsino is six foot four which is a whole foot taller than I am. You see these people together and think, that would obviously never work. I think it lends itself to comedy, definitely.
Are you blanking other Olivias from your memory?
I have never seen Twelfth Night actually. So what a pleasure to be able to come to it fresh. I have no preconceived ideas about how this part should be played at all which for Shakespeare is quite unusual. I guess I didn't go to see a lot of theatre growing up. All of the theatre I've been to is from the time I started drama school, which is seven years.
When you played Anne in The Hollow Crown opposite Benedict Cumberbatch's Richard III, how did you get inside the head of a woman who has to perform a bizarre romantic back somersault and be seduced by your husband's murderer?
It was really tough actually. We had an hour's rehearsal three months before we shot the scene. It's not really enough to get to grips with that complicated turnaround. Dominic [Cooke] set Richard III 10 years after the end of Henry VI which means that her husband and father-in-law have been dead for 10 years, which completely changes things. I thought if someone is still obsessing over these deaths then she's not in her right mind. She's been taken off into seclusion and has become obsessed with Richard in an unhealthy way and she is sort of in love with him in a very twisted way, almost like she has Stockholm Syndrome. That was how I tried to make sense of what she does. But God, Shakespeare doesn't make it easy. And we cut that scene so I had even less time to make that switch.
You were part of another tricky sexual pas de deux in A View from the Bridge. I cannot recall having felt such a sense of the forbidden being acted out in front of an audience as at that moment at the start when Mark Strong put his hand on your lower thigh and then very casually moved up. How did you locate that illicit intimacy between uncle and niece? (Pictured below: Phoebe Fox with Mark Strong and Nicola Walker in A View from the Bridge. Image by Simon Annand)
It's interesting. When you strip away any kind of set you have to make really strong physical choices just to make it visually interesting. And from the very beginning we were all keen that it was kind of explicit, that there should be some ambiguity but there definitely was some sort of sexual tension between the two of them. But interestingly if you ask Mark Strong he could categorically say that he wasn't interested in Catherine like that. Which is interesting but he still did all those things onstage. As far as I was concerned she was someone who was testing out her sexuality on the only man that she has any contact with. She is not really allowed to have any friends or boyfriends. She is dipping a toe into her own sexuality. And he's there! And he's attractive! Not that she's sexually attracted to him like that but he's not her blood uncle and in our production he's an attractive man in his late 40s. Ivo [van Hove] always wants to go for the most thought-provoking and risky choices which is why I loved working with him. He's so bold that it makes you feel that you have to step up and meet him. So when I jumped on Mark that was purely out of actor's fear that I really need to do something to impress this director. I was like, I'm going to jump on him! He provokes you into making choices that you would never ever make normally.
Does that dynamic in which actors disagree about the scene they're co-creating actually help to produce something alive?
The most interesting scenes are when people have opposing actions. But also it's almost like Mark couldn't help but become Eddie Carbone, and he just couldn't admit to himself that this guy was attracted to a girl who was so young. I don't want to make too many presumptions but I think a lot of men found it very hard to watch because no one wants to admit to themselves that they are attracted to a girl so young, even if you're acting it.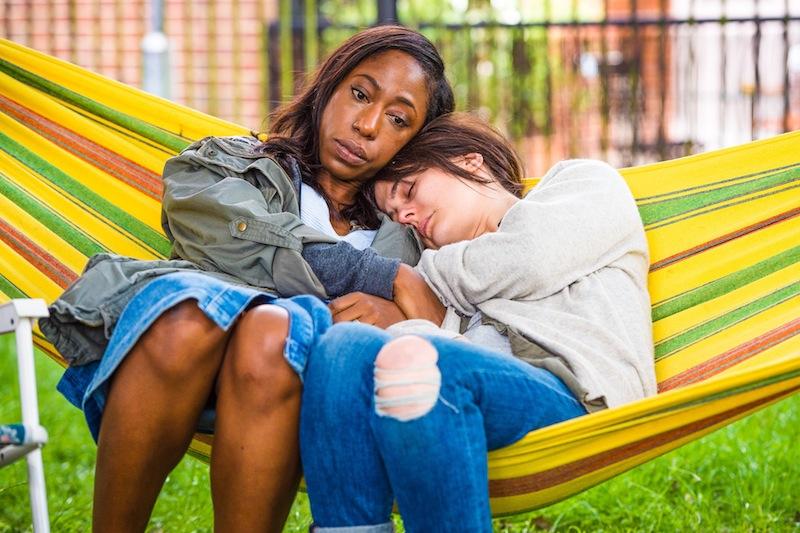 You were brought up in west London, not very far from Leah, the woman you played in the adaptation of Zadie Smith's novel NW. Do you look for a bit of yourself in whoever you play or would you much rather steer clear of similarities? (Pictured above: Nikki Amuka-Bird and Phoebe Fox in NW)

I tend to try and steer them away from myself, purely for my own entertainment. I'm a closet character actress really. That's what I'd really love to be but unfortunately I think the industry wouldn't really let me fit into that mould. With Leah it was really hard not to inhabit her as myself. She's very close to me in almost every way. Interestingly it was the one thing that all my mates from school really connected with. Everything else I do they're like "Ugh, you sound well posh." It was really nice to let myself off the hook. I didn't do loads of character work on Leah. I just played her. I just was her. That sounds a bit wanky. I normally stress out about "where's their centre of gravity and where does their voice sit?" With Leah I just did it and interestingly it's the one thing that most people have given me most praise about. Such is life. When you try really hard people generally think it's crap.
Close to the Enemy was not hugely well received. Is it disappointing when the general reaction is negative? (Pictured right: Phoebe Fox with Robert Glenister)

Yeah of course, but I try not to take it personally, especially as the actor because so much of it in TV and film is out of your hands, which I find really hard. I want to be able to control my performance and you don't have any control. Yes it's hard but there's just no way that everything you do is going to be enjoyed by everyone. So that's just part of it.
Are you able to put your finger on why you wanted to act if you didn't go to theatre much as a child, even though your parents were actors?
I did go to the theatre but I went to see my parents in things. And when my parents weren't working the last thing they wanted to do was go to the theatre. I saw loads of stuff but all of the really big productions of the last 20 years I would say I probably missed. But my parents were a huge inspiration. I feel bad that I've never really voiced that to them. They were both incredible actors. That's the reason I wanted to be an actor. It wasn't from seeing Ian McKellen do his Richard III. It was from seeing my dad do Macbeth at the Orange Tree.
It took you a while to get into RADA. Was there ever a point where you thought of trying something else?
No, I never did think about packing it in. It was all I ever wanted to do and I was in no way ready to give up that dream. It wasn't even about becoming an actor. I had dreamed of going to drama school my whole life. I didn't feel like I had another option. I wanted the training so just becoming an actor was never on the cards and then going to university just didn't interest me. I guess I had enough faith in my ability that I thought I would get in at some point. I guess I have an ability to see everything in a positive way. It never occurred to me that I wouldn't have a career. I've always been unfailingly optimistic. The first job I did I was like, "Great! So this is it! This is the rest of my life!" Which is maybe slightly naive but possibly also what kept me going. I will not let myself dwell on this idea that it's going to go to shit.
Actresses still often find it harder as they get older. Whose career do you look at and think, I'd like to be like them in 20 or 30 years' time?
I sort of want to be somewhere between Isabelle Huppert and Emma Thompson, I think. There's loads of women who've proved that you can do it. Thank God. It will get tough. I'm sort of hoping by the time I'm in my 40s, things will have changed considerably. One hears there were four different theatres trying to put on Mary Stuart at the same time because clearly everybody had decided they needed to put on a play which had a couple of leads who were women over 50 and all they could find was Mary Stuart. The writing's got to be there. The attitude might be changing but the parts still aren't there which is where the problem is.
What happened on Sunday nights in your house when Poldark was on?
I watched it. And Kyle? Not so bothered. I was intrigued. I kind of get off on seeing him on TV. "Oh Kyle, you've on TV!" It's just a bit sad.
I sort of want to be somewhere between Isabelle Huppert and Emma Thompson
Explore topics
Share this article