Imagine My Name is Kwame, BBC One review - interesting but incomplete |

reviews, news & interviews
Imagine... My Name is Kwame, BBC One review - interesting but incomplete
Imagine... My Name is Kwame, BBC One review - interesting but incomplete
Profile of Young Vic artistic director could go still further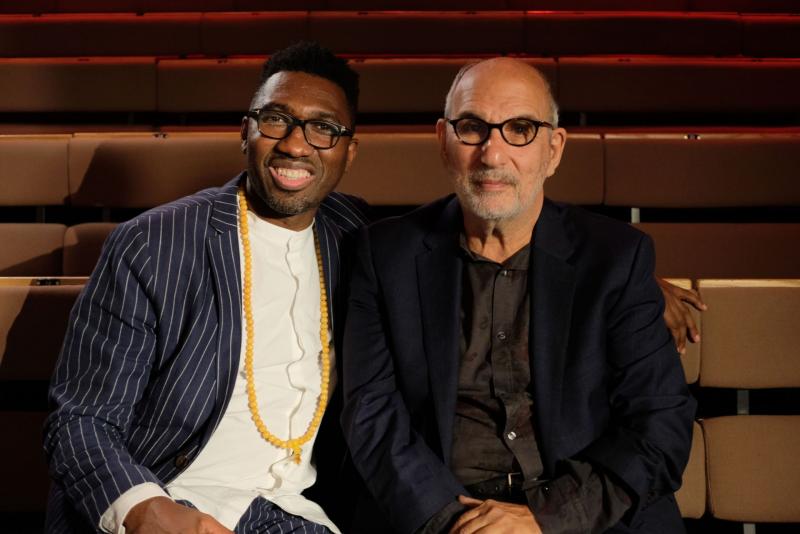 In conversation: Kwame Kwei-Armah and Alan Yentob
Filmed, as one would, well, imagine, prior to lockdown, Imagine .... My Name is Kwame hearkens to what now seems a bygone era of full and buzzy playhouses and adventurous theatre-making that was about the live experience and not some facsimile online.
That the hourlong film, directed by Charlie Sever, tells of the multiple iterations over time of a
theatre
practitioner, Kwame Kwei-Armah, now running the Young Vic makes one long to be back in the whirligig of playgoing again to see where this multi-hyphenate talent will lead us next.
But the focus of such programmes is inevitably to look backwards and not ahead. As a result, we hear how this Hillingdon-born 53-year-old managed his rise and rise from actor to playwright to director to creative impresario, along the way shedding his ambition to be the next Lionel Richie and also changing his name from Ian Roberts to Kwame Kwei-Armah so as to honour his Ghanaian roots. "We are nothing but stories," Kwei-Armah tells his interviewer, Alan Yentob, who doubles as series editor, and Kwei-Armah's story is a good one, with many chapters, one feels, still unwritten. (In a Covid-free world, he would have opened a new musical, The Visitor starring David Hyde Pierce, Off Broadway at the Public Theatre, the venue that gave us Hamilton.)
It's because his tale is so wide-ranging that one yearns for rather more explanation and context than are provided here. Why, for instance, did Kwei-Armah feel drawn back to Britain following what sounds a fascinating if sometimes turbulent time running Baltimore's Center Stage, among the most important of American regional playhouses? "The sense of home never leaves you," we're told, along with a reference to Brexit, the latter a political reality that has made quite a few people I know think of leaving this country, not returning to it.
One has only to look at Kwei-Armah's America-heavy programming at the Young Vic, from the Wendell Pierce/Sharon D Clarke Death of a Salesman to Bronx Gothic, The Convert and other titles as well, to sense his real affinity for the American theatrical landscape. August Wilson is cited as a defining influence on a playwright whose Elmina's Kitchen, and the pair of National Theatre plays that followed, owe a self-evident debt to the American master. (He made history in 2005 as the first homegrown black dramatist to have a play commercially produced on the West End when Elmina's Kitchen crossed the Thames to the Garrick Theatre, its author signing on to head the West End cast.)
You yearn to hear more about a trans-Atlantic affinity which is clearly ongoing, just as the controversy that ensued over the authorship of the Young Vic-Manchester International Festival collaboration Tree last year surely merits more attention than it gets almost in passing. There's an especially interesting moment where Kwei-Armah ponders the legacy passed on to him by his predecessor David Lan who, in Lan's latter years at the Young Vic especially, berthed hit after hit that hadn't begun elsewhere but emerged untested and in triumph: The Inheritance and The Jungle foremost amongst them.
What should his successor do for an encore? That question must hover over the ever-personable and genial Kwei-Armah every waking day. Imagine ... My Name is Kwame has some lovely moments (the footage of him as a schoolboy singing "The Way We Were" is particularly sweet), but this is one story that feels not yet fully written even as it leaves a viewer eagerly awaiting the second act.
You yearn to hear more about a trans-Atlantic affinity which is clearly ongoing
rating
Share this article