Death of a Salesman, Young Vic review - new-minted revival of a masterpiece |

reviews, news & interviews
Death of a Salesman, Young Vic review - new-minted revival of a masterpiece
Death of a Salesman, Young Vic review - new-minted revival of a masterpiece
Arthur Miller's tragedy from an African-American viewpoint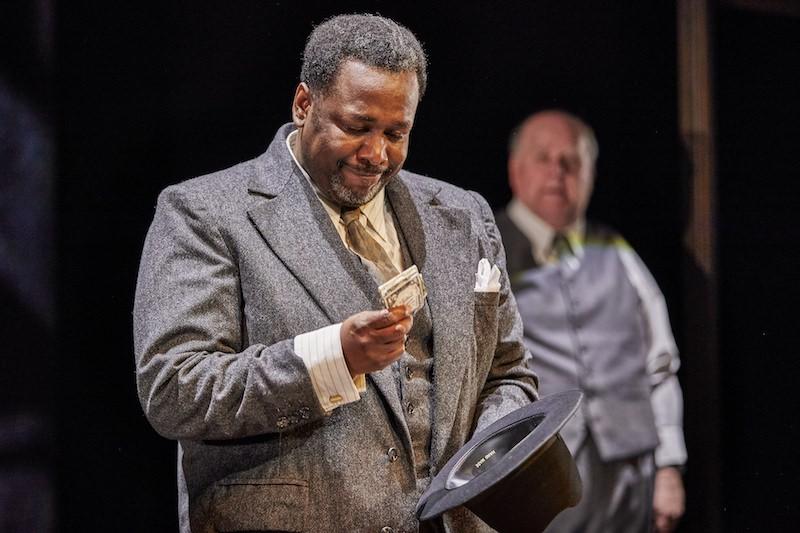 Willy Loman (Wendell Pierce) once again receives a bailout from neighbour Charley (Trevor Cooper)
The Young Vic, a welcoming theatre with a culturally diverse audience, has been home to memorable Miller revivals before, notably Ivo van Hove's emotionally shattering, stripped-back A View From the Bridge in 2014.
But before that, in the 1980s and Nineties, the then artistic director David Thacker was an important champion of Miller's work at a time when he was less well regarded at home.
Miller
, who died in 2005, became a close friend of both Thacker and the theatre and observed with pleasure several productions of earlier work and the London premiere of
The Last Yankee
here.
Now, 70 years after its first performance at the Morosco Theatre in New York, Miller's masterpiece joins a London-wide celebration of his work. All My Sons is playing up the road at the Old Vic, where The American Clock ran earlier this year, The Price has just closed at Wyndham's Theatre and The Crucible will be at the Yard until May 11th.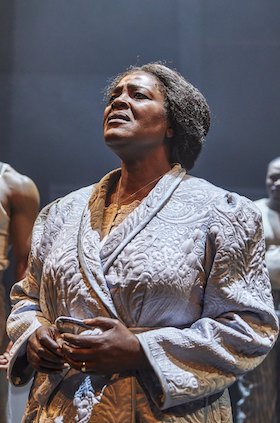 Miller once said that he thought Elia Kazan, the play's first director, "had it right from the beginning. He said, 'It's a love story'". That is an element which comes out strongly in Marianne Elliott and Miranda Cromwell's production, which follows Elliott's previous successes with American classics (assisted by Cromwell), Angels in America and the brilliant, gender-altered Company. Wendell Pierce as failing salesman Willy Loman and Arinzé Kene as his feckless son Biff painfully play out their disappointment with each other, mixing brutal accusations with desperate attempts at mutual protection before a tearful recognition of respect.
Motherly, selfless Linda Loman (strong, gently demonstrative Sharon D. Clarke, pictured right) copes with three immature men: her dreamer husband and two sons, thieving, ex-high school football star Biff and philanderer Happy. The emphasis is less on the tragedy of Willy failing to live the capitalist American dream than on a family attempting to find individual and group salvation in a tough world. Pierce's Willy is not so much defeated by the thankless task of selling (what we are not told; Miller said, "himself") as the tension between hopeless aspiration and cold reality. Ultimately - and this too is especially clear in Kene's glittering performance, angry, broken then triumphantly clear-headed - Biff alone learns to know himself. Money-making city life is not for him and he prepares to return to working on a farm. Happy, attractively played by Martins Imhangbe (Pictured below, on the left with Kene), seems bent on repeating his father's life of self-delusion.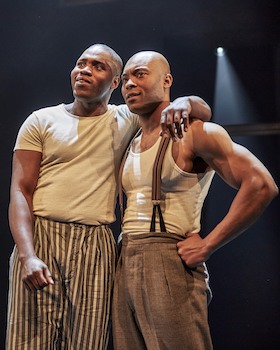 Does it make any difference that the Lomans are an African-American family? In some ways, very little. There have been African-American productions in the United States, the first in Baltimore in the early 1970s. Miller said, "When the acting is terrific, the whole thing works. But that's true whether they're white or black or Chinese." This cast come with exemplary experience, including Pierce in The Wire, Clarke having recently won an Olivier for Caroline, or Change and Kene fresh from the hit play Misty, which he also wrote, and they make a fine ensemble. Although Howard, Willy's prosperous, unsympathetic boss is white and the struggles of a financially strapped family might seem one stage harder if they are black, Willy's dead, self-satisfied brother Ben (Joseph Mydell, sleek in spotless white suit) apparently cracked the system and made a fortune. Willy treats him with something close to hero worship.

Miller's original title for Death of a Salesman was The Inside of His Head and the whole play could be seen as a lyrical poem. In his stress-induced confusion, Willy relives episodes from the past, the happiest of which are here differentiated by stylised movements. Biff and Happy pose together, ideal young sportsmen, while geeky Bernard next door (later a successful lawyer) is by contrast especially gawky in Willy's competitive imagination. Anna Fleischle's abstract, flexible set can provide different areas, then and now, real and imagined, inside and outside, somewhere and nowhere.
Although absolute emotional depths are not always reached in this production, the last few minutes, in which the magnificent Sharon D Clarke and Arinzé Kene duet the Gospel hymn "When the Trumpet Sounds", are overwhelming. The sense of waste, the agony of loss and disappointment are summed up in a triumphant celebration of survival. This is definitely particular to the African-American setting.