1984, Hackney Town Hall review - Room 101 shapeshifts into 2023, but remains as terrifyingly plausible as ever |

reviews, news & interviews
1984, Hackney Town Hall review - Room 101 shapeshifts into 2023, but remains as terrifyingly plausible as ever
1984, Hackney Town Hall review - Room 101 shapeshifts into 2023, but remains as terrifyingly plausible as ever
The immersive experience makes us both victims of, and perpetrators in, an all too familiar perversion of truth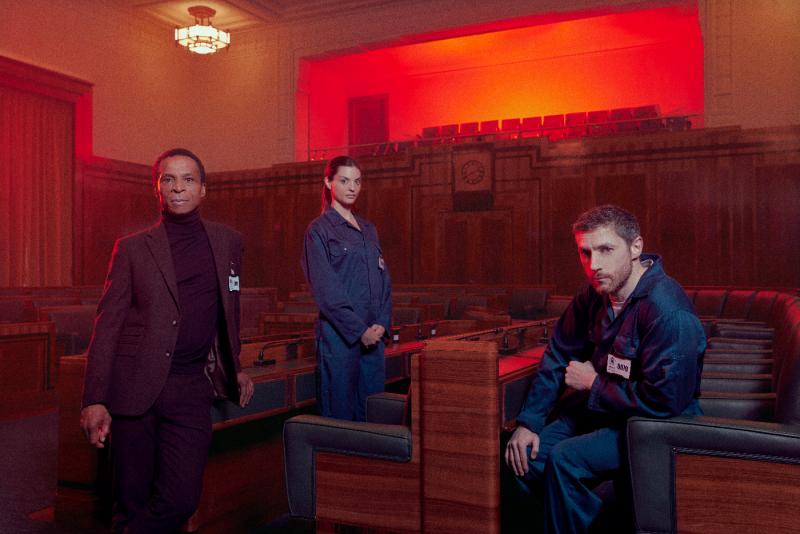 The cast of '1984', watching you...
The day after I saw the show, as went about the mundanities of domestic life, I wondered how long it would take to come across a reference to 1984. My best bet was listening to an LBC phone-in concerning next week's conference at Bletchley Park on Artificial Intelligence, but the advertising break intervened, so I switched to Times Radio.
Sure enough, at 12.11pm in a report on an apology issued by the Cabinet Office to journalist, Julia Hartley-Brewer, Big Brother Watch was mentioned as the organisation that animated the complaint. It was not felt necessary to explain much about its purpose – the name alone was deemed self-evident enough.
Some 74 years on from the publication of George Orwell's last novel, that says much about both the strength of its narrative and its continuing relevance. So there is no argument about revisiting the classic work, only the question of how to do it and how to hit its targets hard in the here and now.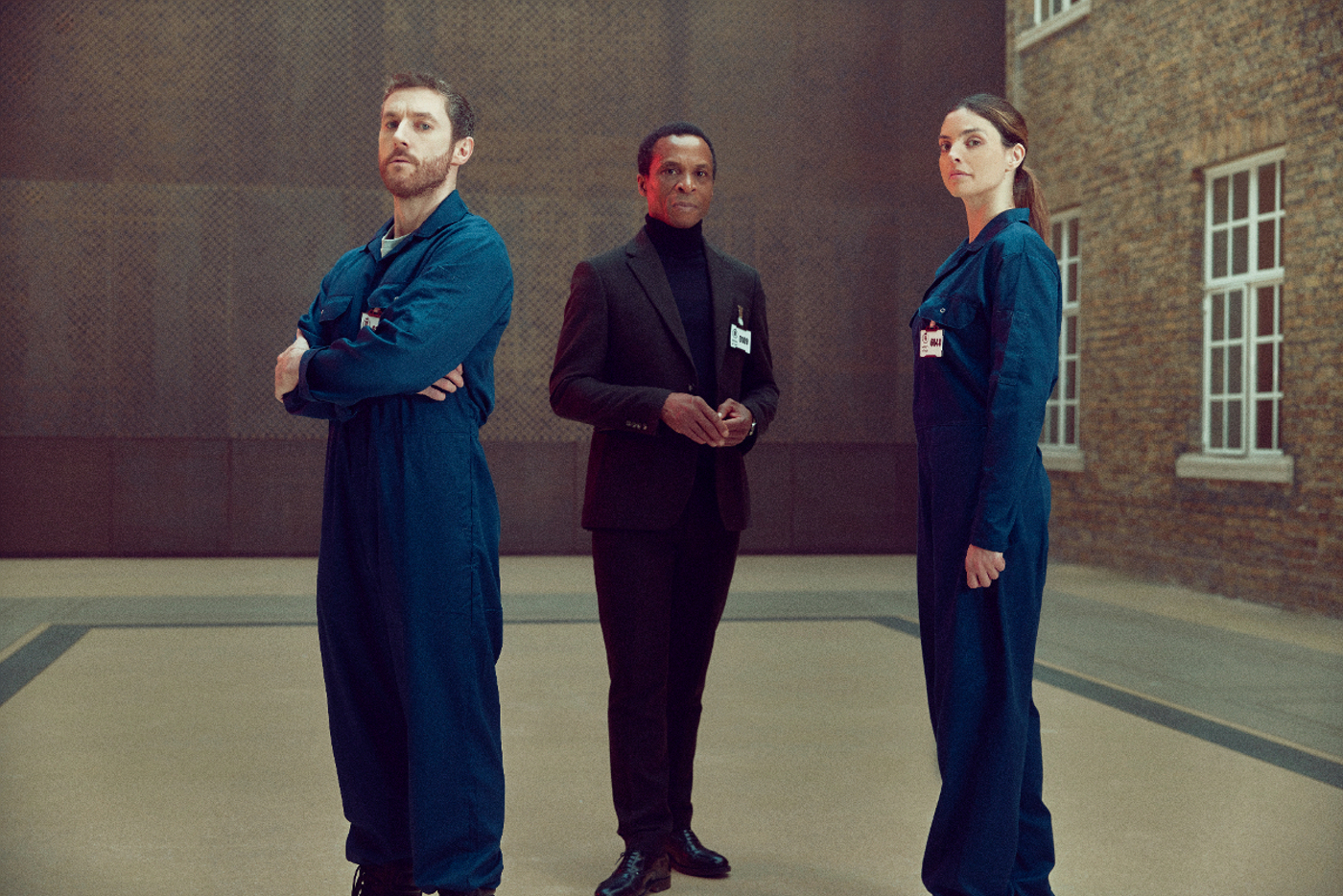 Pure Expression specialise in staging shows in museums, libraries and heritage sites and could hardly have picked a more apposite space than Hackney Town Hall. It was opened just before World War II as much as a rebuttal to the rising anti-democratic forces gaining ground in Europe as it is a statement of civic pride. Like medieval cathedrals and Victorian railway stations, such municipal edifices are a benign version of the Nazis' dream of "A Thousand Year Reich".
In the pertaining circumstances, you can't help but raise a rueful smile on spotting a framed copy of the UN's Universal Declaration of Human Rights proudly displayed on the wall of the Council Chamber. Orwell would have liked that, and recognised why it seems so fragile in 2023.
Already over 250 words in and not a word about the play? Well, the venue is very much a character in Adam Taub's show, its cavernous spaces, hard polished surfaces and the oppressive, near palpable weight of political decisions accumulated over 86 years of administration, eats into your psyche. The urge to comply is almost a comfort, and it's clearly shared by those, barely whispering long before the show has properly started, nervous sitting around you.
The scene is set with a cabaret of nostalgic songs in a hall in which one is occasionally invited by boilersuit clad ushers to comment on the welcome increase in rations this season. The mood, already slightly uneasy, tilts further when we stand for the national anthem, a paean to the benevolence and glories of Oceania sung to the melody of "Que Sera Sera". It's a device that was used in the Netflix adaptation of Philip K Dick's dystopian masterwork, The Man in the High Castle, "Edelweiss" the benign, banal song used for the opening credits in that case, to equally chilling effect.
An immersive show stands or falls on its attention to detail and its pace more than any other elements of theatre's alchemical recipe for success. Few productions can boast so thrillingly authentic a world-building as this one, from its terrifyingly plausible assessment forms (engraved pencils provided) to its beautifully realised security videos, enhanced by Thor Aswarm's suitably intrusive sound design that demands mentioning in dispatches when the award season rolls round.
Jude Akuwudlike (pictured above with Declan Rodgers and Kit Reeve) gives us an O'Brien who exudes easy charm one moment and fires fanatical propaganda the next, explaining, slightly too often, that we've been selected as potential recruits to the cadre of staff working for the Ministry of Truth, specifically in the critical field of correcting the past – the embedding of alternative facts, if you will. He goes on to say that it is not enough just to speak the Ministry's truth, but to believe it, instantly, wholly, instinctively. He's a MC who has more than a touch of Cabaret's Emcee in his charisma and threat.
Declan Rodgers (Winston) and Kit Reeve (Julia) are our dissident lovers, an everyman and a free spirit, caught by the Thought Police in their retreat. Winston is removed to face the terrors of Room 101, in which we do not just observe but, pointedly, become complicit participants in his terrible fate, directly or indirectly to taste.
Rodgers, his Northern Irish accent ringing off the marble, wood and bricks, is super as a man who cannot speak the Ministry's truth out loud until the pain, physical and psychological, becomes insupportable. Reeve is seductive as his lover, but never quite commands the space as Rodgers does,though that does lend an additional ambiguity to her motives.
As for pace, co-directors, Jem Wall and Richard Hahlo, do their best to maintain momentum, but the transitions, up and down staircases, in and out of long rows of seats, sap the nervous energy so painstakingly constructed and one's mind inevitably wanders a little when it really should be focused. It's often a problem for immersive, promenade shows with the trade-off between ticket prices and audience capacity a tricky balance to strike. Try to attend a less popular time slot which will speed transitions as the fewer people there are to shift around the building, the quicker it will happen.
This experience (and the noun is justified in the publicity) is bold, necessary and engaging to the point of terrifying. Its flaws are a consequence of its vision and its execution, and should not be held against a production that is both loyal to its source material and very much located in the right here, right now.
Next year will see national elections in the UK and USA – we won't need to read too many allusions to the 40 summers that have elapsed since the year in which Orwell set his warning, to be convinced of the parallels. And, lest we forget, compared to most of those who employ their own, more subtle, less obvious versions of O'Brien, we're the good guys.
Few productions can boast so thrillingly authentic a world-building as this one
rating
Explore topics
Share this article