Anna Karenina, Arcola Theatre |

reviews, news & interviews
Anna Karenina, Arcola Theatre
Anna Karenina, Arcola Theatre
A beautiful but flawed staging of Helen Edmundson's elegant adaptation
A cardboard hero: Vronsky (Andy Rush) celebrates the limitations of Tolstoy's young officer
Frankenstein, Pride and Prejudice, Tess of the D'Urbervilles, Great Expectations: it's getting harder and harder to name a classic novel that hasn't found itself covered in greasepaint and pushed out onto the stage.
With adaptations everywhere to be seen – the National Theatre is making something a speciality of them, and there are even plans for John Grisham's
A Time to Kill
on Broadway – the cry has gone out against plundering these works for their plots. Bad adaptations are all about the losses, the characters, scenes and significance stripped from the novel along with its form. Yet for those like Helen Edmundson's
Anna Karenina,
the process is altogether more complicated and creative.
"This is my story."/ "It seems that it is mine too." Framing the action of Tolstoy's novel within an imagined dialogue between Levin and Anna, Edmundson's play makes a necessity of its own theatricality. Fragmenting the story, distilling it down to a carefully curated selection of episodes, she is able to translate almost a thousand pages, and a cast of nearly as many, into an intimate chamber drama. It's an elegant achievement, a theatrical objective correlative that refuses to reproduce what it could reimagine far more vividly on its own terms.
Reworked since its original outing in Winchester back in 1992, I'd venture that a further 20 minutes could be stripped from the show without loss – testimony more to the author's dramatic concision than any failure. We have our tragedy in place within the opening scene as we watch Anna (Elizabeth Twells) asleep, possessed in a violent dream-dance with a faceless man. Hers is the great solo love affair; neither Tolstoy nor Edmundson give Vronsky the weight to match her. Her yearning, as is made clear here, is not for the fulfilment of marriage or desire, a fulfilment she actively rejects, but for her own love-death, a surrender not to a man but tragedy itself.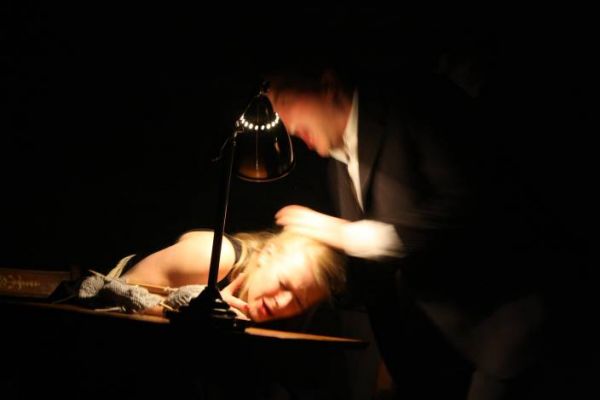 Director Max Webster has worked alongside Simon McBurney, and both the physicality of the production and its narrative pace owe a debt to Complicite. It's a style of theatre that glories in the visual spectacle of a big budget, but whose playful ingenuity also relishes the constraints of a fringe production. Among the bare brick, steel and well-worn wood of the new Arcola space, a row of chairs become a ballroom, or a train; a bed suggests a sick room in a squalid lodging house, or an Italian palazzo.
It's an approach that demands much of its ensemble. With each scene change (and there are many) taking place in plain sight and at speed, we must be completely compelled by our characters, or risk losing them in the clamour of technical action. While the interplay of microphones, music, props, direct action and narrative frame does occasionally overwhelm, for the most part the company make a virtue of its process. A climactic debate between Anna, Levin and Vronsky must be shouted among a whirling peasant dance, its ancient music and rhythms carrying them along against their will. A proposal and a verdict are spliced painfully together, as focus cuts swiftly between Kitty and Levin and Anna and Karenin.
The company of young graduates from the Birmingham School of Acting are clearly committed to the physicality of the production, making easy work of its more literal demands. A polished Anna from Twells gains much in her transformation into Frou-Frou, Vronsky's highly strung mare (pictured left), and the eroticism and careful symbolism of the race scene is beautifully handled by Twells and Andy Rush's Vronsky. All posing and pouting, a cardboard cut-out of a hero moved bodily from place to place without breaking position, the latter is a fairly thankless part, but one that Rush (with the aid of a suitably dashing moustache) plays with comedic good grace. He is balanced by Tristan Pate as Levin, fretful and restless, whose more generous writing and assured dramatic range occasionally threatens the balance with Twells's Anna.
It's all rather accomplished, rather lovely (Vronsky and Anna waltzing in a haze of snow will linger in the eyes for a while) and rather young. There are some technical shortcomings, but it's the very natural tension between the inexperience of the performers (a virtue in other contexts) and the considered maturity of Tolstoy's characters that remains unresolved. For all their emotional urgency, the lovers of the novel have a sense of distance, of love recalled in experience. It's an awareness that's lacking here, through no fault of the cast, and one that denies this adaptation its full dramatic scope.