Anything Goes, Barbican review - an explosion of joy |

reviews, news & interviews
Anything Goes, Barbican review - an explosion of joy
Anything Goes, Barbican review - an explosion of joy
Sutton Foster makes a sensational London stage debut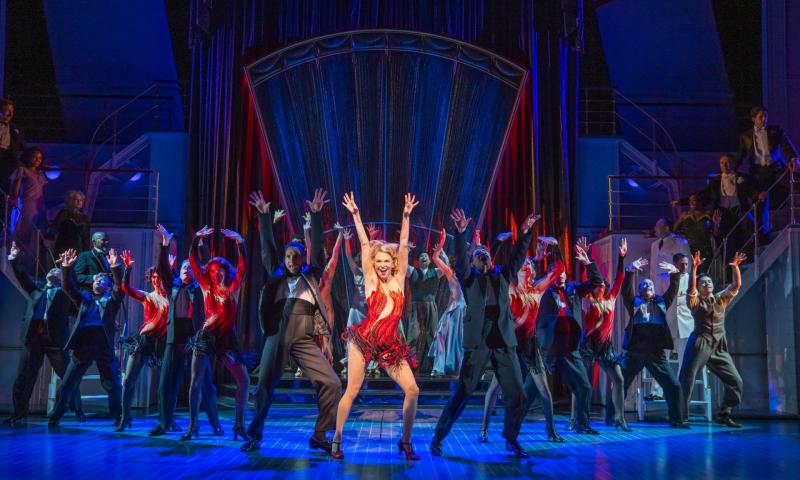 Away she 'Goes': Sutton Foster in 'Anything Goes'
"Times have changed", we're informed in the cascadingly witty title number of the Cole Porter musical Anything Goes, now in revival at the Barbican and bringing with it a pandemic-clearing tsunami of joy.
Or have they? Few I am sure would dispute the notion that the world has "gone mad today" and seems to be getting nuttier by the minute. What better climate, then, for so loving a reappraisal of a show that greets comparable verities in determinedly whackadoodle terms: the insanity unfolding aboard the designer Derek McLane's SS America sure looks preferable to the headlines from which Kathleen Marshall's revival functions as necessary respite.
This is the third Anything Goes I've seen over the years in London and by some measure the best, chiefly for offering the first truly triple-threat Reno Sweeney encountered this side of the Atlantic, albeit in the form of two-time Tony-winner Sutton Foster, the Broadway regular here making a headline-grabbing London debut. (She will open on Broadway early in 2022 opposite Hugh Jackman in The Music Man.) Possessed of a sensuality and wit that weren't part of the equation when she ascended the Broadway ranks in shows like Thoroughly Modern Millie and Little Women, Foster at 46 still has the vocal and athletic prowess to plow her way through both the title number and "Blow Gabriel Blow" with seemingly unforced abandon. Exiting the auditorium on a high, I had to wonder how Megan Mullally, originally announced to lead this production before ceding the part to Foster, would ever have navigated this role age 62.
That Foster, returning to this show for the first time since it brought her a 2011 Tony, blends seamlessly with her British colleagues is itself no mean feat, she and Robert Lindsay, in peerless form as the Damon Runyon-esque Moonface Martin, exhibiting a depth of rapport that crosses the footlights. Seen stuffing a shorn dog down his trousers (don't ask), Lindsay is the revival's second standout, and he and Foster have a field day as their duet on "Friendship" becomes a study in duelling follow spots: Hugh Vanstone is the lighting accomplice here. (One wonders how many of the pair's apparent adlibs are scripted but even if so, as with Michael Ball and Les Dennis in Hairspray, they are a delight.)
Lindsay brings a lifetime of showbiz savvy to a supporting turn that rivals his career-making bravura back in the day in Me and My Girl, and his second-act dance with the bluebird (another don't ask) manages to be both raucous and delicate. It helps that the Magimix of a book, the original by Howard Lindsey and Russel Crouse overhauled some while back by Timothy Crouse and John Weidman, showcases its star while very democratically doling out various numbers to the motley array of passengers who are crossing the Atlantic from New York to London in a knockabout narrative that eventuates in nearly as many marriages as As You Like It - a title that itself could be translated as "anything goes".
After the interval, the book more or less vanishes to give centre-stage to a sequence of songs that allows everyone their due. After a fairly tepid start, Haydn Oakley comes into his own as the malapropism-prone aristo who happens to have the same last name (albeit differently spelled: Oakleigh) as the actor. Vamping his way through "The Gypsy in Me", Oakley ends up carried aloft into the wings rather like Mary Poppins, leaving the likes of Nicole-Lily Baisden and Samuel Edwards (the two pictured below) on or below deck to pursue a shipboard romance that requires the stowaway Billy to become a master of disguise: the straight man amidst a community of cut-ups, Edwards brings a sterling tenor and instant charm to a deceptively difficult role.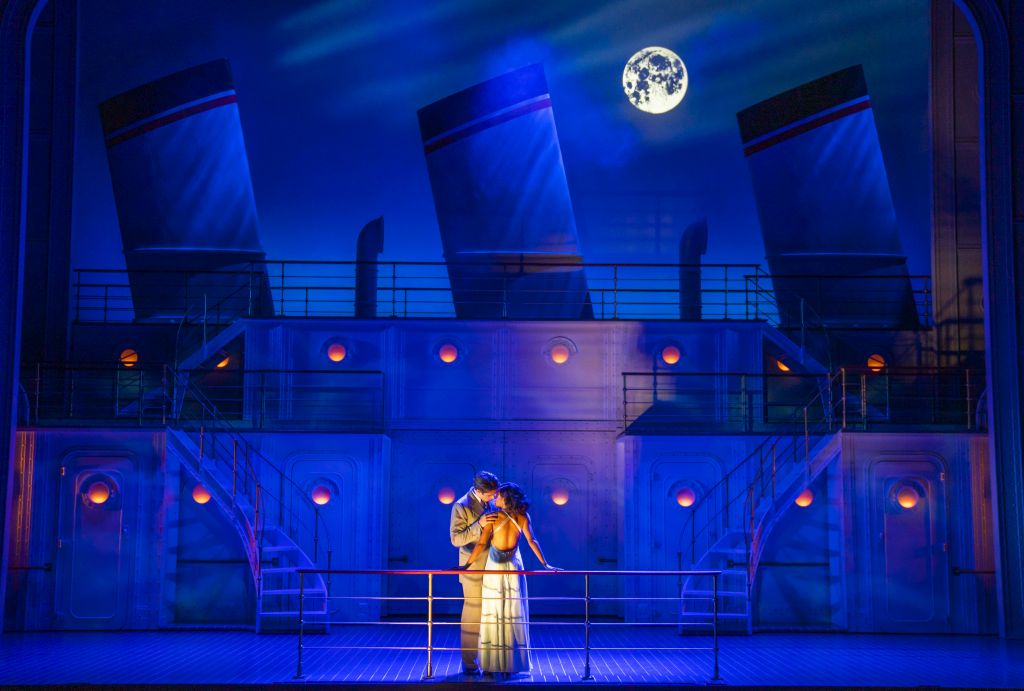 Conversely, no exaggeration is too great for the irresistible Carly Mercedes Dyer as the moll, Erma, who exudes sass from every swaggering pore and gets her own 11 o'clock number ("Buddie, Beware) amongst a game bevy of sailors. (Dyer also is handed one of several delicious, and unexpected, sight gags not to be revealed here.) And while you might not associate Felicity Kendal, now 74 if such a thing were possible, with the realm of musical theatre, this agelessly winsome talent displays an apt line in gurglingly outsized emotions while watching her daughter, Hope, shift from one marital prospect to another. The bejewelled matriarch finds her own mate in Gary Wilmot's Yale-besotted Elisha Whitney, who ends up losing his glasses but gaining a partner: not such a bad trade if you ask me.
Still, none of this would land if Foster weren't in such unforced control of proceedings, whether ramping up the title number at the precise moment where previous Renos have bowed out and simply let the chorus do its thing or, even better, emerging via a costume reveal in "Blow Gabriel Blow" as an evangelist-turned-temptress in whose presence the male ensemble seems to have no choice but to indulge impromptu push-ups. Staged by Marshall as if it were this musical's equivalent "Sit Down You're Rocking the Boat" and "Take Back Your Mink" rolled into one, "Blow Gabriel Blow" for me reached even giddier heights than the title song that catapulted the press night audience to its feet immediately prior to the interval. Singing of having been low but "seen the light", Reno surely encapsulates the mood of a public in search of rapture who, for the duration of Anything Goes at least, have come to the right place.