The Beauty Queen of Leenane, Lyric Hammersmith review - matchless revival of a contemporary classic |

reviews, news & interviews
The Beauty Queen of Leenane, Lyric Hammersmith review - matchless revival of a contemporary classic
The Beauty Queen of Leenane, Lyric Hammersmith review - matchless revival of a contemporary classic
Martin McDonagh's breakthrough play dazzles anew
Night, Mother: Orla Fitzgerald as Maureen in 'The Beauty Queen of Leenane'
"You can't kick a cow in Leenane without some bastard holding a grudge for 20 years," sighs Pato Dooley (Adam Best) prophetically; he has already started making his escape from that particular Galway village, doing lonely stints on London building sites.
For 40-year-old unmarried Maureen Folan (Orla Fitzgerald), the woman Pato had dubbed "the beauty queen of Leenane" in her youth, departure is a national pastime: Ireland, in this 25th anniversary revival of Martin McDonagh's breakout play, means "always someone leaving", she suggests.
For her conniving mother Mag (Ingrid Craigie), though, Ireland has become somewhere that is leaving her behind. She is mystified by news of a "poor oul woman" strangled by a man in Dublin and he "didn't even know her". But family violence is something this woman understands well: Maureen, her sole carer in their house up a rocky hill, has deliberately scalded her hand, she claims. The two women's battle of wills is given more urgency by the brief return of Pato (Adam Best, pictured below) into their lives, seemingly offering Maureen an escape plan. Will Mag let her go? With Pato's much younger brother Ray (Kwaku Fortune) as a catalyst, this volatile mix explodes into life, and we see that Maureen's desire to leave home forms part of a much larger picture of loss and departure.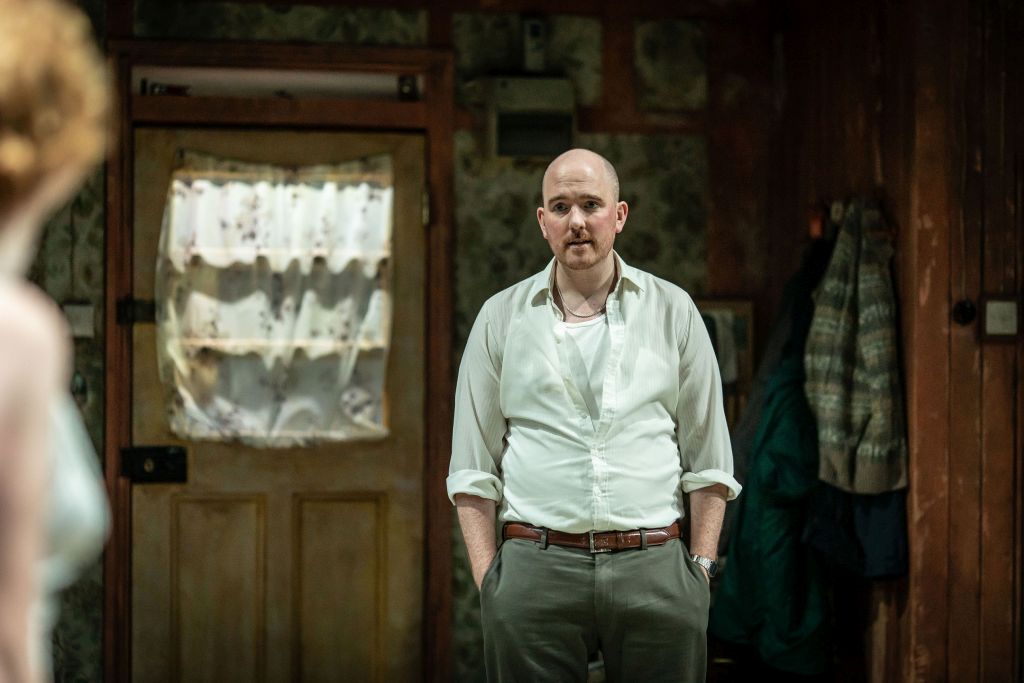 What a fiendishly clever play this is, written when McDonagh was in his mid-twenties. Deliciously unsavoury (and, yes, sometimes violent), it nevertheless hums with weighty literary resonances and moral purpose. In Mag and Maureen's vicious spats we hear Edward Albee's Martha and George and the harsh sparring of Samuel Beckett's characters; in Maureen's fretful longing for a life elsewhere, Masha in Three Sisters; in her fragility and isolation, Laura in The Glass Menagerie. And underpinning all of this are the "oul" Greeks, masters of the tight man-trap tragedy that relentlessly evolves from human frailty.
Yet McDonagh has staked out territory here that is all his own: a blend of the banal and the soulful, with potential zingers in every line. He teases us with his often hilarious version of Galway's lilting syntax – while, as Mag might say, he does be using it as a comic gloss on much more serious matters. Even as they tersely debate how to remove the lumps in Complan, Mag and Maureen manage to nail the key sources of pain in their nation's psyche – the burden of the colonial past, the malaise of the dour present, the constant emigration and subsequent erosion of national identity. America, Mag decides, might be preferable to home because it would be sunnier.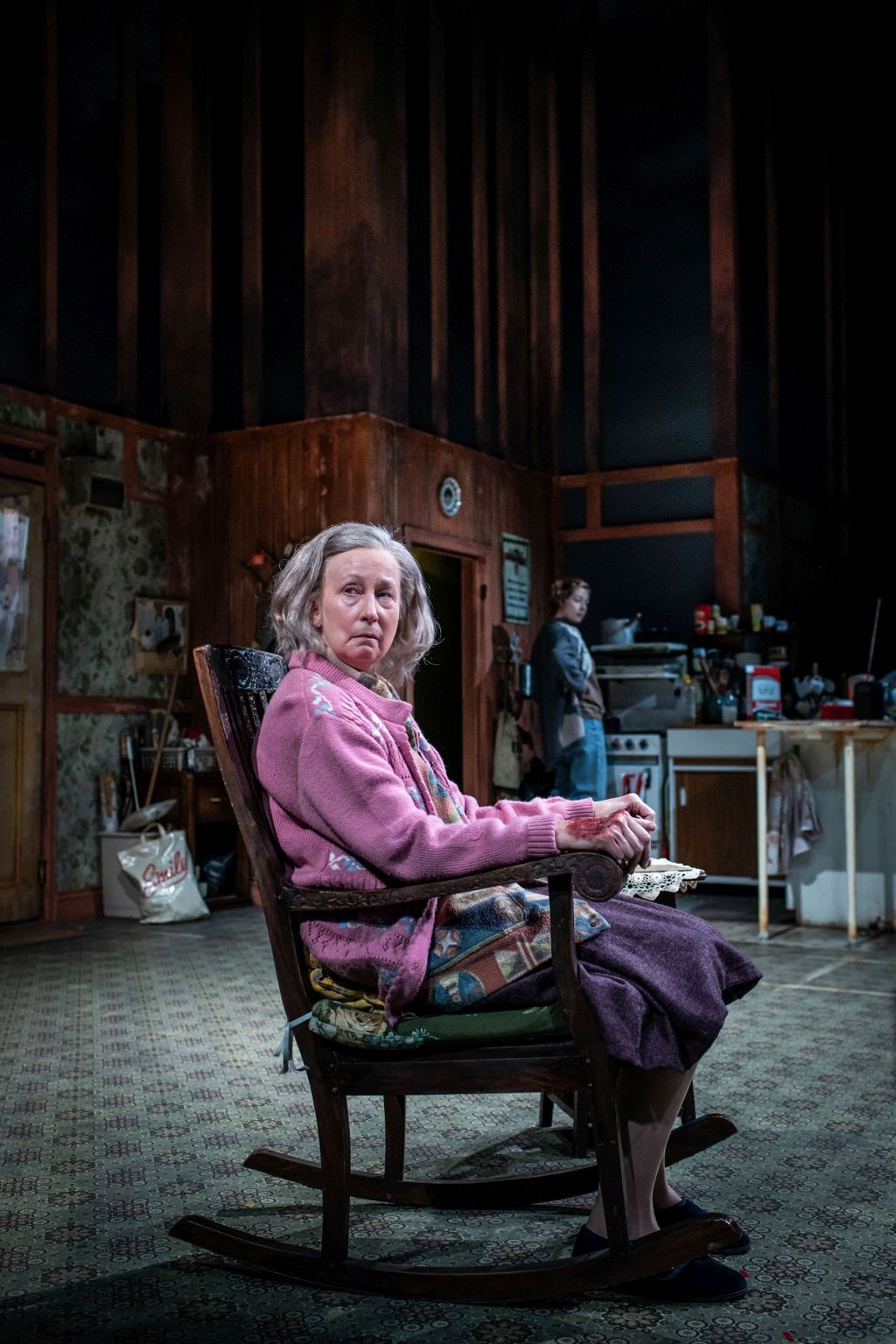 Rain is already falling behind the curtain as we take our seats, then gives way to the play's ingenious musical design, which enters via Mag's radio – tuned to a traditional Irish music station that is her only listening. An ominous folk song ("The Spinning Wheel", sung by Delia Murphy) recurs, about a grandmother who tries to keep her granddaughter from going out of the house, a key motif here. Creepy song, agree Maureen and Pato. Indeed, you almost feel the playwright saying as he rubs his hands in glee.
And what an exemplary milestone birthday production Rachel O'Riordan has given his play, shining a steady light on all its dark corners. The stage instructions call for Mag to be "stout, frail", but O'Riordan has wisely ignored that in casting Craigie (pictured above), a wiry combatant with a rodent's sharp features, cunning by nature and more neatly turned out than previous Mags – a worthy opponent who promises an even fight. And Fitzgerald (more striking-looking than the text's prescribed "plain", which gives Maureen's loneliness added poignancy) matches Craigie for trenchant hostility: never has stirring Complan been acted out with such homicidal intent. It becomes clear that the struggle in which the women are entrenched is primal and universal. A great moment comes when they simply stare unblinkingly at each other in silence, measuring up their next moves in this war of words.
Pato is an even more expert wordsmith, a man with a builder's build but a quicksilver tongue. In his at times dizzying bursts of speech, Best brilliantly conveys this man's agile conviviality, but also its soft underbelly: an excessive desire to please. Fortune's duller-witted Ray, meanwhile, seems to offer a vision of a changing Ireland, where the young binge on Australian soaps and American cop shows: "Who wants to see Ireland on telly?" he asks Maureen, incredulously. Yet the fruition of the trivial 20-year grudge he has been harbouring against her, and she against him, leaves you in no doubt that a vital part of their lives is never likely to change.
Never has stirring Complan been acted out with such homicidal intent
rating
Share this article