Ben Hur, Tricycle Theatre
Ben Hur, Tricycle Theatre
The successor to 'The 39 Steps' is another sublimely silly send-up
Wednesday, 25 November 2015
When in Rome: Quintus Arrius (Richard Durden) counsels adopted son Judah Ben Hur (John Hopkins)
Hollywood took 365 speaking parts, 50,000 extras and 2,500 horses to tell this epic tale in 1959; here at the Tricycle, it's a cast of four and some enterprising puppet work. Playwright Patrick Barlow, following up global hit The 39 Steps, has chosen a comic contrast that could hardly be equalled: redux maximus.
In fact, Ben Hur is closer in spirit to another Barlow phenomenon, the National Theatre of Brent. There's more than a touch of pompous impresario Desmond Dingle in actor/manager Daniel Vale, of the Daniel Vale Theatre Company. Of course, the misplaced self-importance of players whose work descends into farcical chaos is an ancient conceit – see Midsummer Night Dream's rude mechanicals, or Harlequinade, currently performed by the, er, Kenneth Branagh Theatre Company – but though some of the gags are hoary, they're given an inventive and thoroughly likeable framing.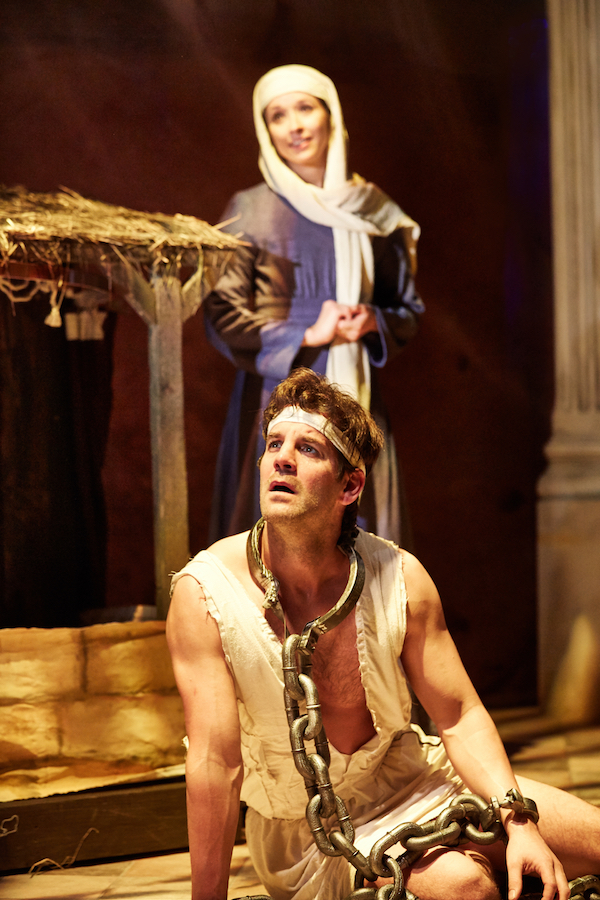 Rejigged since its 2012 Watermill Theatre debut, this miniature Ben Hur maintains a dual narrative: the story of the Judean nobleman condemned to die as a galley slave, who then rose to seek vengeance in the chariot races, all while a mysterious carpenter's son gave sermons on the mount; and that of the understaffed am dram company presenting it. Prepare for rogue sound cues, toga tangles, unwieldy chariots, magnificent syntax mangling, and backstage drama bleeding into performance. Michael Taylor provides appropriately terrible fake beards and shaky columns, while Ben and Max Ringham's portentous soundtrack is superb cod-Hollywood.
As Daniel Vale starring as Ben Hur, John Hopkins (pictured above right with Alix Dunmore) provides a memorable scenery-chewing ham, with grandiose delivery and a heroic stare into the middle distance that would do Joey Tribbiani proud. Alix Dunmore makes distinct the beleaguered actress and her multiple roles, including a shrill damsel and serene Virgin Mary; Richard Durden's codger, though fatally undone by the pretentious dialogue, soldiers on with his hospitable admiral and long-suffering matriarch; and Ben Jones's Welsh daytime telly star relishes macho nemesis Messala.
The film's rugged, if unintentional, homoeroticism becomes a great comic runner. Ben Hur's physique is emphasised by a very skimpy tunic, and Jones's Messala (pictured below) throws him loaded glances punctuated with a manly thrust of his breastplate. The admiral eyes up the scantily clad galley slave ("Do you work out?"), while a surreal take on the Roman orgy results in a lopsided ménage a trois.
There's little to rival the visual brilliance of 39 Steps, and Monty Python's output also looms large, but, if not groundbreaking, fans of the groan-worthy pun and slickly deployed slapstick will come away beaming. Barlow taps into a very British sensibility, delighting in everyday absurdity and gleefully skewering pretension, while Tim Carroll's tight production ensures a steady stream of laughs.
However, this is also a show that finds and communicates great joy in storytelling. There's a cameo from Ben Hur's author, American Civil War general Lew Wallace, and a cracking set-piece involving audience participation: we're enlisted to take up the oars, fend off pirates and/or hurl down "authentic abuse" to bring a great sea battle to life. Not forgetting the subject of the greatest story ever told, in Jones's capable hands both tranquil Messiah and exasperated Welshman putting the world to rights. His Jesus might quip about heading off "to finish a sideboard", but his message of peace, forgiveness and understanding is sincerely deployed – a small Christmas miracle in this feast of sublime silliness.
The film's rugged, if unintentional, homoeroticism becomes a great comic runner
rating
Explore topics
Share this article