Clyde's, Donmar Warehouse review - high-octane comedy with a soft-centre |

reviews, news & interviews
Clyde's, Donmar Warehouse review - high-octane comedy with a soft-centre
Clyde's, Donmar Warehouse review - high-octane comedy with a soft-centre
Lynn Nottage and Lynette Linton reunite to deliver a rollicking evening
Thursday, 26 October 2023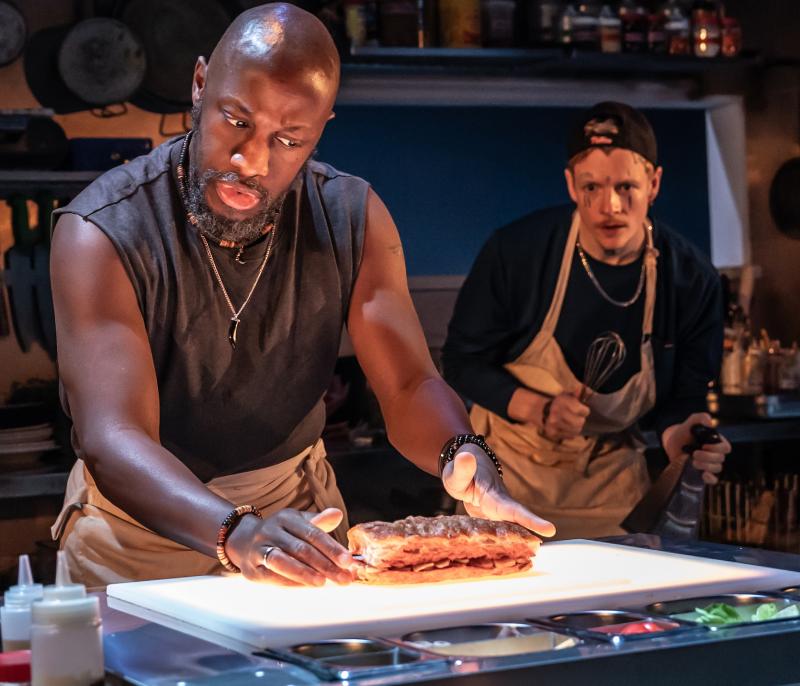 Zen-like: Giles Terera with Patrick Gibson in 'Clyde's'
Lynn Nottage's second London opening this year, the Donmar premiere of Clyde's, is a comedy about a sandwich, the perfect sandwich. With just a little more punch to the plotting it would be another masterwork from this award-winning American playwright whose book for the musical MJ arrives on the West End next spring.
Ebullient truckstop owner Clyde (Gbemisola Ikemulo, pictured below, left) takes on ex-cons as workers. This entraps them from the off: nobody else will be in a hurry to hire them, so Clyde is free to exploit and harangue them and generally make their iives tense. She does this on all possible occasions, her head popping up in the service hatch like a malign puppet, yelling out reprimands. Ikumelo devours the role with relish.
That turns out to be a key ingredient of this drama, pickle relish, as scorned by Montrellous (Giles Terera), sandwich-inventor extraordinaire and the elder statesman of the kitchen. (It plays a key role late in the play.) Montrellous, whom we first see constructing a deluxe toasted cheese on sourdough that he baked himself, handles food with the respect and delicacy of a brain surgeon. The production honours it too, bathing these "specials" in golden light, like sacred objects.
This finesse is lost on Clyde, who stomps in, beer in one hand, cigarette in the other, railing against the "fancy crap" Montrellous favours. She grew up on cereal and frozen pizza. She is now in debt to some mean creditors and just wants ham and cheese on white, if that's what the truckers prefer.
But Montrellous is a man on a mission, convinced he can woo the truckers' tastebuds, and inspires the others to invent their own sandwiches. Rafael (Sebastian Orozco) dreams up a Latino-inflected one; Letitia (Ronke Adekoluejo, pictured below, right) – a livewire known as Tish – one with pulled pork on a cornbread base. Pickle relish is verboten.
The trio are joined by a newbie, Jason (Patrick Gibson), a scrawny young white man with tattoos on face and neck that identify him as a "hater". He's jittery and unused to the kitchen camaraderie he encounters. He's had a weekend's training but is slow to pick up the skills he needs. The first of those is deciphering the orders Clyde scrawls on a little pad, which becomes a running joke. Then he has to learn not to lick his fingers while assembling orders. He and Tish, from opposing sectors of society's lower rungs, are soon going nose to nose.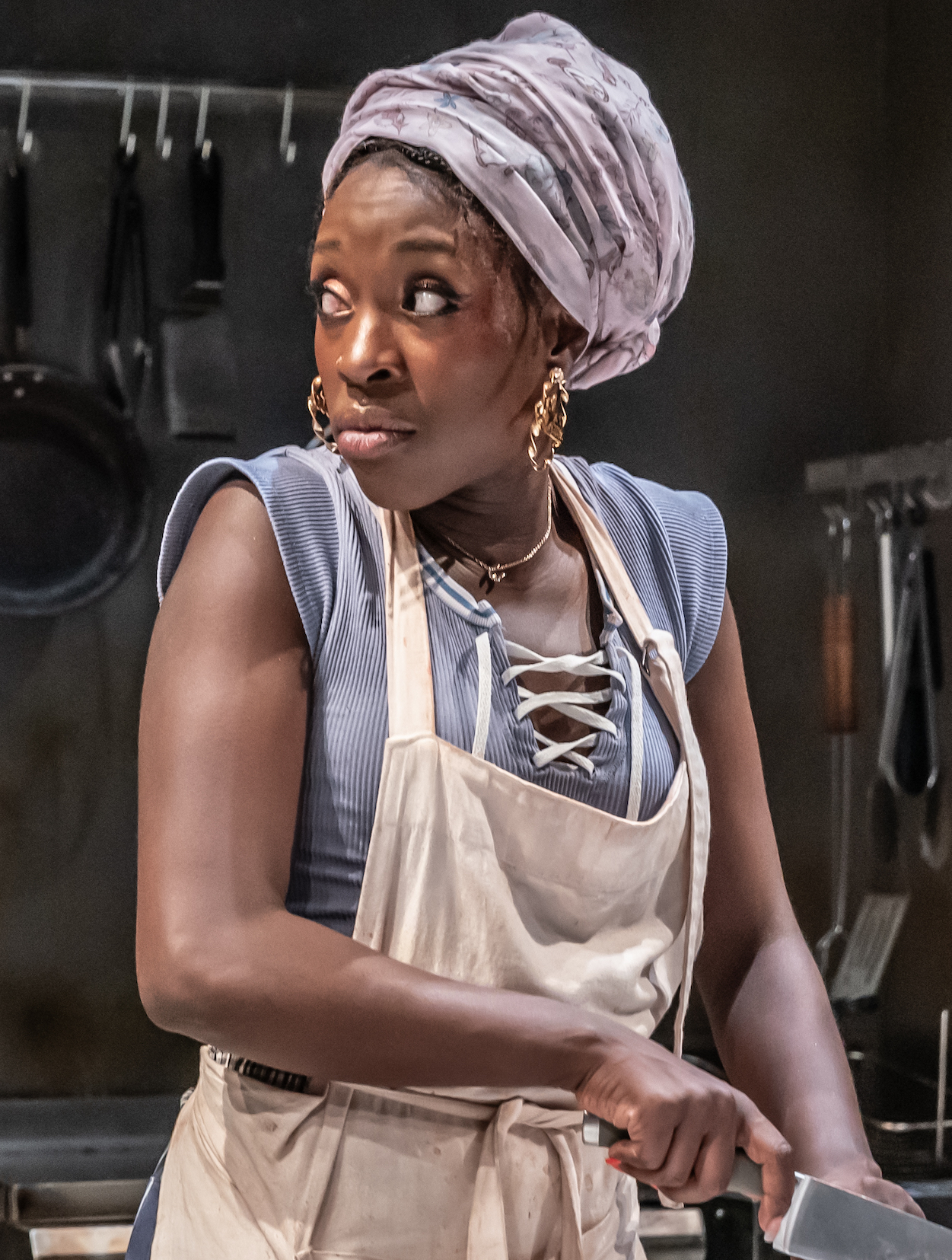 Slowly Nottage fills in the background: why the four went to jail and how they live now. Tish is a single mother with a sick daughter and a wholly unreliable ex; she's a livewire whose bolshie outbursts, she says, were much worse before prison calmed her down. Jason, in for aggravated assault when he lost his job and his comfortable life, is camping in the woods, 11 miles away. Rafael had tried to rob a bank with his nephew's air rifle while high and ended up having to give the Heimlich manoeuvre to a guard with a pellet stuck in his throat. Montrellous relates his own crime almost as a climax to the play.
Lynette Linton, who directed Nottage's Sweat at the same address, turns this set-up into a high-octane comedy that fizzes and sparks. Adekoluejo in particular is a sensational presence, bumping and grinding as she preps her veg, sassy and sharp in conversation, an ear-piercing squealer, her face rarely at rest. Orozco plays the amiable Rafael as her partner in a double act, laconic and clever with a touch of clownishness. And Jason learns to prepare his orders with the gentle care he at first derided: his placing of a solo sprig of Italian parsley as garnish is treasurable. When they all launch into cheeky formation dances with their prep tables, it's a joy to watch.
The less successful elements here are the characters of Clyde and Montrellous. Whereas the other three grow and develop, Clyde's repartee is one-note. She is brilliantly scathing and funny – she gets the stinging line, "The world is mean, and I'm just in it" – but her barbs are always in the same key. Just occasionally we sense the pain behind her tough-mother stance, as in a striking tableau where she stands on her roof in the dark and opens her mouth wide in a silent howl. She tells her workers they don't know the sacrifices she has made to keep the place open — but the audience doesn't know about them either.
Montrellous, on the other hand, makes his Zen-like philosophy evident every time he speaks. He's the Obi-Wan of sandwich-making, urging his pupils to channel their love for family into each dish but to leave their domestic chaos at home or it will transfer through to the lettuce. The sandwich, he intones, is the "most democratic of foods": you can put anything you like between two slices of bread. His creations are his victory, his freedom.
Terera plays Montrellous as a confident, saintly hero, but the character might work better as a humbler, edgier figure, even a slightly ridiculous and eccentric one, so that his influence on the others is more ambivalent. Only once does he look uneasy, when Clyde warns them all they must produce more profits and drop their "fancy crap" if they want the business to stay afloat. But this real-world side to the action stays underdeveloped.
Chef dramas like The Bear and Boiling Point are now the plats du jour, using the joint efforts of a motley workforce as a metaphor for the possibility of social cohesion in the face of an intractable need to make money. Nottage's play takes a softer approach, focusing more on individual development than the economics of the situation; perhaps she felt she had covered much of this ground in Sweat, a tougher piece about an imperilled rust-belt factory. But it's a rollicking evening and a great showcase for Linton and her cast. Be sure to eat before you go.
Clyde just wants ham and cheese on white, if that's what the truckers prefer
rating
Explore topics
Share this article