Death of England: Delroy, National Theatre review - a furious if fleetingly seen sequel |

reviews, news & interviews
Death of England: Delroy, National Theatre review - a furious if fleetingly seen sequel
Death of England: Delroy, National Theatre review - a furious if fleetingly seen sequel
Opening and closing night were the same for vital solo show
Thursday, 05 November 2020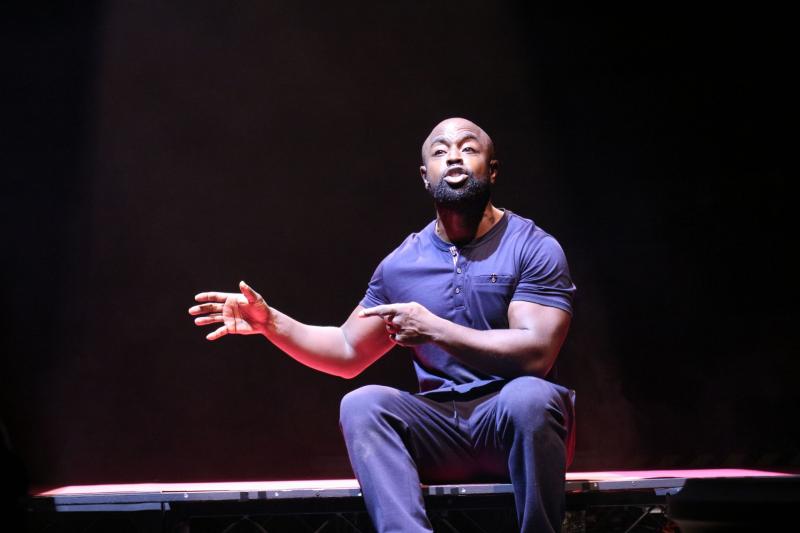 Being alive: Michael Balogun in 'Death of England'
Broadway tends to be the Darwinian environment where a show's opening night can also mark its closing.
But such has been the
Covid-prompted
fate of the
National Theatre
's fiery return to the fray that
Death of England: Delroy
managed 11 performances before shuddering to a lockdown-induced halt following its Nov 4th opening night. The good news is that Clint Dyer and Roy Williams' sequel to last winter's National entry,
Death of England
, was filmed at that decisive performance for tranmission in due course. The even better news is that the play, and co-author Dyer's direction of it, actually improve upon the pair's feisty Rafe Spall-featured predecessor. Is it too much to hope in time for a scheduling scenario where both monologues could be seen in repertory?
Death of England, set in 2018, told of a manic, fast-talking Eastender called Michael Fletcher, played by Spall: a white man seen reeling from the death of his father and not short of an opinion or two or ten. This latest 90-minute offering picks up the baton to tell of Michael's Black best mate Delroy amid our era of coronavirus and Black Lives Matter and Brexit and any number of other concerns. (Windrush gets a mention, too.) But while there's no shortfall in intensity between this evening and what came before, the tone of the sequel allows for greater shifts in mood and for currents of feeling that too often were submerged in the cascading barrage of language the first time round.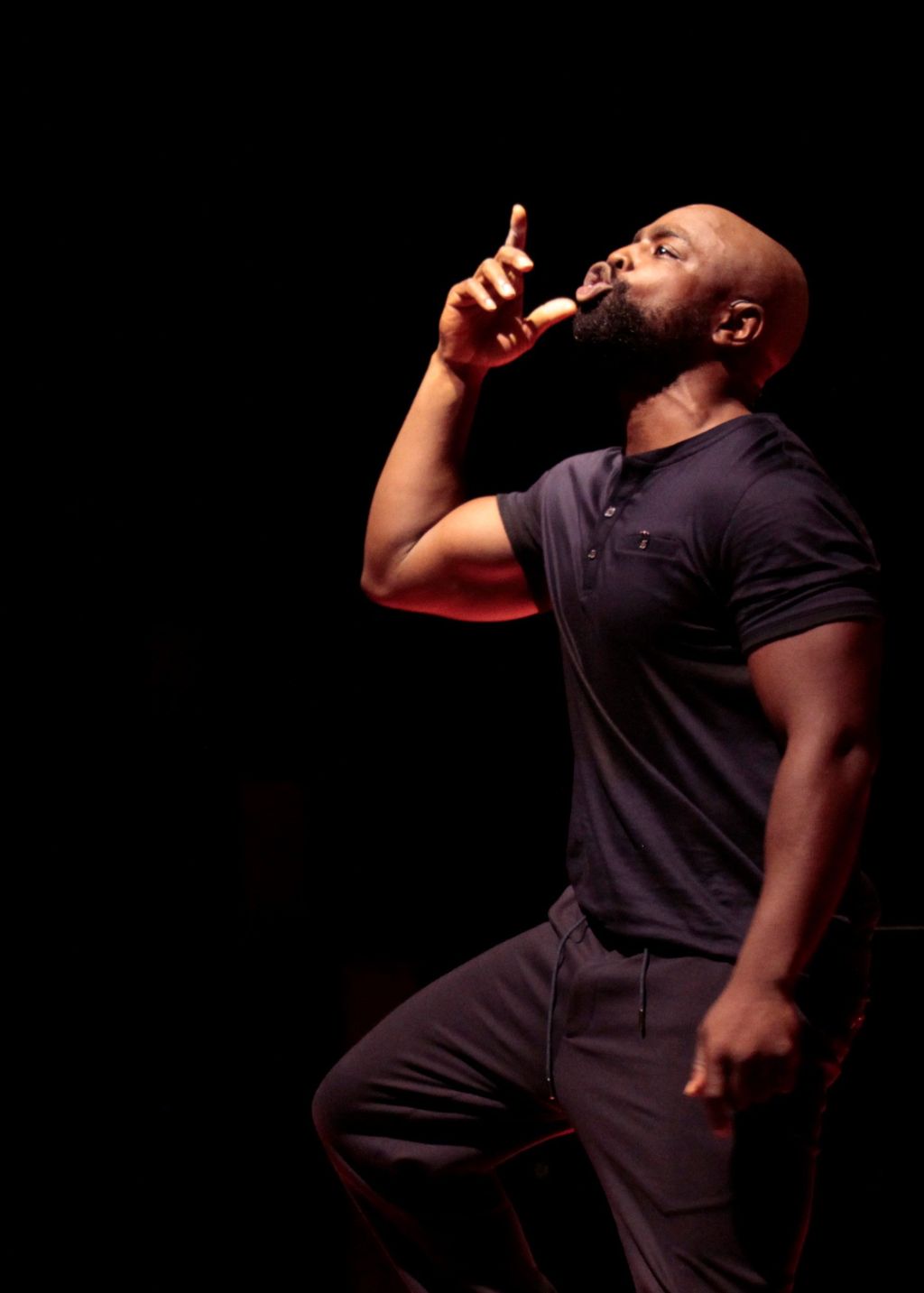 A formidable ask of a lone actor here required to take immediate charge of the cruciform playing space of a reconfigured Olivier, Death of England: Delroy introduces an instant star in the hitherto little-known Michael Balogun, who has stepped in triumph into shoes vacated by Olivier winner Giles Terera (Hamilton) following Terera's departure from the project due to illness. The National's largest auditorium has reduced its capacity to 470, with the audience seated (socially distanced, 'natch) on all sides. If that signals much that is different about London's flagship theatre just now, I'm happy to report one theatrical mainstay still in place: I doubt I was alone in my delight at encountering actual physical programmes once again, lest one of the legacies of the virus might be to put paid to such physical mementos for keeps.
As with its dramatic forebear, the new play locates a character in extremis, in this case a Boris-voting (twice, he tells us) Brexiteer whom we experience falling foul of the law at the precise moment that he is racing to be at the hospital bedside of Carly, Michael's sister. She, in turn, is giving birth to their baby daughter, which itself allows Balogun to enact both participants of a volatile relationship that finds this beer-swilling bailiff squeezing in a quick push-up or two before answering a video call from Carly. That is just one of many terrific touches that lends a hurtling energy to proceedings whereby props (a football, a helium balloon, a suspended puppet) come suddenly into view, accompanied as often as not by a thumping, anxious sound design by Pete Malkin and Benjamin Grant that should translate particularly well as and when the play ends up onscreen.
At times, you feel the writing trying a little too conscientiously to cover every possible topic out there, as if Delroy Francis Tomlin were a walking copendium of the times he inhabits rather than an individual whom Balogun makes alternately angry and cajoling as required - tearful on occasion, and often funny, too.
I'm not sure the approaches toward the audience work any better here than they did in the Dorfman last winter, though they certainly ramp up a sense of connection between actor and spectator that rarely abates. One has to wonder whether Dyer and Williams might take this venture yet further and perhaps construct an evening around Carly herself or, for that matter, Delroy's clearly much-adored mum. For now, one can only applaud the "welcome blast of positivity" in artistic director Rufus Norris's words that this reopening however briefly was able to represent and to predict that Delroy remains far too vital a figure to be absent from us for long.
One can only applaud 'the welcome blast of positivity' that this reopening however briefly was able to represent
rating
Explore topics
Share this article