A Doll's House, Lyric Hammersmith review - Ibsen tellingly transposed to colonial India |

reviews, news & interviews
A Doll's House, Lyric Hammersmith review - Ibsen tellingly transposed to colonial India
A Doll's House, Lyric Hammersmith review - Ibsen tellingly transposed to colonial India
Tanika Gupta's layered version launches a new era
Thursday, 12 September 2019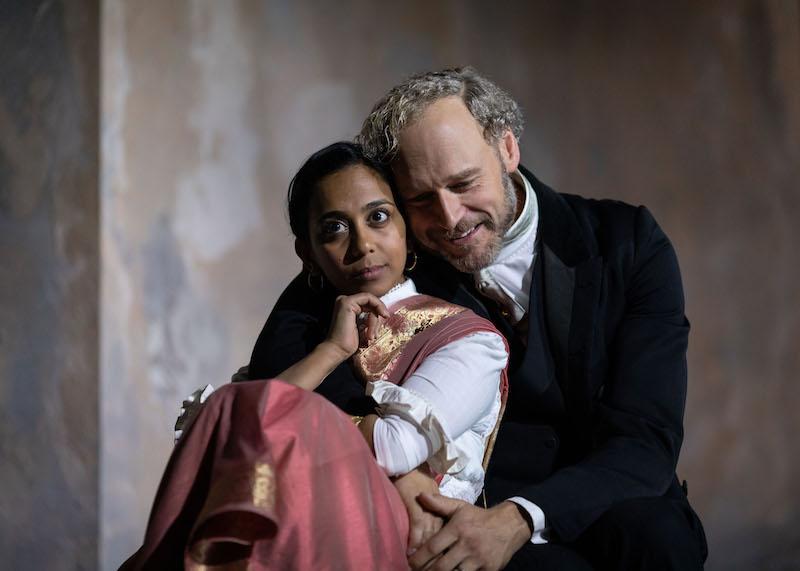 Niru (Anjana Vasan), a doll-wife in the arms of her adoring husband Tom (Elliot Cowan)
Newly arrived from a much-lauded stint at the Sherman Theatre, Cardiff, Rachel O'Riordan has undertaken to make "work of scale by women" during her time as artistic director of the Lyric. What better place to start than with Ibsen's once-shocking heroine, her story reimagined by prolific playwright Tanika Gupta?
Ibsen's understanding of the fears and frustrations of women in the Nineteenth Century stood out among writers and thinkers of his time and modern women writers are likely to warm to him. Stef Smith's version of
A Doll's House
, offering three manifestations of Nora and bringing her story up-to-date, was well received earlier this year at the Tramway in Glasgow. Meanwhile, Cordelia Lynn has taken a fresh look at an older Hedda Gabler in Hedda Tesman at Chichester and, at Nottingham Playhouse, Rebecca Lenkiewicz adds a twist to Ibsen's male-centred world of municipal moral confusion: her translation of
An Enemy of the People
opens this week with a female Stockmann.
Ibsen revivals have been many recently, perhaps because he understands so well the moral grey areas evident in contemporary personal and public discourse. Duncan Macmillan's version of Rosmersholm, directed by Ian Rickson, was a West End hit in the summer, while Robert Icke's revelatory exploration of The Wild Duck lit up the Almeida last year. Icke is now facing up to the one hard question about Nora Helmer: how could she leave her children? His Children of Nora will premiere next spring in Amsterdam.
At the Lyric, Tanika Gupta exchanges Norway for Calcutta but retains the date of the original, 1879, thus opening up the opportunity to investigate the oppression of colonialism. The parallels with the patriarchy are clear enough (and the Lyric's new series of Studio Talks kicks off with a discussion of the subject on October 1st).
Nora has become Niru, a girlish young Indian woman married to Tom Helmer, an English colonial administrator. Nora's Nemesis, Krogstad, is now a hapless Indian clerk named Kaushik Das (Assad Zaman, pictured below with Anjana Vasan) and Nora's friend Kristine Linde is the widowed Mrs Lahiri (Tripti Tripuraneni), obliged to wear white in keeping with her lost marital status. Arun Gosh's music, played on a variety of Indian instruments, serves both to emphasise the location, to underscore emotion and to accompany Niru's wild classical dance which replaces the Tarantella. Incidentally, the performance by a beautiful "exotic" young Indian woman for English partygoers now has an added significance.
Under Rachel O'Riordan's fluid direction, Anjana Vasan is luminous as Niru, seamlessly combining the childish playfulness of the early scenes with genuine terror that her misdemeanour will be discovered and, ultimately, a graceful but steely acknowledgement of previously hidden strengths. It is a beautifully nuanced performance. Elliot Cowan's Tom, tall and blond, towers over the diminutive Vasan (pictured above right, together), a physical manifestation of the power of paternalistic colonial rule. He bends his knees to allow her to tie his tie and sweeps her up like a toy - lovingly, but brooking no argument. Cowan has a tough job, though. Less is revealed about Helmer's character and, in the final showdown, when he discovers his wife's guilt in fraudulently signing a document to obtain a loan to pay for his health-giving holiday, he now has the task of speaking both as an angry husband and a spokesperson for blinkered colonialism. Any residual sympathy felt for Ibsen's Helmer as someone equally bound by the mores of his time is undermined by Tom's spitting the word "heathen" at Niru.
Ibsen's expertly structured play has the speed, the tenseness and reverses of a thriller. The extra weight it has to bear here is in danger of overburdening it. Gupta keeps pretty faithfully to the plot, with some added references - to Niru's conversion to Christianity, for instance. More importantly, she has introduced a new scene between Helmer and the dying Dr Rank to include historical information - Queen Victoria had recently been pronounced Empress of India - and to discuss attitudes to Britain's colonial role. Dr Rank, sympathetically played by Colin Tierney, provides the liberal voice of someone ahead of his time, ashamed of the behaviour of the English but nevertheless apparently powerless to do much to change it.
Spoiler alert! There is no door slam. The ornate portal which dominates Lily Arnold's otherwise simply elegant set, with its balcony reminiscent both of Indian verandahs and Victorian prisons, remains ajar when Niru leaves. Nora/Niru says she doesn't know what the future holds and here there is a symbolic possibility of another episode in this unequal marriage. Niru is a work in progress - but so perhaps is Tom.
Despite some reservations, this is a joyful celebration of diverse talents and a strong beginning for O'Riordan and the new regime at the Lyric.
Anjana Vasan is luminous as Niru, combining the childish playfulness of the early scenes with a graceful but steely acknowledgement of previously hidden strengths
rating
Explore topics
Share this article