Ecstasy, Hampstead Theatre |

reviews, news & interviews
Ecstasy, Hampstead Theatre
Ecstasy, Hampstead Theatre
Mike Leigh's own revival of his 1979 play is bleak but wry and truthful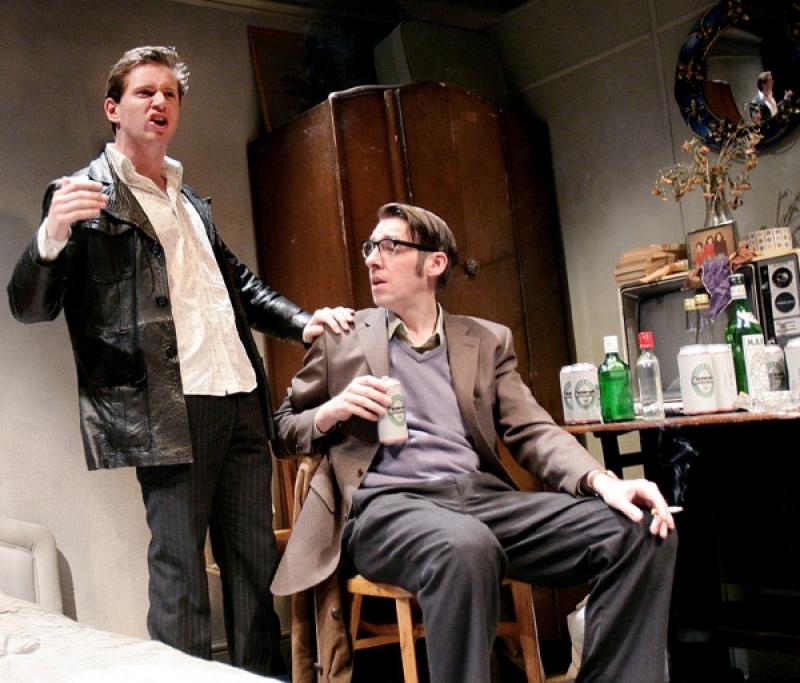 Boozed-up boys: Allen Leech as Mick and Craig Parkinson as Len in 'Ecstasy'
Film-maker and playwright Mike Leigh simply doesn't do revivals. His method of working - which involves a group of actors improvising characters and situations until a story emerges - runs contrary to any notion of returning to a play after its premiere.
So it is quite astonishing to report that, for the first time, Leigh has revisited one of his own plays,
Ecstasy
, which he originally put on at the Hampstead Theatre in September 1979, and which is now back at the same venue. But, given that the world has changed so much in the past 30 years, is it any more than a period piece?
The set - a Kilburn bedsit - is as familiar as a worn counterpane. So is the situation. Jean, who lives here, asks three of her friends to come back to hers after a boozy evening spent in the pub. During the day, she works in a petrol station, and her best friend is the housewife Dawn, who has three kids. Dawn's husband Mick is a hard-drinking Irishman who works on a building site. The fourth member of this inebriated group is Len, who is also a labourer, and has just returned from being away for a long while. His wife has left him. So while this is a celebration of sorts (welcome back Len), it is also one of those uncomfortable gatherings: Dawn would like to pair Jean off with Len; Jean's not so sure; and Len is still crippled by his own problems.
As you'd expect from Leigh, who both writes and directs, the night mixes humour and sadness. While you can certainly feel his compassion for these four rather lost souls (pictured below, with Jean on the right and Len in the middle), they are also the objects of a quiet kind of fun. The situation is very English: the class and regional distinctions are minutely observed. Jean and Dawn are originally from Birmingham, Mick is from County Cork and Len was born in rural Lincolnshire. They are all slightly lost in the big metropolis, and cling to each other with a quiet but noticeable desperation. At one point Len, who is slightly better spoken than Mick, describes the two men as "experienced but unskilled" workers. Dawn looks after the kids, and depends on housekeeping money from her hubbie. Her idea of a snob is a woman who wears wooden earrings.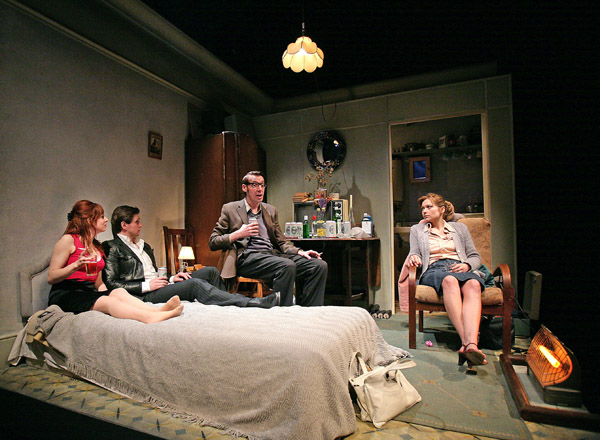 Leigh's world is instantly recognisable. It is the 1970s - which in some respects feels as distant to us now as the era of Terence Rattigan - and the poverty of life in a bedsit is summed up by its appliances and furnishings: a Baby Belling for cooking, a single-bar electric fire, a bare cupboard. An electricity meter. Blouses nicked from C&A. A Ford Cortina is mentioned. So is Dolly Parton. Feminism hasn't trickled down from the middle classes yet. Each of these characters is miserable in their own individual way, although they all try hard to hide it. Each is lonely, each nurses a particular loss. But while they are together, drinking and having a sing-song, they seem to cheer themselves up. Or at least they try to.
Leigh's writing is meticulous and acute. From its ironic title to its wry, bleak humour, this is a lovingly crafted piece. And the word believable is almost too weak with which to describe his creations: they are all highly singular and yet at the very same time typical. You feel instinctively that he loves them. And the play is much more than the account of friends sharing a drunken night: before this group rolls home from the pub, Leigh gives us a couple of scenes which starkly show the real misery that underlies Jean's character. And he waits until the very end of the play to give her a voice with which to fully articulate her lovelessness.

Leigh's direction is likewise detailed and unhurried. He gives his ensemble cast plenty of room to breathe, and they repay him with perfectly convincing performances. Siân Brooke's Jean is quietly desolate and achingly lonely while Graig Parkinson's Len is the epitome of the repressed Englishman, all hangdog features and limp sympathy. By contrast, Sinéad Matthews's mouthy Dawn is a lively soul whose joy of life is slowly being eroded by her poverty; playing her drink-loving husband, Allen Leech is a powerful and aggressive stage presence. Yes, this feels more like a recreation of a play than a simple revival. Ecstasy is a beautiful, heart-breaking piece that sums up the late 1970s yet still remains emotionally truthful and relevant. Strangely enough, watching it is not depressing: as you'd hope, the truth is more robust than that.
Dawn looks after the kids, and depends on housekeeping money from her hubbie. Her idea of a snob is a woman who wears wooden earrings
Share this article