Edinburgh Festival 2018 reviews: La maladie de la mort / The End of Eddy |

reviews, news & interviews
Edinburgh Festival 2018 reviews: La maladie de la mort / The End of Eddy
Edinburgh Festival 2018 reviews: La maladie de la mort / The End of Eddy
Two striking explorations of sexual identity stop short of grabbing the emotions
Wednesday, 22 August 2018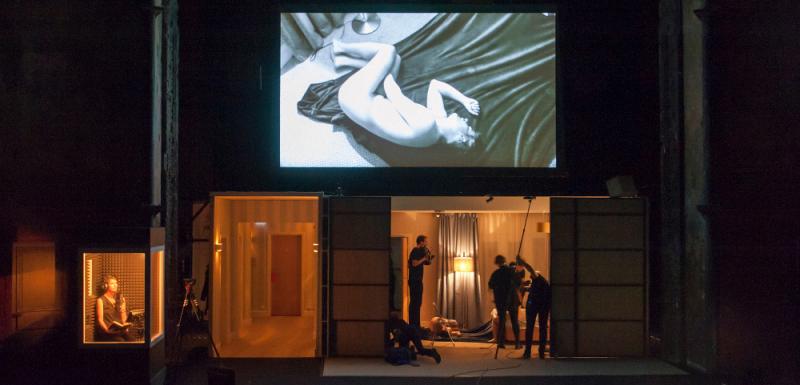 Clinical and uncompromising: Katie Mitchell's live-film adaptation of Marguerite Duras' novella
La maladie de la mort ★★★
Toxic masculinity in all its appalling variety is a hot topic across Edinburgh's festivals this year – just check out Daughter at CanadaHub and even Ulster American at the Traverse for two particularly fine and shocking examinations.
But few works can provide quite as clinical and uncompromising a dissection of the male gaze as the International Festival's La maladie de la mort, written by Alice Birch and directed by Katie Mitchell, based on the 1982 novella by Marguerite Duras, and one third of the residency from Paris's Théâtre des Bouffes du Nord. It's ice-cold in its sometimes brutal interrogrations, certainly, but it's also a somewhat chilly, if not downright numbing, experience for the audience.
In Dumas' original, an unnamed man pays an unnamed woman to visit him nightly across several weeks in an anonymous hotel room, in the hope of discovering – well, maybe love, perhaps sexual pleasure, or at least some kind of intimate, meaningful connection. In Birch and Mitchell's update to our own times, live-filmed in a rigorously anonymous set of a hotel room and corridor (could this actually be a porn shoot?), and projected on a big screen above the live action, we get both characters' back stories. She's a sex worker with a young son to support, her background sketched in with some disappointingly crass, moody shots of a roiling sea. He's simply a man addicted to online porn – some of it pretty violent, and of which we're offered glimpses on his laptop screen.
Duras offers us enigmatic figures, almost symbolic archetypes, perhaps from a dream. Birch and Mitchell, however, tempt us with more fully realised characters, but they're still figures about whom we know little and care less. It's an odd decision.
Nonetheless, this is a smooth, nimble production with actors Laetitia Dosch and Nick Fletcher – both giving brave performances, not just in their literal nudity but also in their unashamed vulnerability – nipping between scenes in impeccably choreographed movements, the several-member film crew adjusting lighting and scenery all the while to resume their merciless observations. On the side, Irène Jacob (of Three Colours: Red among many other films) delivers a portentous commentary, in French, with English on-screen subtitles, from within a hermetically sealed, soundproofed box.
As an unsettling interrogation of the male gaze – in fact, of an audience's gaze, whatever its gender, it's a powerful piece, as we watch the film crew watching the actors enacting their unpleasant rituals of sex and seduction, and of course also watch the filmed results of their watching. When the man uses his mobile to zoom in on details of the woman's body – a troubling addition to Duras's original – we get yet another level of observation. But it's a peculiarly alienating experience, too – precisely designed, immaculately executed, but unremittingly serious, frosty and devoid of any but the bleakest wit.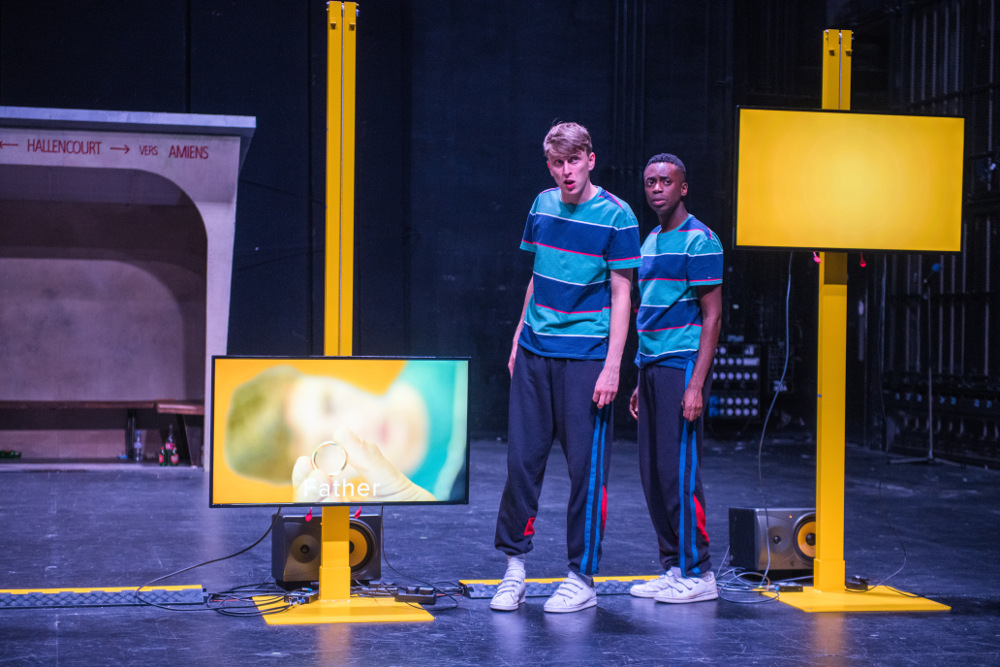 The End of Eddy ★★★★
Sex plays a pivotal role, too – though, unlike La maladie, never a graphic one – in the striking, brand new stage adaptation of Édouard Louis' harrowing autobiographical novel The End of Eddy, also at the International Festival. This is Louis' own childhood tale of abuse, alcoholism, merciless bullying and pervasive homophobia in small-town post-industrial northern France, where even the 10-year-old boy is marked out by his effeminate ways, and only finds release from the torments of his family and fellow pupils with a scholarship to a college in Amiens – where he gives up his old identity and becomes a whole new person.
Louis' book has made a strong impression internationally over the last couple of years for its uncompromising, incisive grappling with tough issues. And this high-concept new staging – adapted by Pamela Carter, and directed by Stewart Laing of Glasgow's Untitled Projects theatre company – knows that only too well, making close, knowing reference to the novel in many self-referential acknowledgements, and even coming clean about where the show itself strays from Louis' original for dramatic effect.
Clad identically in white trainers, trackie bottoms and garish T-shirts, Alex Austin and Kwaku Mills (pictured above, photo by Tommy Ga-Ken Wan) are exceptional embodying all the show's roles, but especially in the central role of Eddy, which they swap or even portray simultaneously. They also appear across the four giant video screens in Hyemi Shin's futuristic set, interspersed with captions, slogans and chapter headings flashed before us in Finn Ross's elegant video design.
It's a horrifying story, and Carter and Laing's stylish staging and breezy, resolutely cheery tone does well to keep us slightly distant from its horrors. There's little chance of things descending into mawkishness or sentimentality – even if that does mean the show's darkest moments also pass without making too much of a gut-wrenching impression.
But there are passages, too, where things get a little too self-referential, leading the show dangerously close to feeling like a TED talk about itself, or at least about the questions and problems that the book raises. Near the middle, Austin and Mills pause the action to guide us through the issues of shame, violence, poverty and pride we've encountered so far, and how each informs Eddy's predicament. It's a moment that's gratifying thematically but uncomfortable dramatically, as though we've stepped out of the theatre and into the classroom.
If at times The End of Eddy feels rather too didactic for its own good, and perhaps rather too clearly aimed at a young adult audience, it's a challenging, unconventional, highly distinctive rethink of Louis' work all the same – though one that doesn't match its masterly provocations for the mind with a similarly potent emotional punch to the stomach.