Edinburgh Festival 2018 reviews: Orpheus / Bottom / Backup |

reviews, news & interviews
Edinburgh Festival 2018 reviews: Orpheus / Bottom / Backup
Edinburgh Festival 2018 reviews: Orpheus / Bottom / Backup
Three intimate storytelling shows at Summerhall offer mixed insights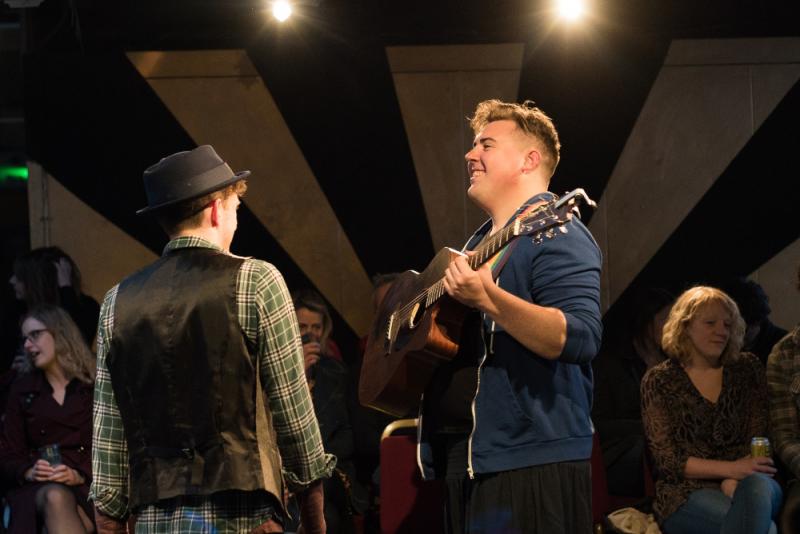 Unashamedly sentimental storytelling: Alexander Wright and Phil Grainger blend beery nights out and Greek myth in 'Orpheus'
Orpheus ★★★★
This unashamedly sentimental storytelling show got its premiere a couple of years back in the back garden of a cheese shop in Cromarty, before touring the Scottish Highlands, we're told. With its lo-fi, minimalist aesthetic, which strips theatre right back to its essentials of story and song, Orpheus could pitch up anywhere and charm with its captivating collision of present-day beery nights out and ancient Greek myth.
Dave is nearing 30, and only sees the world in shades of grey, until he encounters Eurydice and his life magically transforms to vivid colour. When she's suddenly struck down, however, he must embark on a perilous journey to recover her.
Written by Alexander Wright (ex-Belt Up Theatre) and with heart-melting songs from Phil Grainger, Orpheus is a tender two-hander with its heart very much on its sleeve, using just a narrator (often Wright himself, but here an engaging Tom Figgins), Grainger on acoustic guitar and vocals, and – they joke – a single lighting cue.
Its swerve into age-old myth at the show's halfway point might feel a little jarring after the contemporary material of its opening, and Wright sticks surprisingly closely to the details of the myth. The depth of Dave's feelings for Eurydice seems somewhat implicit, too, and, perhaps inevitably, it's told entirely from his perspective, with Eurydice more a symbol than a fully-fledged character. It's only right, however, that a show about the man whose music could entrance birds and beasts should have songs so central to its conception – and Grainger's fragile melodies and poetic, elusive lyrics fit the bill beautifully.
Orpheus offers an hour for reflection and contemplation in a show that's really quite beautiful in its simplicity and directness.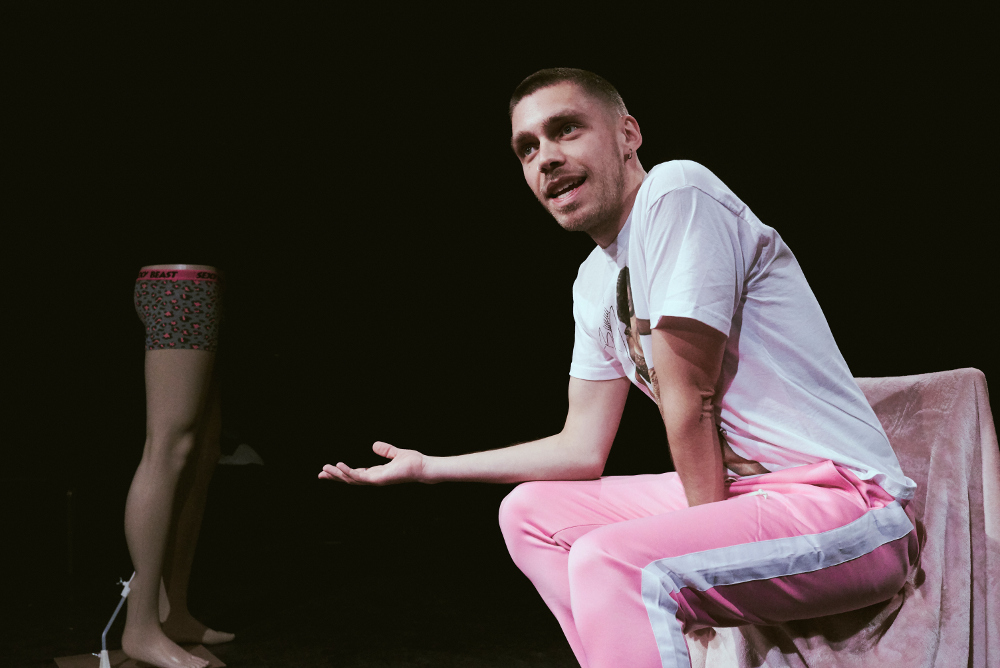 Bottom ★★★
No, nothing to do with A Midsummer Night's Dream. Willy Hudson's sweet, eager-to-please solo show is his rather whimsical examination of traditional roles in gay sex. Tops might be seen as masculine, muscular, straight-acting; bottoms as skinny, pretty, effeminate. But isn't that overlooking the complexities of human character and experience? And in any case, does "Top or bottom?" really have to be the first question in an online hook-up?
Bottom is an appealing, engaging hour in which Hudson intersperses personal recollections of an awkward third date with dance routines to Beyoncé (he's an obsessive fan), reflections on work exploitation in London, and plenty more, raising gently troubling but telling parallels between the various ways he's been fucked.
He packs a lot into his rather hectic show, some of it rather repetitive or drawn-out. And despite his charming, ever smiling presence, it's questionable whether his conclusions – that people are more complex than arbitrary sexual roles – really tell us anything we didn't know already. Nonetheless, Bottom a fun, gently provocative piece – if somewhat slight.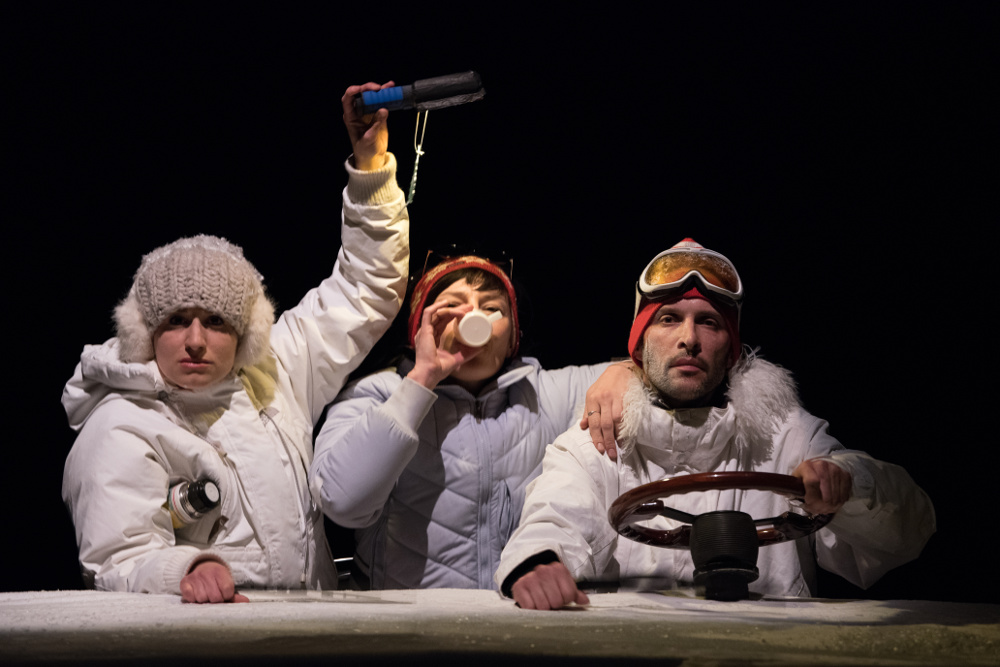 Backup ★★★★★
And despite its barely half-hour running time, slight isn't a word you could use to describe this exquisite, heartbreaking show from Belgium's Chaliwaté and Focus companies. Backup involves three puppeteers/actors/object manipulators and a beautifully designed set to tell the quietly tragic story of a misguided film crew voyaging to the icy wastes of the far north, and the fracturing nature that they discover there.
It's actually a section from a far larger work in progress, the performers tell us at the end. But as a stand-alone parable of mankind succumbing to the crises we've provoked in the natural world, it's as conscience-pricking as it is beautiful. The trio of performers' manipulation skills are astonishingly absorbing, and there's plenty of bittersweet humour disguising the show's underlying tragedy – a beautifully judged, object-swapping scene on the front seat of the trio's van could have come straight out of classic vaudeville, for example. Although it sounds like a kids' show, and certainly offers a lot for youngsters, Backup might be a touch too tragic for little ones, although its abundant wit and elegance has masses to captivate grown-ups.
With its lo-fi, minimalist aesthetic, 'Orpheus' strips theatre right back to its essentials of story and song
Share this article