Edinburgh Fringe 2023 reviews: Stuntman / Beautiful Evil Things / What You See When Your Eyes Are Closed |

reviews, news & interviews
Edinburgh Fringe 2023 reviews: Stuntman / Beautiful Evil Things / What You See When Your Eyes Are Closed...
Edinburgh Fringe 2023 reviews: Stuntman / Beautiful Evil Things / What You See When Your Eyes Are Closed...
Male violence, Greek myths and a modern-day cyclops in three strong shows
Violence and tenderness: David Banks and Sadiq Ali in 'Stuntman'
Stuntman, Summerhall ★★★★★
Masculinity and violence are hot subjects for theatrical examination – and dance theatre two-hander Stuntman from Scottish company Superfan is far from the only Fringe show that investigates them this year. What makes Stuntman stand out, though, is a particularly playful, even tender perspective on those forbiddingly thorny issues, and a joyfully light-touch appraisal of their crucial impact on male identity and relationships.
The show might begin with gleeful live-action re-enactments of shoot-em-up hyperviolence from the two swaggering performers, all bristling testosterone and matey private gags, uzis and samurai swords. By its achingly tender close, though, we've come a long way, thanks to the stories behind the two protagonists' early experiences of violence – fear, threat, the need to demonstrate one's masculinity.
David Banks and Sadiq Ali are lithe, powerful and apparently tireless in their muscular movement as they stalk each other across designer Rachel O'Neill's wide open stage – and full of self-aware charisma, too, with their off-the-cuff ad libs. Michaella Fee's audience-dazzling lighting turns the show into a visceral experience for performers and watchers alike. Stuntman is a gripping, galvanising hour of dance, athleticism and autobiography that might shock, surprise, even seduce.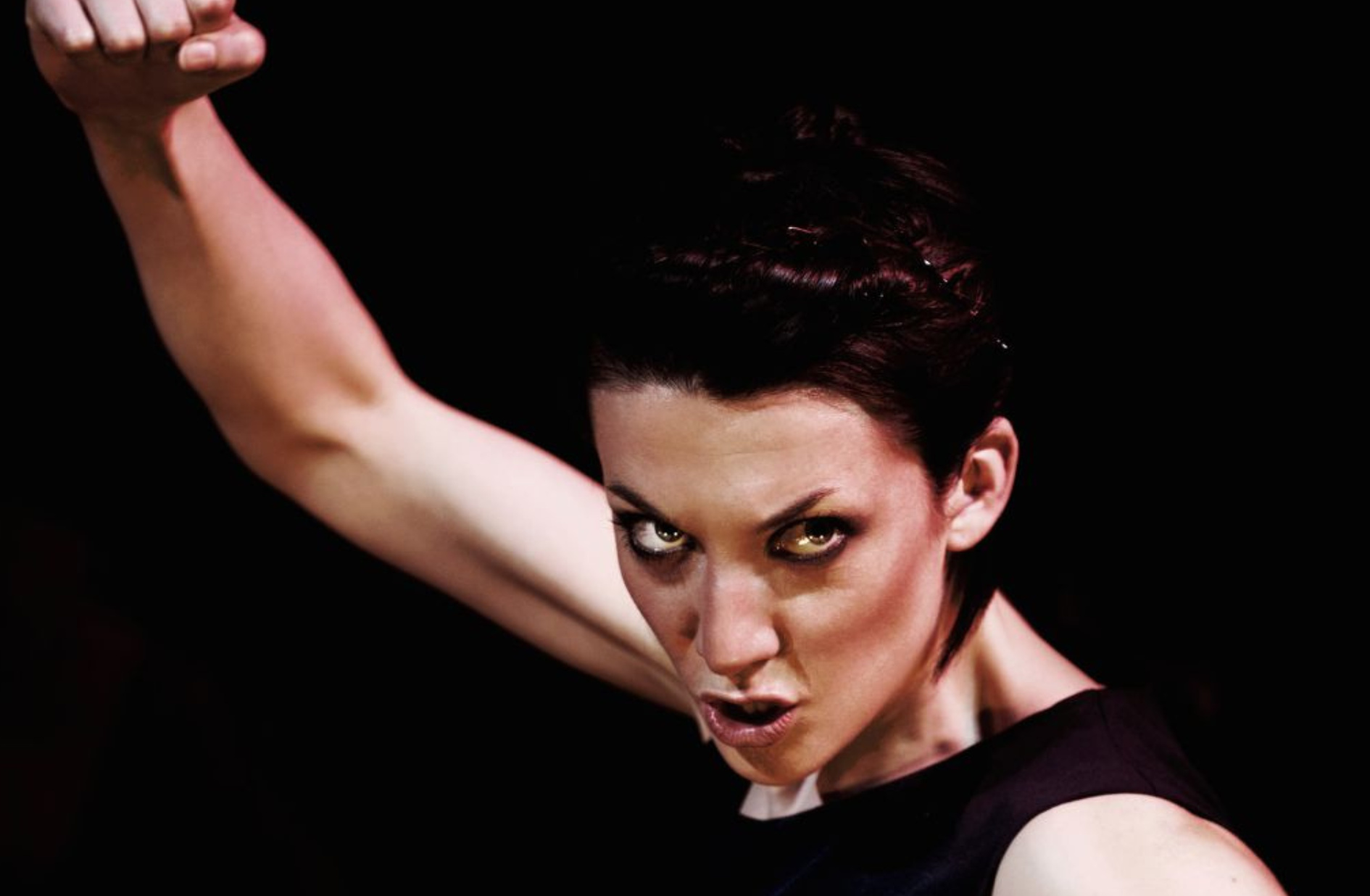 Beautiful Evil Things, Pleasance Dome ★★★★★
Think you know Medusa? According to this blisteringly energetic solo show from veteran Fringe company Theatre Ad Infinitum, you've got it all wrong. Okay, she might be a snaked-haired monster with the power to turn people to stone – but what made her that way? And what happened to her once Perseus had sliced that reptilian head from its body?
To get proper answers to those questions, there's a lot to take in. But it's tribute to solo performer and co-writer Deborah Pugh (pictured above) – the vivid, vernacular script (written with Ad Infinitum's co-Artistic Director George Mann) and her sassy, passionate performance – that over the course of a bit more than an hour, we're introduced to a dozens-strong cast of vengeful gods and fallible humans, and we get to experience not just the Trojan War but also the events that caused it. And, most importantly, that we care about the whole lot.
More importantly, though, Pugh and Mann's time-hopping, tangent-taking narrative builds inexorably into a timely examination of truth and memory, and who gets to decide what they are. It's Pugh's blistering, powerfully choreographed delivery that grips in the theatre, but it's the show's bigger questions that linger long after the show has ended.
What You See When Your Eyes Are Closed / What You Don't See When Your Eyes Are Open, Summerhall ★★★★
There's an orange-furred cyclops in the room, with a video projector for its single eye. It might be a threat – local TV news certainly seems to think so. But it might be there just to observe – as we're invited to do ourselves later, following it intently around the intimate interior of Summerhall's Former Women's Locker Room.
Japan-born, Edinburgh-based theatre maker Mamoru Iriguchi is virtually Fringe royalty after a string of playful, often slightly baffling shows that make gloriously homespun use of hi-tech gadgets. And so it is here – in terms of both the bafflement and the technology. Employing naive video effects and cranky projections, he collides together theories on animal visual perception, memories of his Japanese childhood and even his relationship with husband Gavin to – well, some kind of end. To say What You See… might leave you scratching your head isn't half the story. But the show never fails to captivate and entertain with its gentle, child-like whimsy and sudden, unexpected glimpses of profundity. For those who like clarity and neat conclusions, it might be quite frustrating. For anyone in search of something more open-ended and provocative – well, it's quite a ride.
The show begins with gleeful live-action re-enactments of shoot-em-up hyperviolence from the two swaggering performers
Explore topics
Share this article