Elephant, Bush Studio review - stirring solo show from rising star Anoushka Lucas |

reviews, news & interviews
Elephant, Bush Studio review - stirring solo show from rising star Anoushka Lucas
Elephant, Bush Studio review - stirring solo show from rising star Anoushka Lucas
A beguiling debut play with both charm and an angry message
Thursday, 27 October 2022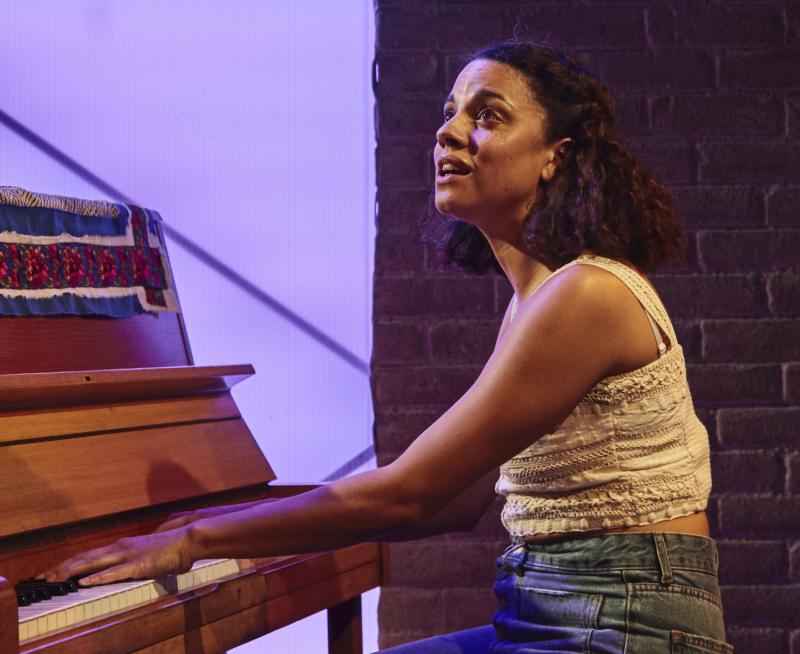 Tinkling the ivories: Anoushka Lucas in 'Elephant'
It lasts only an interval-free 60 minutes, with an upright piano as its only prop, but Anoushka Lucas's one-woman show Elephant in the Bush's Studio space prompts an epic trigger warning.
It will discuss "
racism
, Empire, colonialism, classism, animal cruelty" and there will be "infrequent references to the consumption of drugs". (Note, no expllcit sex.)
There is no warning, though, that Lucas (main picture, and below) – a standout Laurey in the recent Young Vic Oklahoma! – will steal our hearts as the beguiling Lylah. And the piano is no mere prop but a crucial player in the piece.
Lylah tells us she grew up in a council house where the living-room served as a dining room and a bedroom, and later a music room too, when she was given an instrument to play aged seven (as was Lucas). Older, politicised Lylah traces its origins back to the mahogany trees cut down by African slaves, its keys to the elephant tusks that had to be sourced by killing the animal, as there is no other way to extract the whole tusk. Colonial pillage, in other words. The black keys, she notes, are half-tones – half the value of the white keys. Et voilà, as her French-speaking half-Cameroonian mother might say: a major metaphor is born. Lucas circles and revisits this metaphor as she nudges Lylah's story on.
With the changing date projected on the back wall, we watch Lylah's zigzagging progress from obedient, rule-obeying child to professional musician with her own band. In that world she encounters patronising A&R people, whom we hear as a voiceover trying to package her as a stereotypical (Black) act with "soul", not the kind of singer-songwriter she actually admires (all of whom are white). These record execs can only imagine pairing her with an "urban" star, ie turn her into a glorified backing singer. It's racism, even if they don't seem to realise that.
Then she falls in love with Leo, a musician who is the walking epitome of white privilege, but also a man with a musical core she can't help responding to, and the neat binary patterning of her life becomes complicated.
Lucas's writing is tight, funny and circular; her songs, which vary from lyrical ballads with poignant rippling arpeggios to jaunty syncopated numbers, are themed to nudge the story on and back on itself. The song that opens the show also closes it, but with its refrain changed from "Show me/show me" to "I see/I see". What Lylah sees is not as ebony and ivory as she used to think, and she will find herself echoing her parents, both of whom are deracinated and mixed-race (her father's mother was Indian). When asked what their homelands were like, they can only say, "I don't know", a sentence grown-up Lylah will tellingly use later too, but in a different context.
What Lylah seems to yearn for is the unison of a piano's sound with the particles in a roomful of people, reaching inside them: "And we are all/Vibrating/Together." She discovers it's not that simple: her piano may be her solace, her "friend"– alone with it she can summon up feelings and sounds that turn into songs – but it's also her reminder of colonial exploitation. The signposting of the piece's more serious themes, in other words, seems deliberately open-ended. We digest Lylah's intense anger at the white world, but also the fact she herself supplies that one elephant tusk can provide the keys to 24 pianos, 24 possible "friends".
Lucas's performance Is especially winning and amusing when she acts out conversations with her French-speaking mother and "jazz cigarette"-smoking father as her perky seven-year-old self. She addresses us much like a genial host, telling a story and inviting us into Lylah's world with her open manner. So there is no escape when she tells us with sudden severity that she doesn't want to play by the rules any more – that is to say, white people's rules, where for example you hide your true feelings if they are going to offend your host. "I don't want to be a guest," she tells Leo, a concept he doesn't understand but with a serious meaning for her.
Her director, Jess Edwards, who helped develop the piece, deploys inventive body language to create a subtext to what Lylah is saying. When she describes visiting Leo's parents in their nine-bedroom "cottage", for example, she slides along the floor as if assuming a lower station and hides behind the piano, trying not to be spotted; when the record label people are bearing down on her, she lies back on the piano keys, increasingly rigid and horizontal.
Ascending into her new bedroom in the loft, on the other hand, a place that reflects her growing independence and broadening horizons, the piano serves as her ladder.
Elephant runs at the Bush Studio, W12, until November 12
The black keys, she notes, are half-tones – half the value of the white keys
rating
Explore topics
Share this article