The Haystack, Hampstead Theatre review - a chilling surveillance state thriller |

reviews, news & interviews
The Haystack, Hampstead Theatre review - a chilling surveillance state thriller
The Haystack, Hampstead Theatre review - a chilling surveillance state thriller
This flawed but trenchant new spy drama asks who's watching the watchers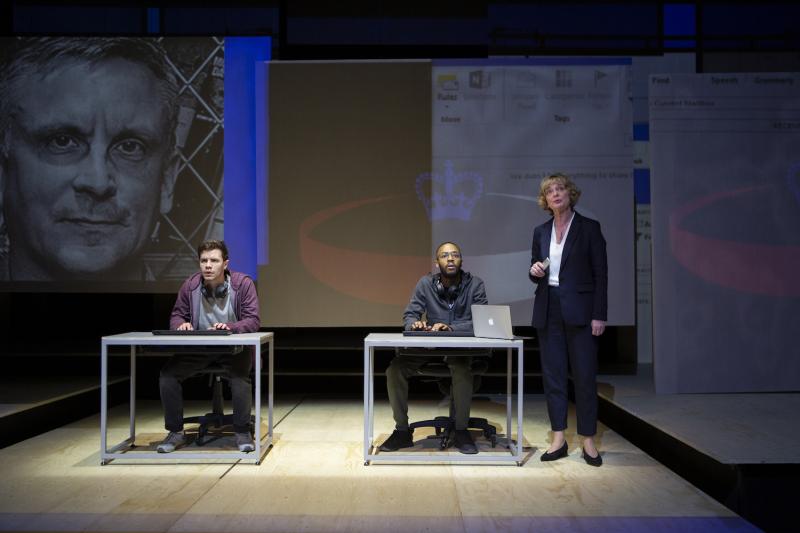 I spy: Hannah (Sarah Woodward) briefs Neil (Oliver Johnstone) and Zef (Enyi Okoronkwo)
With counter-terrorism an urgent concern – and specifically how best to find, track and use the data of suspected threats, without sacrificing our privacy and civil liberties – it's excellent timing for a meaty drama about the surveillance state.
And the second half of this debut full-length stage work from Al Blyth, helmed by
Hampstead
AD Roxanna Silbert, comes excitingly close to being that
play
for today.
However, you do have to wade through an overlong first half which, unfortunately, trips into every genre cliché going. The GCHQ computer whizzes who supply the security services with dubiously obtained material are nerdy, hoodie-wearing, high-IQ but socially awkward gamers. Add in an idealistic young female journalist, who falls alarmingly quickly into alcoholism and depression after a grave development in her whistleblower story, her unsupportive boyfriend and no-nonsense editor, and a shadowy conspiracy involving the British establishment and a Middle Eastern power, and you've got spy thriller bingo.
Now, some of that may well be representative of reality, but replicating the tropes of so many other dramas – stage and screen – means it's far too easy for a savvy audience to predict the initial plot, and its accompanying doom-laden warnings. The script also feels oddly out of date in some respects. Budding reporter Cora (Rona Morison, pictured below with Lucy Black) pleads not to be sent back to "bloggers' corner", as though digital and print journalism were separate entities and the former utterly disreputable. And one of her Guardian articles earnestly posits that we might actually be lonelier in the interconnected technology age – as though that's a red-hot take in the year 2019.
Blyth is a research economist by trade, and he's certainly done his homework. We get references to real-life terrorist incidents and murdered spies, as well as a detailed portrait of how the security service operates, and the inherent flaws – and worrying abuse of power – in tactics like unmanageable mass data collection; the title refers to the principle of collecting the whole haystack in order to find a few needles. Blyth also makes the critical point that we lack a written constitution in this country – and many of our democratic norms are already being tested by an autocratic Government. How much overreach will we endure in the name of protection? What if it comes at the expense of the free press, or political opposition? There are issues raised by Edward Snowden's revelations, among others, that we have yet to thoroughly process as a society.
The play's sizzling second half, which features several gasp-inducing reveals, does a much better job of presenting such debates in dramatic form – in particular, making that personal violation feel tangible and excruciating, showing how technology shapes and warps identity and relationships, and giving us a microcosmic, human example of a well-meaning nation losing itself entirely through a web of intrusion, deception and self-interest masquerading as concern for others. Tom Piper's design also upgrades from an effective but sedate cluster of illustrative screens to a powerfully visceral staging echo of the high-stakes action and harrowing twists.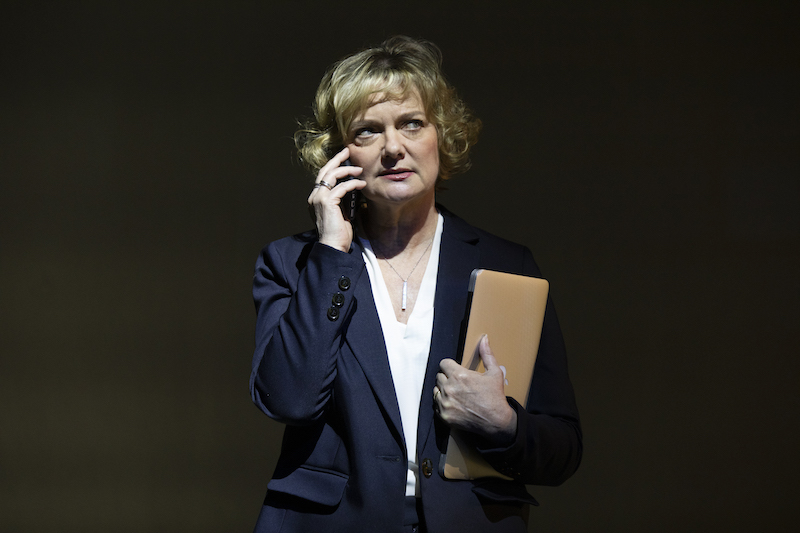 Oliver Johnstone and Enyi Okoronkwo create a believable bond as the two boys-with-toys tech boffins – a bond that's increasingly strained – and give us a glimpse into the psychology of those who devote their lives to watching others. Their relationship with the excellent Sarah Woodward's cagey counter-terrorism middle-manager (pictured above) is fascinatingly drawn, supplying both wry humour and chilling ambiguity. When is "need to know" just a cover for plausible deniability?
Rona Morison brings plenty of passion to Cora, who becomes a more engaging character as the piece develops; as her editor, Lucy Black is the right mix of intrigued and professionally cautious; and Sirine Saba makes source Ameera a vivid personality. Oli Higginson draws the short straw with Cora's rugby-bro boyfriend (though there's a good gag about his ridiculously named friends), not helped by the fact that the conversations between the couple that play out on surveillance screens look too artificial.
At its best, The Haystack punches through our apathy and demands we engage with serious questions – like who decides what constitutes a "terrorist" in need of tracking, and how we can prevent such security tools being used against those who threaten to expose a Government scandal, say, or just for personal gain, such as stalking an ex (behaviour so prevalent that the NSA termed it "LOVEINT"). It's not the first play to tackle this topic – James Graham's part-verbatim, intricately metatheatrical Privacy covered similar ground back in 2014 – but this is certainly the kind of urgent, unsettling work that a new writing venue like the Hampstead should be programming.
Many of our democratic norms are already being tested by an autocratic Government
rating
Explore topics
Share this article