Heathers The Musical, Theatre Royal Haymarket review - a sardonic take on teen angst |

reviews, news & interviews
Heathers The Musical, Theatre Royal Haymarket review - a sardonic take on teen angst
Heathers The Musical, Theatre Royal Haymarket review - a sardonic take on teen angst
Death and all his frenemies descend on a vicious American high school
Thursday, 20 September 2018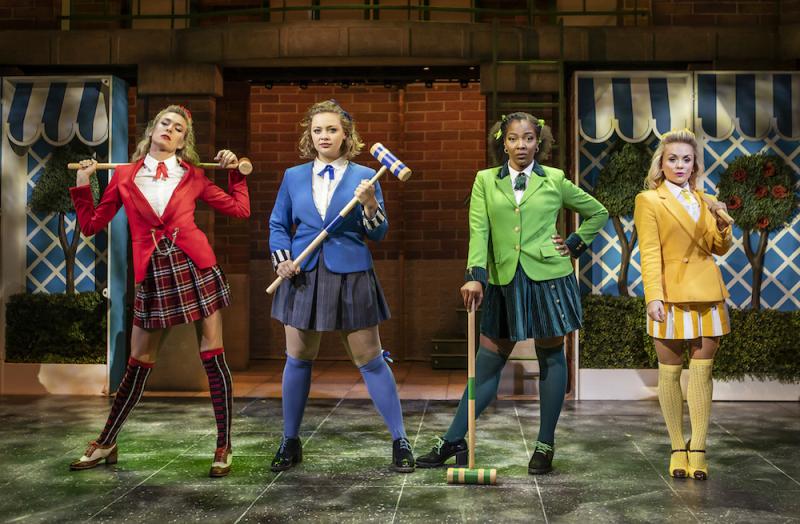 Mean girls: Heather Chandler (Jodie Steele), Veronica Sawyer (Carrie Hope Fletcher), Heather Duke (T'Shan Williams) and Heather McNamara (Sophie Isaacs)
This London premiere of Kevin Murphy and Laurence O'Keefe's 2010 musical (based on Daniel Waters' oh-so-Eighties cult classic movie, starring Christian Slater and Winona Ryder) had a development period at The Other Palace – no critics allowed – before cruising into the West End with a cult following already in place. A winning strategy, as it turns out, resulting in adoring audiences cheering on a show that's largely worthy of their adulation.
Veronica (Carrie Hope Fletcher, pictured below with Jamie Muscato) decides to strategically befriend it girls the Heathers (Sophie Isaacs and T'Shan Williams, led by Jodie Steele's "mythic bitch") in order to survive the Thunderdome that is conformist high school in Sherwood, Ohio – at least until she can make her Ivy League escape. But the arrival of mysterious outsider and irresistible love interest JD (Muscato) instead sets a murderous train of events in motion.
The film's pitch-black satire doesn't entirely surivive. The musical opts for a sunnier conclusion and adds a tragic home life for JD, the latter shifting the focus from his purposeful (if psychopathic) challenge to Bush-era society – with its indifference to weakness and suffering – to violence stemming from individual hurt.
But overall the creative choices feel appropriate for the new medium; arch detachment and musical theatre are not happy bedfellows. Instead, Andy Fickman's production finds twisted humour with a heightened take on the tale, simultaneously generating energy, teasing out prickly laughs, and allowing for serious beats about the big issues, like bullying, depression and suicide (important, particularly, with this audience demographic).
It's a tricky tonal tightrope, and there are times when Heathers wobbles; a cavalier portrayal of an attempted rape draws whoops and laughs via a male striptease, rather than centring on the fear or trauma of their potential victim. There are also moments that come dangerously close to purely glamorising teen suicide, rather than critiquing the phony response to and false framing of this desperate act.
But a Veronica with more of an active moral compass – and more agency, including in the bedroom – helps differentiate between camp absurdity and sincerity, and Fletcher expertly handles the material. Though a vocal powerhouse, she's just as engaging delivering witty asides or showing Veronica's relatable gaucheness. She's less overtly a good girl who might truly go bad, or whose secret desires are driving this revenge fantasy, but then that fits with the show's tone: cynical commentary balanced with underlying hope. Likewise, Muscato toggles effectively between wry, moody observer and wounded boy deflecting his pain, though the reveal of his intentions isn't exactly surprising in the current landscape; a firearm-wielding loner near a school sets off immediate alarm bells.
Murphy and O'Keefe's rock/pop score could use more light and shade, but its high-voltage intensity captures the fever pitch of adolescence, as well as vividly illustrating each experience – from the Heathers' vampy seduction in "Candy Store" to the idiosyncratic romance of "Freeze Your Brain", powerful "Dead Girl Walking", wistful "Seventeen", and pseudo-gospel, on-the-edge "Dead Gay Son".
There are standout numbers for supporting characters, superbly delivered here: Rebecca Lock's Ms Fleming exploiting the tragedies to promote her brand of group therapy in "Shine A Light"; Isaacs' Heather McNamara dropping her cheerleader perkiness to relate the horrors of peer pressure in "Lifeboat"; and Jenny O'Leary's bullied Martha mourning their loss of innocence in "Kindergarten Boyfriend". Steele, too, is excellent as the otherworldly Queen Bee Heather, as well as a snarky visitation, while Christopher Chung and Dominic Andersen (pictured above) offer great comic relief as two boneheaded jocks.
Gary Lloyd's choreography adds a stylised layer, and cements the Heathers – who move in theatrical, hip-jutting sync – as a glossy pack. David Shields provides their distinctive supervillain costume (the mock-girlishness of knee socks and pleated skirts, plus that all-important period accessory, the scrunchie), and Ben Cracknell even lights them in individual pops of colour.
Nasty and nice, slurpees and poison, it's a show that eventually escapes comparison with other teen musicals – and with its movie version – to find a distinctive voice. Derogatory (nay Heather-esque) comments have been made about that voice appealing to a certain 'cult' base, as tends to happen when a fandom skews younger and/or female. But let's instead applaud a lively, engaged West End crowd, supporting new work and, hopefully, beginning a lifelong passion for theatre with a show that speaks to them. How very.
A Veronica with more of an active moral compass helps us differentiate between camp absurdity and sincerity
rating
Explore topics
Share this article