Hedda Gabler, Old Vic |

reviews, news & interviews
Hedda Gabler, Old Vic
Hedda Gabler, Old Vic
Ibsen's heroine draws new depths from the West End's sweetheart
Thursday, 13 September 2012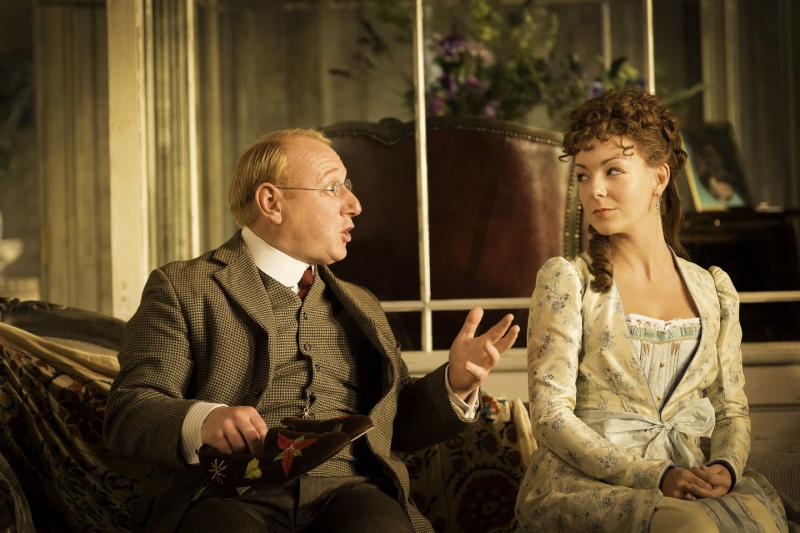 Marriage of (in)convenience: George (Adrian Scarborough) and Hedda (Sheridan Smith) exchange tense pleasantries
Hedda Gabler – the doomy tragedy, the one with the pistol, the "female Hamlet". We all know the score when it comes to Ibsen. All, that is, except apparently for Sheridan Smith, who recently admitted in an interview that she hadn't heard of the play before she was asked to take on the lead. It may be a world away from the buxom bar-maids and big-hearted bimbos that have become Smith's trademark, but the double Olivier Award-winner makes light work of a role that carries the weight of theatre's greatest actresses.
Smaller than almost everyone else on stage, and disappearing into sofas, melting into glass-panelled walls, or just willing herself into invisibility while rigidly still in a chair, Smith's Hedda hasn't the joyous physical authority of a Blanchett or an Eve Best. This heroine's self-dramatising manipulations come unwillingly – and all the more desperately for that. Denied the escape she desires (Mackmin's silent prologue sets freely billowing curtains against closing doors – a visual idée fixe that haunts the rest of the action) she waits and watches, lashing out only when provoked, like the huntress Brian Friel's new translation casts her as.
It's a production that isn't scared to play for laughs
The opening is all rictus smiles, gripped and pinched into agonies of politeness with Anne Reid's prattling Aunt Juliana, relieved only by the swift wit and repartee that can often find itself neglected among all the tragedy. It's a production that isn't scared to play for laughs, lacing the biggest of these (directed at George's ecstatic response to the news of his wife's pregnancy) with sugared poison, as we see Smith's Hedda in the background gearing up for her own "beautiful, final gesture".
While the early scenes of acid retorts and adamantine sharpness feel at times just the tiniest bit over-worked, there is nothing fussy about Smith's instinctual release in the latter half of the play. Mackmin and Friel's pacing allows for a steadily rising acceleration that bursts into brutal climax almost before we realise it. The monotone gabblings of the opening give way to a gradually extending range of emotion and expression, to which the final bloody act feels like the most natural conclusion – social conformity and suppression giving way to the assertion of self.
Mackmin surrounds Smith with a serious supporting cast, not least among which is Fenella Woolgar (pictured right with Smith) as Thea Elvsted. Aided by Friel's additions, the nervy Thea offers a more worthy foil to Hedda, a viable alternative vision of future womanhood rather than a figure of fun. Woolgar's physical tension and absolute discomfort sits well against Smith's control, her careful, consciously swaying walk.
Leading the men is Adrian Scarborough as George Tesman. If there is a weakness in this production it's that we can't quite understand how his overgrown schoolboy of an academic, soft and sensitive to all the women in his life, could ever have married Smith's Hedda. Ibsen's explanation always feels a little token and seems no less so in Friel's hands, yet perhaps Scarborough's wishful (and wilful) blindness, his eager re-interpretation of Hedda's violent act of destruction, goes some way toward furnishing an answer.
While Daniel Lapaine's Loevborg (pictured right with Smith) generates little heat with Smith, his vacant self-involvement allows this to become even more a self-wrought tragedy. This isn't, we see, about love or even infatuation, simply a calculated exercise in control. But if ever this exercise threatens to get too heavy we always have Darrell D'Silva's devilish Judge Brack, endowed here with a fondness for American neologisms, whose levity lend a sinister edge to the seriousness of his intentions.
A few moments jar in their contemporary spoken rhythms, but Friel's translation also achieves some elegant felicities. "I had danced myself to a standstill", explains Hedda of her unexpected marriage to Tesman; "You burrowed into me" accuses Loevborg of Hedda's parasitical early attention to him. It's a shame though that Simon Baker's sound design can't match it for musicality. While onstage melodrama is largely implied rather than stated, exiled to silent transitional moments or deferred until the very close, a heavy 19th-century soundtrack tacks lead weights onto Smith's delicate inflections, loading the drama – and the pistol – unfairly and before time.
This is a classic Hedda Gabler with an unexpectedly classic heroine. Smith, playing against type, plays with the grain of her skill, drawing out the nimble, mercurial aspects of a woman we are almost convinced is a pure villain. In that "almost", though, lives a world of fertile uncertainty, and one that Smith inhabits with relish. She may be the nation's theatrical sweetheart, but Sheridan Smith makes for one hell of a bitch.
MORE IBSEN ON THEARTSDESK
Ghosts, Duchess Theatre (2010). Iain Glen makes directorial debut with a straightforward take starring Lesley Sharp
The Master Builder, Almeida Theatre (2010). Passions blow hot and cold in this uneven production starring Gemma Arterton and Stephen Dillane
Emperor and Galilean, National Theatre (2011). Power and pace help to exhume Ibsen's Romano-Christian epic starring Andrew Scott
Judgement Day, The Print Room (2011). Ibsen's last play has its issues but emerges strongly in new adaptation with Michael Pennington
The Lady From the Sea, Rose Theatre, Kingston (2012). Joely Richardson takes on the Ibsen heroine her mother and sister made their own
A Doll's House, Young Vic (2012). Period setting yields a contemporary tragedy adapted by Simon Stephens and starring Hattie Morahan
Love's Comedy, Orange Tree Theatre (2012). Early Ibsen finds the playwright in his awkward adolescence
A Doll's House, Royal Exchange (2013). Ibsen in the round loses none of its power to cast a spell
Public Enemy, Young Vic (2013). The horrors of local politics still chime in Richard Jones's queasy production of an Ibsen masterpiece
Ghosts, Almeida Theatre (2013). Richard Eyre and Lesley Manville shine light into Ibsen's dark thriller of family misfortunes
Peer Gynt, Théâtre National de Nice (2014). Irina Brook's song-and-dance Ibsen entertains, but misses the darker shades
The Wild Duck, Belvoir Sydney (2014). Heartbreaking adaptation mixes naturalism and forensic examination
Little Eyolf, Almeida Theatre (2015). Strong women and one weak man in Ibsen's swift study of isolation and guilt
The Master Builder, Old Vic (2016). Ralph Fiennes stars in Ibsen's unsettling mix of the real and the supernatural
Hedda Gabler, National Theatre (2016). Ivo van Hove makes an uneven Southbank debut

Mackmin and Friel's pacing allows for a steadily rising acceleration that bursts into brutal climax almost before we realise it
rating
Share this article
Subscribe to theartsdesk.com
Thank you for continuing to read our work on theartsdesk.com. For unlimited access to every article in its entirety, including our archive of more than 10,000 pieces, we're asking for £3.95 per month or £30 per year. We feel it's a very good deal, and hope you do too.
To take an annual subscription now simply click here.
And if you're looking for that extra gift for a friend or family member, why not treat them to a theartsdesk.com gift subscription?