I Am a Camera, Southwark Playhouse
I Am a Camera, Southwark Playhouse
A zesty, sensuous production based on Christopher Isherwood's memoirs
Saturday, 08 September 2012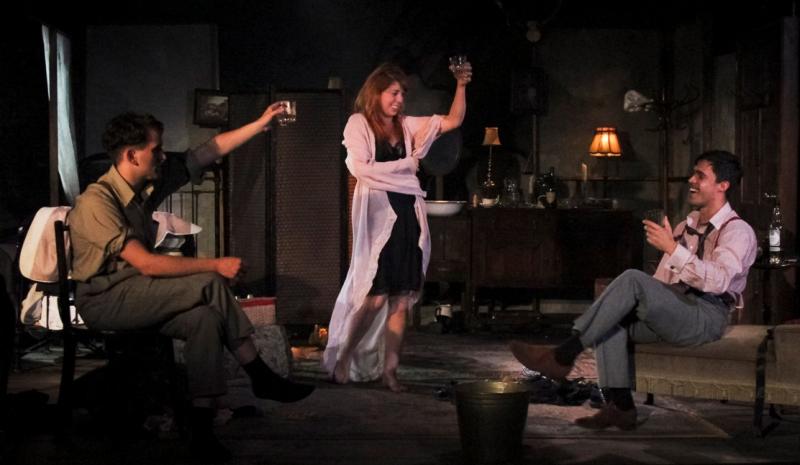 Caught in Isherwood's lens: Harry Melling, Rebecca Humphries and Oliver Rix
The Kander and Ebb musical Cabaret, inspired by the Berlin stories of Christopher Isherwood, is soon to return to the West End with Will Young. Its less well-known source is John Van Druten's 1952 play I Am a Camera.
The title comes from the opening page of
Goodbye to Berlin,
Isherwood's memoirs published in 1939 inspired by his years in the capital of a country reeling from the last war and suffering from the global Depression: "I am a camera with its shutter open, quite passive, recording, not thinking."
The play focuses on Christopher's relationships with the people he meets in the city: Sally Bowles, an actress from Lancashire – said to be based on nightclub singer Jean Ross; his landlady, the maternal Fraulein Schneider; Fritz, a slick ladies' man; Natalia, his wealthy Jewish student; and Clive, a phoney American. Unlike in the musical, there is no seedy Kit Kat Club and no hit songs. Instead, there is quippy dialogue, swift changes in mood and an intimate setting.
The stone floors and brick walls suggest Berlin's club scene of the Thirties
Anthony Lau's zesty production captures the tension between a young Isherwood sensing trouble and society's inability – or refusal – to pick up on the imminent danger. Christopher's predominant concern is with himself – a young writer, he wants material for his next book – but he is neither oblivious nor unsympathetic to his surroundings.
It is the amped-up characters, alongside Christopher's gradual realisation of the values and limitations of being an observer, that make I Am a Camera so captivating. And it is the strong cast and swift direction that makes this production a joy to watch. James Turner's cosily lit set of Sally's shabby, but sensuous room, with its velvet chaise lounge and faded carpets, serves as the focus for constant comings and goings.
Harry Melling as Christopher gleams with neurotic anxiety, while Rebecca Humphries (pictured right with Melling) plays Sally Bowles with scene-stealing radiance: she is carefree and excitable. Their friendship, they proclaim, is "eternal", although the ending of the play suggests otherwise. Isherwood's homosexuality goes unmentioned, but Sally continually brings back unsuitable men to their rooms, including flashy Clive, played with swagger by the dashing Oliver Rix. Clive lavishes Sally with champagne, while many Germans struggle to buy food.
Meanwhile, Natalia, played by Sophie Dickson with a Chekhovian sense of dry wit and high tragedy, and Fritz, a friend of Christopher's, fall in love. When Fraulein Schneider begins to blame Jews for the country's problems and Natalia faces anti-Semitic threats, Christopher can no longer stay on the side of the camera's viewfinder. Generous and compassionate, he stands up to his landlady and defends Natalia.
The swirling darkness of the Vault, beneath a platform of London Bridge station, makes the ideal auditorium for this play. The stone floors and brick walls suggest Berlin's club scene of the Thirties, with musicians playing a clarinet, double bass and piano playing on stage through scene changes. But the main advantage is inadvertent. The rumble of trains overhead ominously suggest the bombs of war in years to come: the environment points to the future in a way that even Isherwood couldn't have foreseen.
I Am A Camera at Southwark Playhouse until 22 September