Indecent, Menier Chocolate Factory review - cabaret-style depiction of a rapidly changing world |

reviews, news & interviews
Indecent, Menier Chocolate Factory review - cabaret-style depiction of a rapidly changing world
Indecent, Menier Chocolate Factory review - cabaret-style depiction of a rapidly changing world
An intriguing if flawed evening, boosted by ebullient ensemble work
Wednesday, 15 September 2021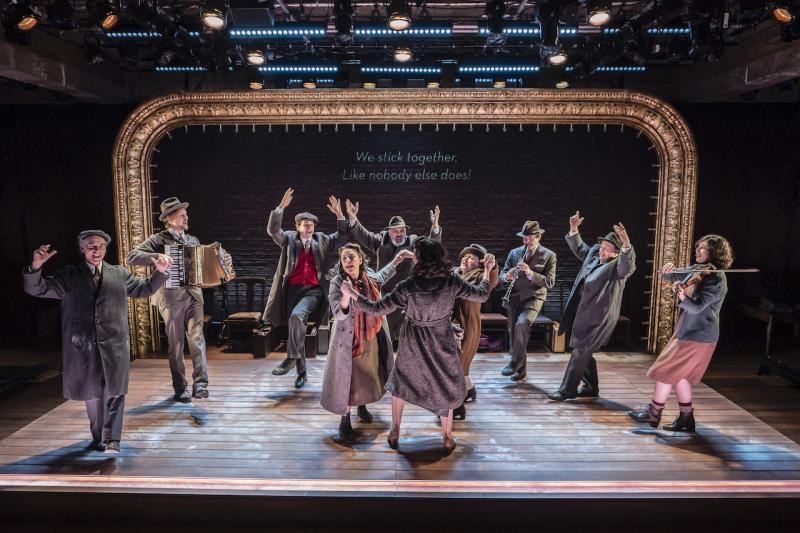 The joy of subversion - the company of Indecent
Indecent is a play wrapped inside a news story about stigma. Playwright Paula Vogel was at Cornell University when she stumbled on a "yellowing copy of an out-of-print translation" of Sholem Asch's God of Vengeance.
Asch had been born into a Hasidic
Jewish family
but rebelled after discovering the decadent delights of fin-de-siècle philosophy and literature. In 1907 he wrote a play that simultaneously scandalised his community and garnered international accolades with its depiction of Judaism against the backdrop of a Jewish brothel and a
lesbian love affair
.
For Vogel, who came out at university, the discovery of God of Vengeance – with its first depiction of a kiss between women on the American stage – was a revelation. Director Rebecca Taichman's own encounter with Asch's script happened as a result of researching the 1923 obscenity trial. This cabaret-style production – with its inevitable resonances of Weimar – is Vogel and Taichman's response; a tragi-comic drama about the theatre troupe that perfomed God of Vengeance, as they are forced to chart the treacherous currents of a rapidly changing world. It covers a similar era to Leopoldstadt, but is a very different exploration of Jewishness, though as the influence of the far right continues to manifest itself in modern politics the themes remain all too resonant.
The production is delayed from last year because of Covid, so it's perhaps no surprise that the evening opens with the energy of a coiled spring. We view the cast and musicians as if from backstage, shaking the dust off as they perform klezmer-style songs while the MC introduces each of them with the names of the original Yiddish performers. Quickly the action shifts to Warsaw in 1906, where Molly Osborne's Madje Asch (Sholem's wife) is rapturously reading God of Vengeance aloud to her husband (Joseph Timms). She perceives instantly that it will be a hit in Europe's sophisticated and sexually adventurous intellectual circles.
For Vogel part of the fascination of this important landmark in queer theatre was that it had been written by a young married man. Yet while Asch clearly sees his play as an honest attempt to depict Jewish life in all its vivid variety, when he takes it to the Warsaw salon of his writing idol, I L Peretz (played by Peter Polycarpou), the reaction is that he should burn it. Vogel frames this scene as a wry comedy, in which the gathering of middle-aged and elderly men attempt to take on the characters of the young women both in the brothel and the lesbian love scene. Finbar Lynch stands out here for his comic and empathetic performance as Lemml, the uneducated outsider who is so moved by the work that he ignores the outrage and joins Asch's company.
There is a lot of material to cover in this story, as Asch takes the script to Berlin where it is hailed as a sensation, then on a whirlwind tour to cities including St Petersburg, Bratislava and Constantinople. Each destination is identified through surtitles on the backdrop, while the cast shift round the stage, repeatedly performing the final dramatic lines to increasing hilarity. At the emotional heart of the play is the moment when the prostitute and the virginal brothel-owner's daughter kiss in the rain, compared by both Vogel and Taichman to the balcony scene in Romeo and Juliet. Like all the cast, Molly Osborne and Alexandra Silber (pictured above) play a range of characters in the production, but as the lovers they manage to convey a genuine heartfelt connection.
In a story of this complexity, it's often difficult to know what to include and what to leave out, and it's not always clear the right decisions have been made here. Given the comparisons made with Shakespeare's tragedy, we know quite a lot more about his characters, which in turn provides a stronger sense of what's at stake both personally and politically. It would be good too to experience in more depth the way Asch's relationship with the play evolves as he matures and becomes more politically aware - not least when he's forced to censor it for its fateful transition to Broadway.
Such concerns aside, this production – which played to rave reviews with a different cast on Broadway – tells a fascinating story aided by dynamic and ebullient ensemble work. Visually, there are moments that hit you in the solar plexus, not least when the entire company is forced to put on yellow stars for identification. Despite the increasingly sinister political backdrop, this is a moving and uplifting evening, marked in particular by charismatic performances from Timms, Lynch and Silber. It's good too to see the Menier tackling this kind of material, even though it will need substantial tweaks if – like so many Menier productions – it is to transfer to the West End.
Finbar Lynch stands out for his comic and empathetic performance as Lemml
rating
Explore topics
Share this article