Paradise, National Theatre review - war, woe, and a glimmer of hope |

reviews, news & interviews
Paradise, National Theatre review - war, woe, and a glimmer of hope
Paradise, National Theatre review - war, woe, and a glimmer of hope
Kae Tempest's urgent new adaptation of Sophocles puts women centre-stage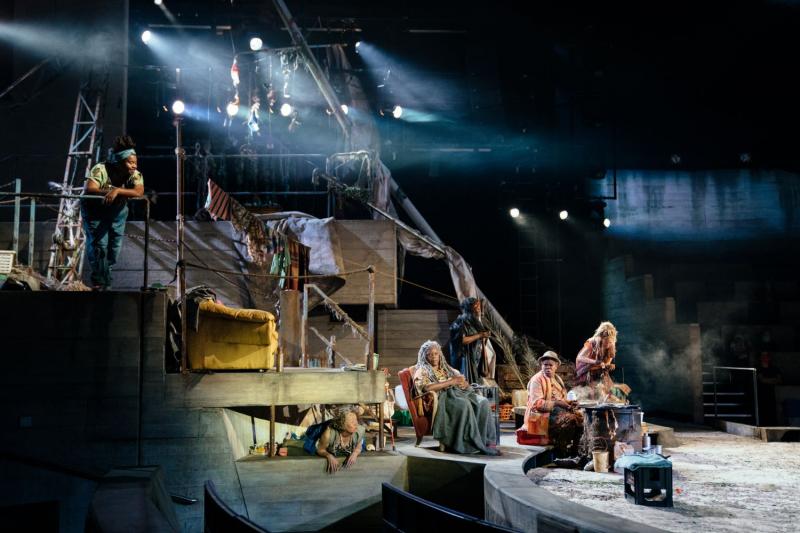 A chorus line: the company of 'Paradise'
Philoctetes, Odysseus, Neoptolemus: the men's names in Sophocles' Philoctetes are all unnecessarily long and weighed down by expectations.
Poet Kae Tempest's lyrical
new
adaptation
for the
National Theatre
focuses on the chorus, spinning out the original's scope to examine the effects of conflict on women – and showing off all their Mercury-nominated wit and wordplay in the process.
The subject matter located us at the end of the Trojan War, after Achilles' death but before the horse comes into play. Philoctetes has been festering on an island for a decade, marooned there by Odysseus after an injury became infected. Unfortunately, a prophet has told Odysseus that Philoctetes is needed to win the war, so he's come back to get him, with Achilles's son Neoptolemus in tow. Sophocles' chorus was a crew of sailors; Tempest's are the women of this island paradise, carving out an existence between tornadoes and civil wars. The soldiers are played by women too. The first man on the cast and creatives list is director Ian Rickson, last seen at this address helming a superb revival of Brian Friel's Translations.
It's the chorus's show through and through. The eponymous hero, played by Lesley Sharp, takes ages to turn up, while the women are with us even before the show officially begins, puttering about the stage, making tea, hanging up laundry. Think Channel 4's The Island with Bear Grylls, but with more pancake-making – the island with bare griddles, perhaps.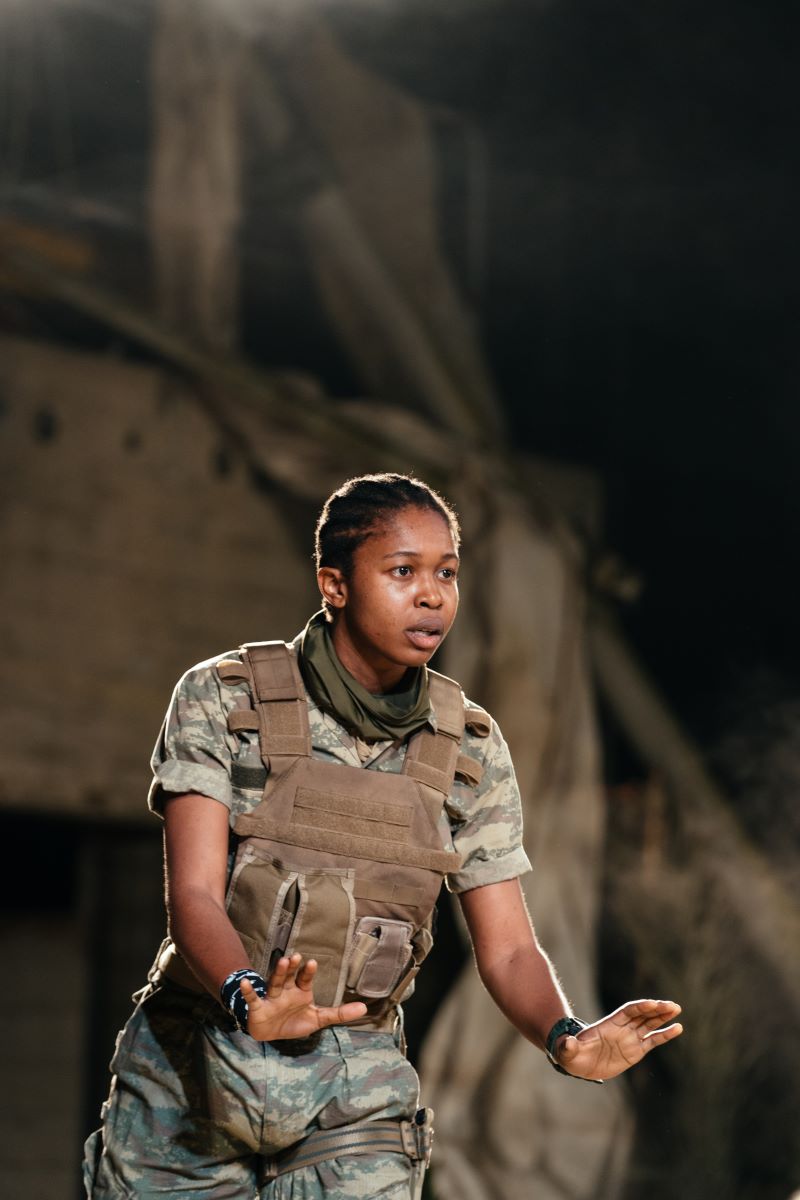 There's a winking sense that the three male characters are performing solely for the chorus's entertainment: at one point, Jelly (Sutara Gayle) asks the others if Neoptolemus (Gloria Obianyo, pictured right) has started acting yet. "I hadn't realised."
The acting is to convince Philoctetes that Neoptolemus is a deserter who wants to take him home to his family rather than back to the front line. Obianyo is incredible, straight-backed and earnest in the face of Anastasia Hille's suitably wily Odysseus. "This will be the making of me," she mutters, trying to convince herself as much as us.

Sharp is hindered at first by her Cockney accent, but soon settles into Philoctetes' bruised swagger. She shapeshifts, moving sometimes like a lion and sometimes like a zombie, dragging her gangrenous leg behind her. Hille and Obianyo metamorphose too, Hille into a mewling infant and Obianyo into a seasoned soldier. The chorus become more defined as individuals. Kayla Meikle's Tayir is the most intriguing: she wants desperately to get off the island, and lays into Philoctetes for daring to believe he has a monopoly on suffering.

Vocalist ESKA is making her professional theatre debut as Aunty, the oldest member of the little community, but you'd never know it. She's an accomplished performer, beating time with her cane on the stage while her powerful voice fills the massive room. Rae Smith's set makes the most of the Olivier's brutalism, inserting another seating bank to give the feel of an amphitheatre crossed with a bunker. It does make you wonder what the other side of the audience are seeing when Neoptolemus urinates on Philoctetes. Masculinity and the ways in which it manifests in the bodies of men are explored remarkably well in a show ostensibly made up of women's bodies.


The original Philoctetes was trapped on Lemnos, whose more recent history as a refugee landing ground finds various references across the stage and throughout the text. The chorus talk about being stuck in camps because they haven't got any papers; Odysseus stole the documentation that would get Philoctetes back home. Tempest's unnamed island has been sold out by its government to a prison company, so the women of the Chorus have nobody to rely on but each other. They roll their eyes when Philoctetes finally deigns to speak to them after a decade of living on their doorstep, but they're still kind to him.

The rot at the heart of Greek tragedy is that everybody is right, and everybody is wrong. It's all about the story we tell ourselves to justify our actions, and how good we are at convincing ourselves we're in the right. Odysseus, scrabbling around on the ground like an animal, implores Neoptolemus to tell people a better story about him than the truth. We know the actual end of Odysseus's story, of course, but Tempest and Rickson do a great job destabilising the Trojan War's familiar narratives. Tempest's point about the general awfulness of modern Britain is shouted a little too loudly, and they could do with cutting a few lines here and there. But this show is slick and polished, and, most importantly, it has teeth.
Lesley Sharp shapeshifts, moving sometimes like a lion and sometimes like a zombie
rating
Share this article