Insignificance, Arcola Theatre review - once-iconic play feels overwrought |

reviews, news & interviews
Insignificance, Arcola Theatre review - once-iconic play feels overwrought
Insignificance, Arcola Theatre review - once-iconic play feels overwrought
The generational torch gets passed in off-kilter Terry Johnson revival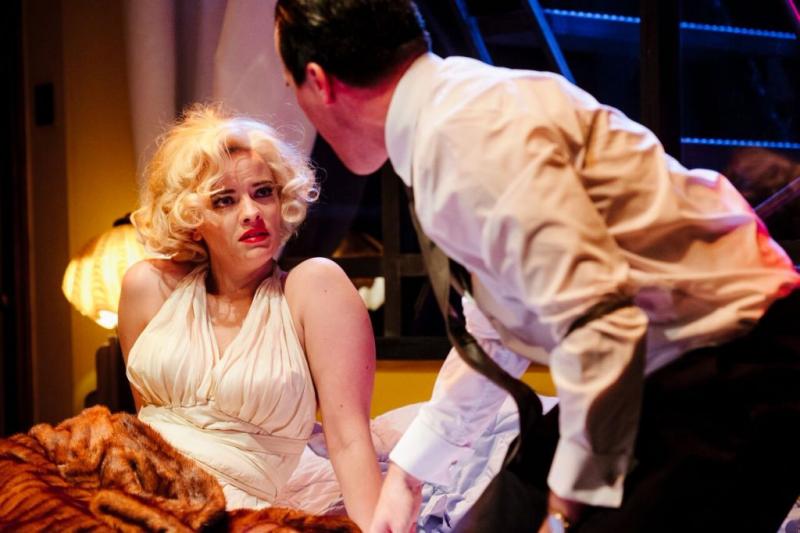 Daddy's girl: Alice Bailey Johnson (left) and Oliver Hembrough in Terry Johnson's 'Insignificance'
Terry Johnson's award-winning 1982 play Insignificance hasn't been seen in London since the playwright directed a 1995 revival at the Donmar (though Sam West staged his own production a decade later in Sheffield).
But even the intrigue inherent in finding Johnson's own daughter, Alice, in the pivotal role of the unnamed actress who is clearly Marilyn Monroe can't steady director David Mercatali's reckoning with the play this time out.
Four hugely distinct icons of American history are thrown together during one eventful 1950s night in Albert Einstein's New York hotel room as he finds himself subpoenaed by Joseph McCarthy, seduced by a starstruck Marilyn Monroe, and threatened by an irate Joe DiMaggio, the Yankees legend who was (briefly) Monroe's husband.
Lofty hypotheses abound as McCarthy challenges Einstein's ideas on the currency of knowledge ("you love knowledge; I like knowing things"), Monroe spouts Einstein's theories back to him, and a gum-chewing DiMaggio – the baseball player pleading with Monroe to return home and start a family – trades notions of fame and legacy with the German scientist himself plagued by lingering guilt over the atomic bomb. This Stoppardesque clash of science, culture, and philosophy conjoins on Max Dorey's set, which blends into the bare brick of the Arcola just as the meeting of these contemporaries similarly blurs imagination and probability.
However, where Johnson uses the contrasting luminaries as a springboard for debate, Mercatali's production remains too much in thrall to the personalities themselves, Simon Rouse's thoughtful and understated Einstein aside. Alice Bailey Johnson (pictured top with Rouse and directly above with Hembrough) too often stifles Monroe beneath a breathless facade, while Tom Mannion's overly amiable McCarthy lacks conviction and Oliver Hembrough's sportsman, DiMaggio, rarely changes gears. At the centre of it all, the superb Rouse watches and listens, grounding the action and providing a welcome counterpoint to performances overwhelmed by the weight of impersonation, however coyly Johnson's text refers to the quartet simply as "The Professor" or "The Actress".
One is allowed enjoyable reversals of stereotype: Einstein's rarely witnessed libido surfaces as he succumbs to a Monroe whose kicks surprisingly come from academia. But the impression remains of a play crackling with an energy that the fussy staging can't match. Thirty-plus years on from its debut, Insignificance proves afresh that not only is time relative but productions are, of course, too.
Insignificance at the Arcola Theatre until 18 November