Jack Absolute Flies Again, National Theatre review - fluffy as a cloud but hugely entertaining |

reviews, news & interviews
Jack Absolute Flies Again, National Theatre review - fluffy as a cloud but hugely entertaining
Jack Absolute Flies Again, National Theatre review - fluffy as a cloud but hugely entertaining
Caroline Quentin leads a sparkling cast in Richard Bean's latest comedy romp
Caroline Quentin, Peter Forbes, Laurie Davidson and Natalie Simpson in 'Jack Absolute Flies Again'
Can a comedy have too many jokes? That may seem an odd question, but one that applies to this latest high-octane, eager-to-please outing by Richard Bean, which flies out of the hanger at such high velocity that it's in danger of crashing before it leaves the runway.
If the play is guilty of trying too hard, and is a tad one-dimensional, it's also fair to say that once it breaks through the clouds and we've taken our seat belts off, Jack Absolute Flies Again does settle into a veritable hoot. With a skilled and hugely likeable cast, it's genuinely funny and charming, spectacularly, beautifully staged, and ultimately quite moving. It may not reach the accomplished heights of Bean's One Man, Two Guvnors, but is certainly another guaranteed crowd-pleaser spawned at the National.
Interestingly, Bean is co-writing with one of his One Man stars, Oliver Chris, who has a light, Forties and Fifties leading man air to his acting that seems to have infused this piece. Together, they've adapted Sheridan's The Rivals, relocating his 18th century comedy of manners from the then upper class social playground of Bath, to a country estate in Sussex at the height of the Battle of Britain, in 1941.
A squadron of Hurricane fighter pilots are using the estate as their base, led by the dashing, pipe-smoking Jack Absolute (Laurie Davidson). The estate's owner is the widow Mrs Malaprop (Caroline Quentin), whose niece Lydia Languish (Natalie Simpson) is a flier herself, with the job of delivering planes to their squadrons. When she lands in Sussex, it's romance rather than war that is on everyone's minds.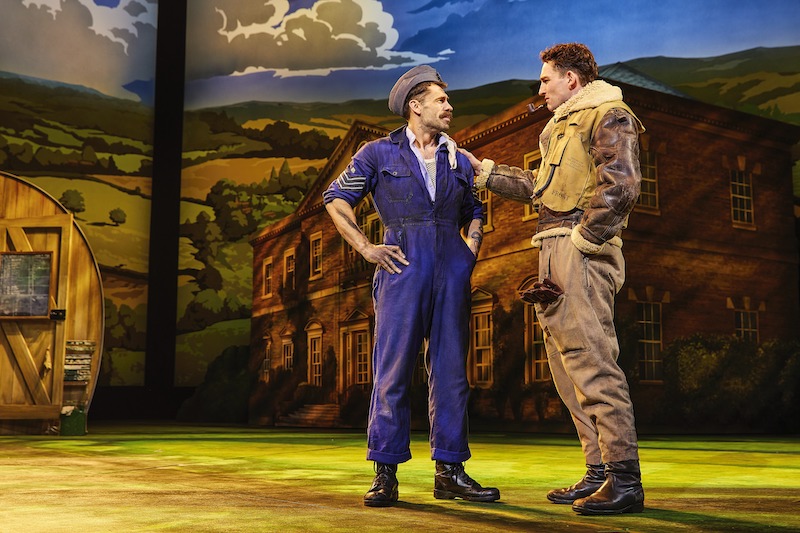 Jack is smitten with Lydia, after a former, brief dalliance during a dance contest. He's quickly joined by fellow fliers Tony Khattri (Akshay Sharan), a pseudo poet, and naïve and bumbling Australian Bob Acres (James Corrigan). But Lydia isn't interested in any of them, having recently misappropriated some socialist ideals and deciding that she must marry a working man – setting her sights on the squadron's engineer Dudley Scunthorpe (Kelvin Fletcher, pictured above with Davidson). "How charming poverty will be him," she muses, in perfectly crystal diction. Jack's solution: to disguise himself as the moustachioed and constantly mucky Dudley, woo Lydia with a cod Yorkshire accent and then reveal himself; of course, it is hardly thought through.
Meanwhile, Dudley and the Malaprop maid Lucy (Kerry Howard) are in love, their shy courtship about to be rudely disrupted. And Jack's ferocious father Sir Anthony (Peter Forbes), under pressure from the Inland Revenue and desperate to protect his estate, has his own plans for Jack to marry.
It's a merry-go-round that's tailor-made for Bean's brand of farce mixed with a little social comment. Setting it during WWII is an interesting choice, made perhaps because the war drew women out of the home and into the workplace, offering greater agency and independence – though GIs don't feature in the play, their presence was another reason why British men felt themselves to be challenged and under threat by forces other than Hitler's.
Designer Mark Thompson's set is a delight. When the play opens, a 2D Hurricane hangs from the ceiling, its propeller whirring. There's the clever intimation of a country house and a Nissan hut. Another propeller lays on the croquet lawn. The sky is a breezy wash of colour. Throughout, elements move in and out to present us with drawing rooms and billeted bunks. Video designer Jeff Sugg has orchestrated a glorious dogfight that ends the first half, and another nocturnal flight signals the play's ultimate, surprising descent into pathos. Wartime tunes jauntily establish the period.
Malaprop of course has been The Rivals' most enduring character, and it's Quentin (pictured below, with Forbes) who gets the ball rolling with a flurry of tongue-twisters, while breaking the fourth wall – offering to "show you around my piles" and describing her own character: "Mrs Malaprop is a batty old dowager aunt... Imelda Staunton wasn't available."
So we've got 18th, 20th and 21st centuries rolled into one. And with more misused words and smutty double entendres than one can process, for a time it feels just a bit too much – over-egged, trying too hard, too smutty, too shouty. (It's a shame, also, that Bean and Chris never fulfil the subtler, satirical possibilities they've set up: Lydia's patronising presumption is never really pricked.)
While the play struggles, the snatches of physical comedy keep it alive, mostly courtesy of Jordan Metcalfe, whose airman Roy Faulkland is beset by jealous suspicion of his fiancée Julia Melville (Helena Wilson), expressed by the frequent, elastic collapse of his legs. One moment, when he is timidly trying to walk around the immovable presence that is Sir Anthony, is close to comic genius.
It's never dull in these early stages – Forbes presenting a brilliant barrage of bile and bullying as Sir Anthony, and Kerry Howard's maid (the most post-modern of all the characters, constantly alluding to the theatricality of events and her own function in them) has an appealing, rebellious strut about her. It just needs to calm itself. And as the play progresses, more physical comedy is introduced and the other actors start to exert their own appeal and panache.
Stand-out moments include a wonderfully choreographed all-cast jitterbug, during which Davidson and Simpson (she upside down) expertly conduct a lovers' tiff in full motion; a four-men boxing match; and Quentin, who's having a ball throughout, revealing her character's former life with a demonstration of ukulele and the splits.
Director Emily Burns, with the aid of physical comedy director Toby Park, orchestrates the whole with immense verve, as if taking one of Mrs Malaprop's observations very much at face value: "flatulence will get you everywhere."
It's a merry-go-round tailor-made for Bean's brand of farce mixed with a little social comment
rating
Explore topics
Share this article