Jezebel, Soho Theatre |

reviews, news & interviews
Jezebel, Soho Theatre
Jezebel, Soho Theatre
Irish sex comedy plays it safe with cosy sitcom laughs
Plus one: kooky Jezebel (Valerie O'Connor) livens up a dwindling romance
If comedy is tragedy plus time, either too much has elapsed since the fictional events of Jezebel, or not quite enough. Newcomer Mark Cantan's uneven screwball comedy pitting a methodical couple against a scatter-brained opposite with wacky misunderstandings aplenty, lacks the emotional heft to be more than genially inconsequential. And it's too enamoured of the old-fashioned TV sitcoms it references to subvert rather than merely replicate their well-worn tropes.
Add a classic living-room set, direct address to camera - sorry, audience - and audible pauses for laugh track, and you get something of a medium mismatch.
The disconnect is exacerbated further by the show's length, stretching a half-hour sketch into an 80-minute play. Lynne Parker's gently meandering production lacks the injection of pace required for a farcical crescendo, as well as the stakes to make us invested in the outcome. There's plenty of potential for crisis in this tale of a sexually adventurous threesome with unexpected consequences, yet instead of meaty conflict, Jezebel serves up a series of circumventing comic contrivances. It's a perfectly sensible tactic for the sitcom writer who must return to the status quo for next week's instalment, rather more peculiar for the playwright creating a one-off piece. Three's company, and most amiable company at that, but after a prolonged build-up, we are due a more satisfying climax.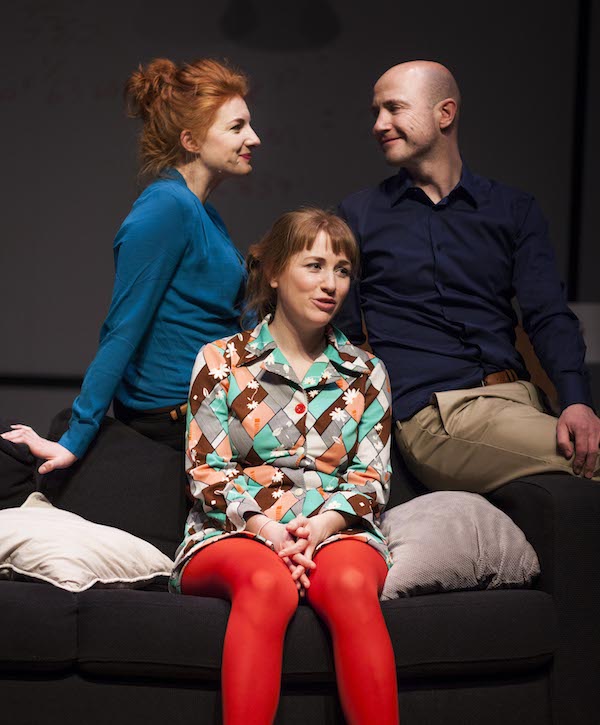 A game cast (right) does well to add value with effective conjuring of a world beyond their visible surroundings. The courtship scenes between proactive, problem-solving Robin (Margaret McAuliffe) and eager geek Alan (Peter Daly) offer a pleasing combination of precise interaction from the cohesive pair and Valerie O'Connor's wry commentary. Even better is the reverse, with O'Connor showing impressive range as downtrodden artist Jezebel – in contrast to her powerful seductress namesake. She suffers a series of humiliations, including being dumped by a recently incarcerated drug dealer. Her awkward, one-sided flirtation with a colourful loser is excruciatingly funny, and just empathetic enough to be subtly heartbreaking.
More could be made of the competing world views, with glimpses of Jezebel's hippy-dippy creative life and Alan's fascination with statistical analysis; the latter offers an interesting take on the randomness of human connection, while the former provides the sharpest humour in the form of unseen character Julia, Jezebel's monstrous avant-garde artist frenemy. There's also a promising undercurrent of yearning left undeveloped, with the absorbing complexity of building successful relationships swapped for a hasty conclusion that was radical in Coward's 1932 Design for Living, but rather tame now.
Jezebel is a sweetly inoffensive, dateless play – note the strange absence of technology, surely a significant factor in contemporary sexual exploration – and will doubtless charm fans of lightweight comedy (it's essentially Friends with benefits). But for those seeking a dramatic experience that rocks their world, this quick cuddle and peck on the cheek may disappoint.
Jezebel is at Soho Theatre until 31 August
After a prolonged build-up, we are due a more satisfying climax
rating
Share this article