& Juliet, Shaftesbury Theatre review - the Bard with dancefloor bangers |

reviews, news & interviews
& Juliet, Shaftesbury Theatre review - the Bard with dancefloor bangers
& Juliet, Shaftesbury Theatre review - the Bard with dancefloor bangers
The heroine seizes the mic in this Shakespeare-inspired jukebox musical
Thursday, 21 November 2019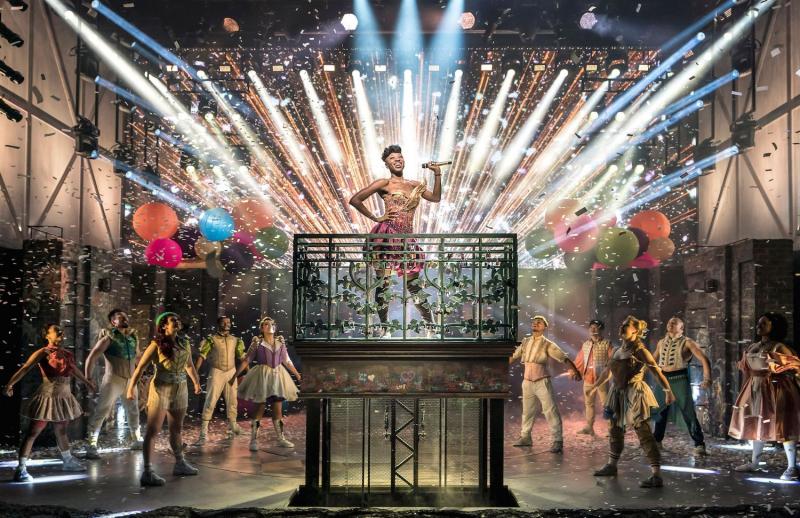 Miriam-Teak Lee sings up a storm in the title role
It's bright, it's brash, it's a gazillion times camper than Christmas: but is it such stuff as theatrical hits are made on? If that misquotation is already making you cringe, then this glittery pop juggernaut probably isn't for you – but it is, unashamedly, Shakespeare for the generation that grew up on TV talent shows.
Created around the back catalogue of Swedish songwriter Max Martin, it's a reworking of
Romeo and Juliet
that gives the tragic teenage heroine's story an irreverent, 21st-century spin.
The result is a jukebox musical with the broad humour and feelgood fairytale sentiment of a pantomime, plus a generous dash of The X Factor in its parade of bombastic production numbers. Even the biggest fan of Britney Spears, Ariana Grande, Katy Perry and the Backstreet Boys, whose dancefloor bangers are all included here, might baulk at book writer David West Read's hyperbolic suggestion in the programme that Martin is Shakespeare's musical equivalent. And the truth is that & Juliet is, for all its iconoclastic swagger and progressive political cheerleading, neither cool nor especially edgy. It is, though, rambunctious fun, with a storming star performance by the astonishing Miriam-Teak Lee that joyously celebrates young women everywhere – or, as one of the cast of hyper-energised young supporting players puts it, "female empowerment – sick!"
Directed by Luke Sheppard, the inconsequential action is swift and tight, while Jennifer Weber's choreography keeps the bodies spinning, slamming and popping. And the design is crammed with cartoonish wit. Soutra Gilmour's neon-embellished set sees Juliet swinging from a pink chandelier and soaring skyward on a bejazzled balcony, which she mounts as if it were a rock diva's throne. Paloma Young's costumes team doublets, bodices and farthingales with denim, trainers, bomber jackets and Doctor Martens.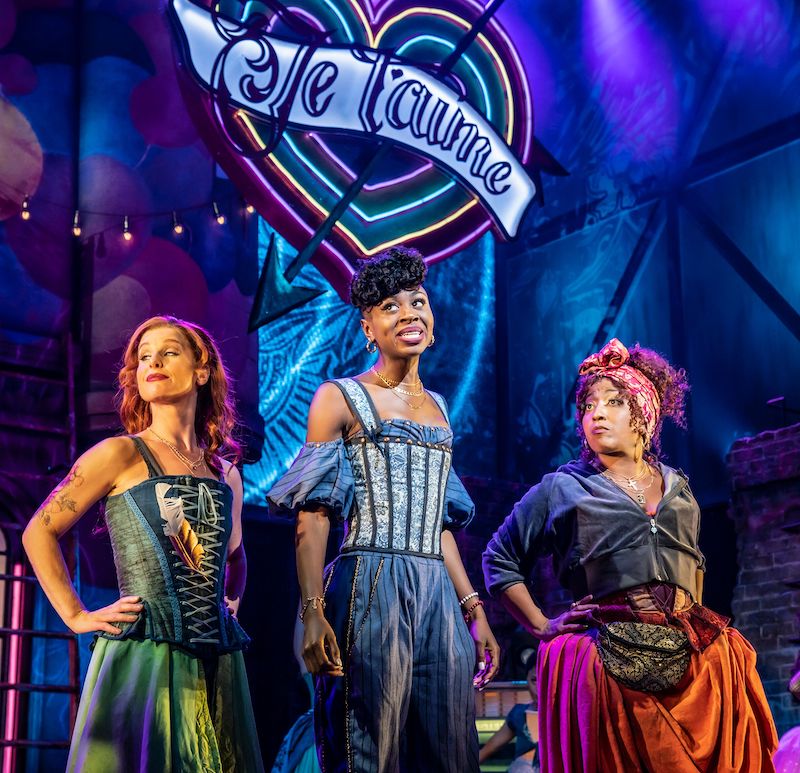 Shakespeare himself (Oliver Tompsett) makes his entrance rising out of the stage like a rock god, quill in hand in place of a mic. He's just finished his latest, a drama of star-cross'd lovers – but his sharp, sassy wife, Anne Hathaway (Cassidy Janson), has some issues with the plot. What if Juliet didn't die at the end after all? In Anne's rewrite, Lee awakens next to her boyfriend's corpse and, rather than dispatching herself with a dagger, bursts, in one of the production's many moments of knowing bathos, into the opening refrain from Britney's "…Baby One More Time": "Oh baby, baby, how was I supposed to know?" She doesn't waste much time grieving, especially as it turns out Romeo spent a lot of time hanging around numerous other girls' balconies. Instead, she runs away to Paris – where she crashes a ball that Cinderella would envy in search of adventure, romance and a sense of self.
It's glorious to see Lee, a stunningly talented black performer, reinvent such an iconic role. West Read's book combines groan-worthy gags with snatches of verse, often to entertaining effect, and there are some clever details – Juliet's non-binary bestie May (Arun Blair-Mangat) nods to modern gender politics as well as Shakespeare's cross-dressing characters. Juliet's Nurse (Melanie La Barrie, pictured above right, with Janson and Lee) gets her own love story too, in a liaison with a French nobleman, Lance, played with huge comic elan by David Bedella. The novelty of the overall concept quickly wears off, though, leaving the show feeling rather aimless: having found her freedom, Juliet doesn't do anything hugely exciting with it, beyond a dalliance with Lance's son Francois (Tim Mahendran). And the songs, with their sheen of commercial efficiency, may be catchy, but they're ultimately generic: too flimsy, and too shamelessly crowbarred in, to bear much genuine dramatic or emotional weight. Disappointingly, there's little here of the kind of firebrand passion that blazed through Morgan Lloyd Malcolm's recent play Emilia, in which the Dark Lady of Shakespeare's sonnets triumphantly seized control of the narrative.
Still, the cast give it (to use Saturday night telly parlance) 110 per cent. And anyone buying a ticket didn't come to think too hard – they came to punch the air and party. On that level, this exuberant musical undeniably delivers.
It's rambunctious fun, Shakespeare for the 'X Factor' generation
rating
Explore topics
Share this article