King Lear, Shakespeare's Globe review - eviscerates emotionally while illuminating a society rotten with lies
King Lear, Shakespeare's Globe review - eviscerates emotionally while illuminating a society rotten with lies
The disconnect between rhetoric and genuine meaning feels very contemporary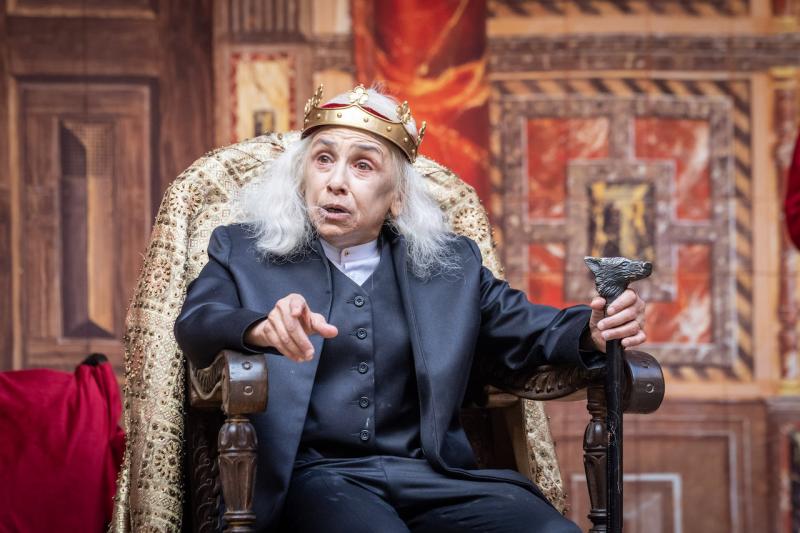 The power of contradictions: Kathryn Hunter as Lear
Kathryn Hunter's performance as Lear forges its heat from contradictions. She is as frail as she is strong, as detestable as she is loveable, as powerfully charismatic as she is physically diminutive. That she is a woman playing a man is the least extraordinary aspect of what she achieves in this production.
This is a
Lear
that eviscerates emotionally at the same time as it illuminates the fragility of a society rotten with corruption and lies.
Hunter famously first played Lear in 1997 at a moment when discussions about gender and identity were at a very different level to where we are now. Yet even then, she and her director Helena Kaut-Howson were explicit that while casting a woman as Lear felt more radical, they weren't making a feminist statement so much as exploring the universality of what Lear means.
That sense of using her life experience to explore every subtle nuance of the text perpetuates here; seeing her return to the role is not unlike, say, watching Glenn Gould revealing different interpretations of the Goldberg Variations throughout his career. Here we see someone responding not just to the fear of cognitive decline, but to the way our perceptions of ageing and vulnerability have been rewritten by the ravages of the pandemic.
One particularly powerful point is in the iconic moment when Cordelia refuses to assert her love; in Lear's bewildered anger we see her unsure whether Cordelia's words are a straightforward defiance of expectation or a cruel hallucination induced by dementia. At a later point in Act I when she declares "Does anyone here know me?" we see the absolute terror of an individual who is not even sure if she knows herself.
As in 1997, Kaut-Howson directs. In an interview in the programme she explains that where for Hunter this is the continuation of a process that has included playing the Fool for the RSC, for her it's "the end of a journey". Yet there's no sense of collapse in this vivid, pared-back production. While an accident has meant that Kaut-Howson could not attend the last two weeks of rehearsals, the relatively minimal effects mean that the performances and language are allowed to do the heavy lifting.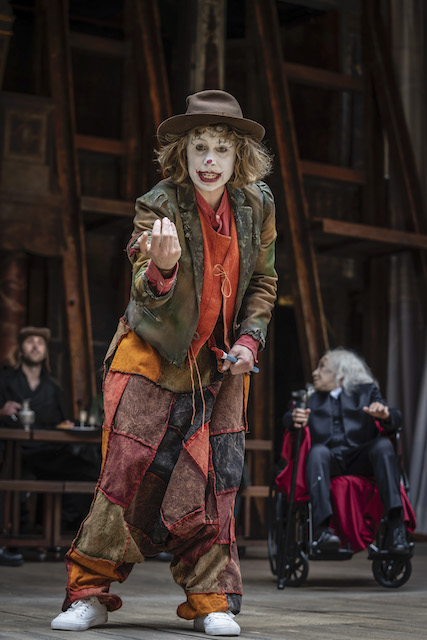 With a cast this talented, that pays off. Though the allusions to today's politics are much more subtle than in the Globe's gleefully obscene Henry VIII, when the play explores the disconnect between self-serving rhetoric and genuine meaning the contemporary resonance feels clear. As one character after another is sickened by the weasel words of those in power and takes to the heath, once more we see our fractured world reflected in Shakespeare's imagination.
Beyond Hunter's resonant central performance, Ryan Donaldson's Edmund stands out for his anarchic charisma, epitomised not least by the contempt with which he imbues the word "legitimate". Ann Ogbomo's Goneril is strong and dignified – we see both the grit and the pain when Lear tries to curse her with sterility and how this in turn leads to the actions that follow. The Globe's Artistic Director Michelle Terry plays both Cordelia and one of the most melodious Fools I've seen (pictured above); in the latter role especially she exudes a humanity that gives the "jokes" full resonance. Meanwhile as Edgar, Kwaku Mills translates compellingly from guarded geek to feral protester.
Given Hunter's Complicité pedigree it's worth reflecting on the physical detail of her performance, not least since her husband and Complicité co-founder Marcello Magni is a creative collaborator here. There's one particularly strong point when you feel the full force of her former power as she starts to move slowly and rhythmically and the whole court echoes her movement, as if controlled by her tempo. At other times it's simple gestures like the way her whole body curves over to listen to Edgar as Poor Tom. In such muscular attentiveness we see the fellowship she feels with his sense of rejection and resulting insanity.
For the political inevitably translates into the personal, and this is a production in which, overall, the sense of lost love is as damaging as any deeper corruption. One of the most poignant moments of the evening is watching Edgar's/Mills's face as he watches his father believing he is about to throw himself off a cliff. In a regime where cynical rhetoric allows the unscrupulous to do as they want, for victims oblivion can seem preferable to reality. Through such telling details we see a whole world implode.
Minimal effects mean the performances and language are allowed to do the heavy-lifting
rating
Explore topics
Share this article