Lava, Soho Theatre review - silences, secrets and lies |

reviews, news & interviews
Lava, Soho Theatre review - silences, secrets and lies
Lava, Soho Theatre review - silences, secrets and lies
James Fritz's play explores the spoken and unspoken ripples of grief with fine naturalism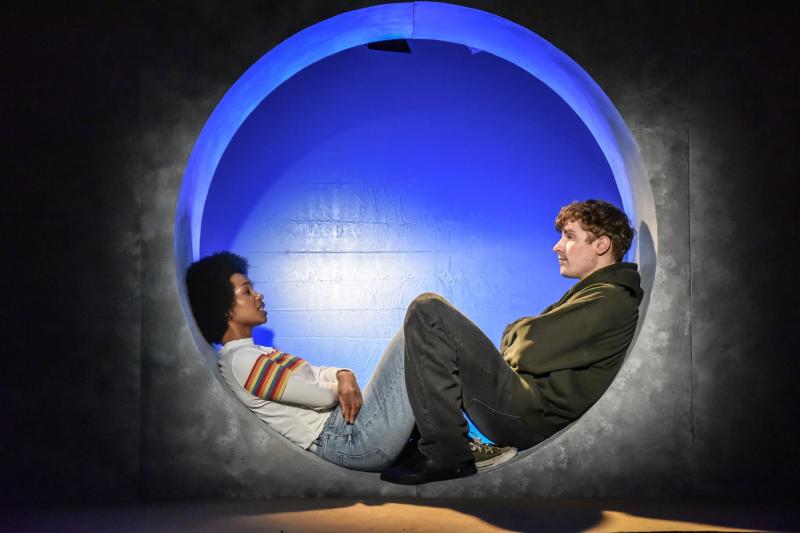 Circle of communication: Bethany Antonia and Dan Parr
The title of James Fritz's play is allusive, oblique even. I assume it refers to how, in the aftermath of a catastrophe such as an erupting volcano, it's the lava that spreads outwards, changing the form of the surrounding landscape. It's not the epicentre of the disaster, but its adjoining regions, where the impact of what has happened can begin to be assessed.
Indeed "Time since impact" is almost the first phrase projected onto the back wall of Amy Jane Cook's set, where new texts appear beneath the five chapter-like headings that divide the action, following the stages of grief – denial, anger, bargaining, depression and acceptance – as articulated by Elizabeth Kubler-Ross in On Death and Dying (video design, Louise Rhoades-Brown). The background to Fritz's play is an asteroid hitting North London, though the potency of its idea lies in its closeness to other real-life situations, the pandemic certainly, the war in Ukraine even. But Lava was first staged in 2018 at the Nottingham Playhouse (which along with East Midlands company Fifth Word presents this London revival and subsequent tour), so Fritz was dealing with an archetype.
His drama initially appears to be engaging with the varied nature of grief, and of strategies for consolation, though a half-way revelation upends any simple expectations. At the heart of the story is Vin, who has been struck into silence, literally into mutism, by what has happened, and the sensitive patience with which two women – Rach (Bethany Antonia), a former colleague at the call centre where he obviously can't work anymore, and his mother Vicky (Kacey Ainsworth) – engage with him, trying to coax him back into contact. Dan Parr's pained face work and anxious handwringing are eloquently expressive, though Vin's silence is relative, linked to the degree of emotional engagement he is prepared to give; as much, it seems, fear as shock. When Rach introduces a certain intimacy to their contact, he progresses to communication through text messages, but only with her.
The arrival of Rach's relation Jamie, who also lost a parent in the London disaster, broadens the range of Fritz's observation, as well as bringing out his skill with comedy. Oli Higginson (pictured above, front) plays the role with an assurance that's the diametric opposite of Vin's reserve: he's over-articulate in expressing his grief, almost ludicrously self-possessed, with an entitlement that comes partly from his class. There's a keen sense of social nuance here, with the play's action set in an unnamed town, presumably in the North, a world away from the capital.
It's an achievement of both actor and playwright that Higginson delivers considerably more depth than that element of satire in his role might suggest: there's a single scene, very funny, when Jamie gets his hands on a guitar, that comes close to the excruciating. But Lava is strongest in how it catches the understatement in these characters' relationships; the writing achieves an "occasional" quality, with a casualness of naturalism that creates its own dramatic (or, actually, un-dramatic) form. There's a lovely sense of the rhythms of everyday speech that's caught particularly well in Bethany Antonia's performance as Rach, who has her own "mountains of the mind" to engage with, another reaction, however less stark, to the primal tragedy that has affected this small world. And the tenderness, in the female characters especially, can be poignant.
The simplicity of Amy Jane Cook's design – centred on a circular hole cut in the back wall, with another dug into the earth at stage front – defines this space where absences are felt as keenly as presences. Laura Ford and Angharad Jones's direction allows Lava's humour to flow with real spontaneity, and feels very nicely attuned to the nuances of a piece in which silences can speak more potently than any utterance.
The drama initially appears to be engaging with the varied nature of grief, and of strategies for consolation
rating
Explore topics
Share this article