The Lie, Menier Chocolate Factory review - fake news, real feeling |

reviews, news & interviews
The Lie, Menier Chocolate Factory review - fake news, real feeling
The Lie, Menier Chocolate Factory review - fake news, real feeling
The war on facts takes marital form in Florian Zeller's comedy
Tough love: Alice (Samantha Bond) challenges Paul (Alexander Hanson)
A year after premiering acclaimed French playwright Florian Zeller's The Truth, the Menier Chocolate Factory now hosts The Lie – which, as the name suggests, acts as a companion piece of sorts.
Once again, we're in a slippery Pinteresque realm, the seemingly conventional domestic set-up teasingly deconstructed as Zeller challenges our conception of honesty and morality.
This latest Lindsay Posner-directed import is similarly light-hearted – compared with the weightier Zeller double of The Mother and The Father – and once again features two affluent couples, with the same names, plus deceit, doubling, infidelity, and an escalating series of revelations. Alice (Samantha Bond) tells husband Paul (Alexander Hanson) that she suspects Michel (Tony Gardner) is cheating on his wife Laurence (Alexandra Gilbreath), but Paul doesn't think they should tell her. (The cast pictured below)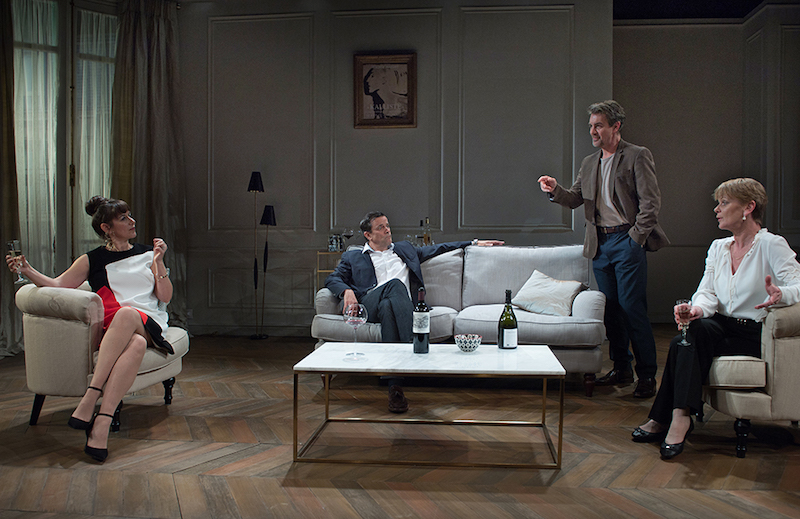 Paul believes lying is in fact a sign of friendship, or of love. The idea is repeated in different ways: lying is actually tact, keeping a secret, kindness, or discretion. Does marriage really mean being "true", in both senses of the word? Zeller puts that idea to the test as Alice and Paul break their pact of mutually assured destruction by challenging one another to make devastating confessions.
Again and again, "truth" is twisted out of our grasp: lies are made to sound plausible, then absurd, then so absurd that they must be plausible. Even the climax is a trick. Zeller tempts us into complicity – whether approving of publisher Michel's wish to spare his writers' feelings, drawn into the panicked attempt of a dissembler to maintain their pretence, or the questioner to peel it away, or bearing witness to the hurt and recrimination that follows in the wake of the latter's success.
There are enjoyably French touches retained in Christopher Hampton's fluid translation – "Let's try to be philosophical about this, shall we?" protests Paul; Michel is horrified that he spoke of lovers to his wife rather than his friend – as well as a more universal interrogation of objective fact (more potent now than when the piece was originally staged in 2014). Is truth worth protecting, or is it only important what we believe, and how that dictates our behaviour to one another?
Zeller remains fascinated by appearances – an aptly theatrical concern. Anna Fleischle and Loren Elstein's achingly chic set and costumes, respectively, engender serious lifestyle envy, from the monochromatic Paris apartment to Laurence's sleek Mondrian-esque dress. Paul's initial dismay is less to do with adultery, more that Alice breaks the social contract by attempting to cancel a dinner party – after he's already opened both bottles of good wine! – and that her behaviour leads to the vulgarity of his sleeping on the sofa. Both keep stating that they're calm, as if manner of speech were more important than its content.
All of which makes this a wry intellectual exercise, if somewhat distancing, even frustrating, drama. But a late casting change does create a metatheatrical frisson: Hanson drafted to play opposite real-life spouse Bond. Excellent in The Truth, Hanson (pictured above with Bond) again proves marvellously adept at handling the inept liar's flustered deflection; his series of "Hmm?"s, playing for time, are particularly funny. The odd line flub aside, he seems entirely comfortable in the role – and, naturally, with his scene partner.
Bond finds a reflective absurdity in Alice, who goes from worrying a sofa cushion in her anxiety to incensed that someone in their web of deceit might have outplayed her. The couple conveys some of the emotional cost of this high-stakes gamesmanship, and there's effective work from Gardner and Gilbreath as the seemingly nonchalant parallel pair. Zeller's piece might be comparatively soufflé-light, but it's immaculately played.
A late casting change creates a metatheatrical frisson: Hanson drafted to play opposite real-life spouse Bond
rating
Share this article