Liolà, National Theatre |

reviews, news & interviews
Liolà, National Theatre
Liolà, National Theatre
Irish charm and good ensemble work just about carry off Pirandello's Sicilian trifle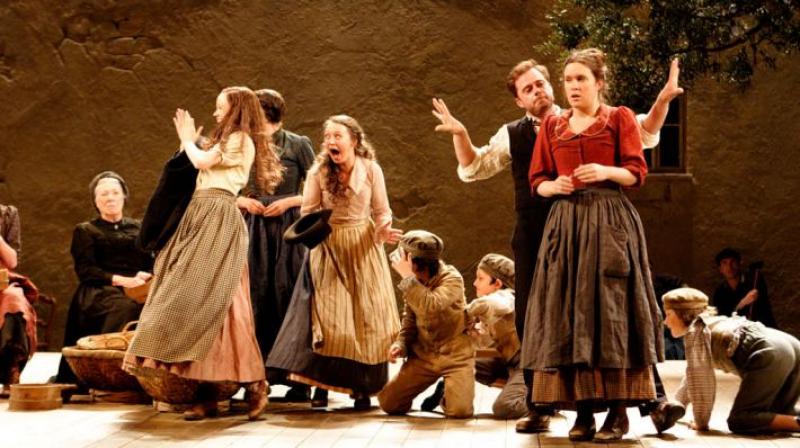 Rory Keenan's Liolà tries to relax mother-to-be Tuzza (Jessica Regan) while matriarch Gesa (Rosaleen Linehan) looks on
Sicilian location, Irish populace, Balkan Roma music: Richard Eyre's production of a Pirandello bagatelle could easily have turned into the kind of Europudding more common in cinema. That it fairly dances over the pitfalls is due partly to a well-calibrated ensemble, but above all to the fact that the great Italian playwright made an exception to social commentary and searching examination of the human condition, coming up instead with a piece of fluff about babymaking village-style.
Happy-go-lucky local stud Liolà (Rory Keenan) – the name translates as "here or there" – breeds too many children but has the decency to bring them up under his mother's roof, while rich old bastard Simone (James Hayes) can't produce any and has the nerve to pin it all on his young wife Mita (Lisa Dwyer Hogg). Two seeming wrongs make up a right, and all's reasonably well that ends well.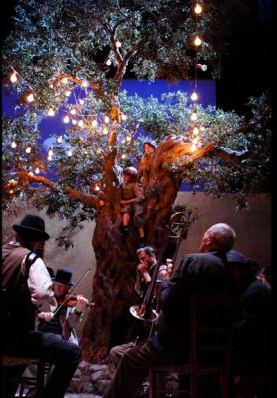 Translator Tanya Ronder, who notes in her programme article that Pirandello may have created a fantasy of fertility at a time when his marriage was at its worst, finds no special felicities in the language which drives it all along, but the cast turns on the Irish charm to try and give the not especially sympathetic characters vitality. That's particularly true of Keenan's sunny, sexy Liolà, the contralto-toned Rosaleen Linehan as wry matriarch Gesa and Eileen Walsh, rollicking as a naughty neighbour. The trios of kids and young girls add a sense of spontaneous vivacity. Aisling O'Sullivan as the manipulative mother of the girl bearing Liola's latest child can be shrill and strikes a few false notes, while Dwyer Hogg is a bit too brittle for the thwarted Mita and her words, like those of several others, can't be heard in the songs.
Which sometimes beguile, sometimes not, in Orlando Gough's romany settings; but the company number with its "ninna nanna"s in the last act is certainly catchy. The six-strong band is flawless and operates on a conventionally handsome stage set by Anthony Ward, who proves that a long wall, an olive tree and a sky the changing lights on which Neil Austin captures well are all that's needed (pictured). Running at just over a swift unbroken hour and a half, this is pleasant summer entertainment, though weirdly you might take more nourishment from Rodgers and Hammerstein down the road in Southwark or over the river in Regent's Park. And just before the show I laughed much more at the Beano exhibition just along the South Bank.
The six-strong band is flawless and operates on a conventionally handsome stage set by Anthony Ward
rating
Share this article