Little Baby Jesus, Orange Tree Theatre review - an early play thrillingly alive for now |

reviews, news & interviews
Little Baby Jesus, Orange Tree Theatre review - an early play thrillingly alive for now
Little Baby Jesus, Orange Tree Theatre review - an early play thrillingly alive for now
Arinzé Kene play from 2011 packs a renewed punch
Thursday, 24 October 2019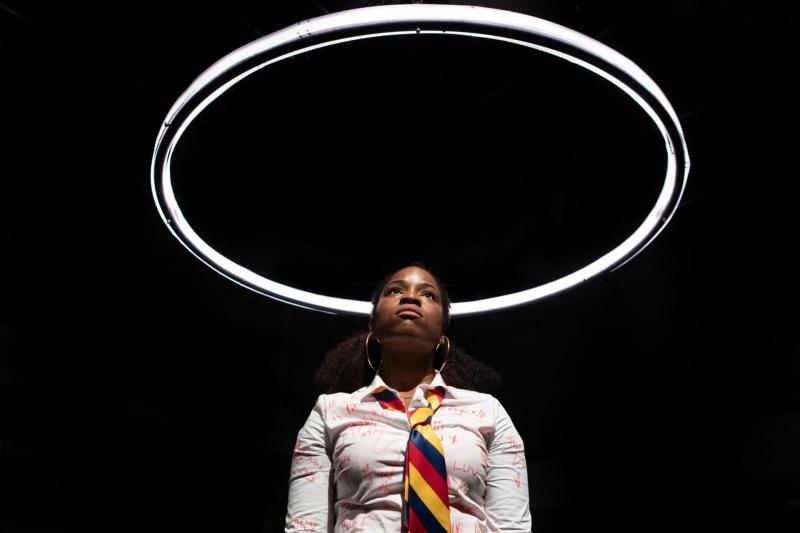 Spewing sass: Rachel Nwokoro in 'Little Baby Jesus'
Time has been not just kind but even crucial to Little Baby Jesus, the 2011 play from the multi-hyphenate talent Arinzé Kene, who since then has gone on become a major name on and offstage: the West End transfer of his self-penned Misty brought him dual Olivier nominations earlier this year as writer and actor, and he segued from that to playing the volatile s
on Biff in
Death of a Salesman
at the Young Vic.
All of which means that catching this play at this point in Kene's career is to witness an embryonic creative chomping rabidly and electrically at the bit. As is often the case with actors who turn to writing, Kene lets words pour forth from his characters' mouths as if anticipating the energy rush that actors will derive from speaking them. That's certainly true of JMK Young Director Award Tristan Fynn-Aiduenu's tight and uniformly terrific cast of three, who are busy chatting up the audience before the show has even begun. The funky vibe extends to their apparel: all three actors are wearing shirts covered with chat and phone numbers and the like. (The words "cussing queen" are visible on one character's back.)
The adrenalin rarely abates in a monologue-driven play peppered with numerous verbal and physical riffs that give the production the feel of a language-led dance. Telling of a trio of inner city London teens caught at a catalytic moment of growing up, the play cleverly intertwines their separate narratives on its way to a poetic epilogue that comes with an exhortation to the audience. The shifts in tone – raucous, then reflective – are beautifully managed. 16-year-old Kehinde (a sweet-faced Anyebe Godwin) starts things off with his admission, at once comical and candid, of "mixed-race-girl syndrome".
Confessing to having wanted to be mixed-race himself, Kehinde, we soon learn, is one of twins and comes to seem an innocent abroad in a sometimes unforgiving world. That said, his recollection of "fingering" a date may come as a jolt to those Orange Tree patrons who still remember when this playhouse was drawn primarily towards Bernard Shaw and his ilk. (In fact, Shaw's Candida is the next play in the season.) As with their recent, and very fine, production of Blood Knot, this theatre and its artistic director, Paul Miller, are to be commended for widening the repertoire in ways one wouldn't have thought possible, their earlier premiere of Branden Jacobs-Jenkins's An Octoroon alerting audiences to expect the unexpected.
A wide-eyed Khai Shaw (pictured above centre) is an immediately likable Rugrat, the class clown whose story nods unexpectedly towards Edward Bond's Saved, and Rachel Nwokoro fairly spews sass as the take-no-prisoners Joanne, a manic-depressive whose family issues could fuel a play all their own. With the mere snap of a finger, one actor will pass the storytelling baton to another, as the performers adopt multiple personalities to inhabit the characters within the stories being told. Tara Usher's tarmacked set is lit by a shifting disc overhead that comes to acquire halo-like force as the play moves towards an ending that might prove a bit too self-consciously "written" for some after the knockabout feel of what has gone before. Still, Godwin's Kehinde could be speaking for the evening as a whole when he refers to "zing zing zing", at which moment one thinks, why stop the "zing"s at three?