London Wall, Finborough Theatre |

reviews, news & interviews
London Wall, Finborough Theatre
London Wall, Finborough Theatre
Sparkling revival of John Van Druten's play about the lives and loves of City workers
Saturday, 02 February 2013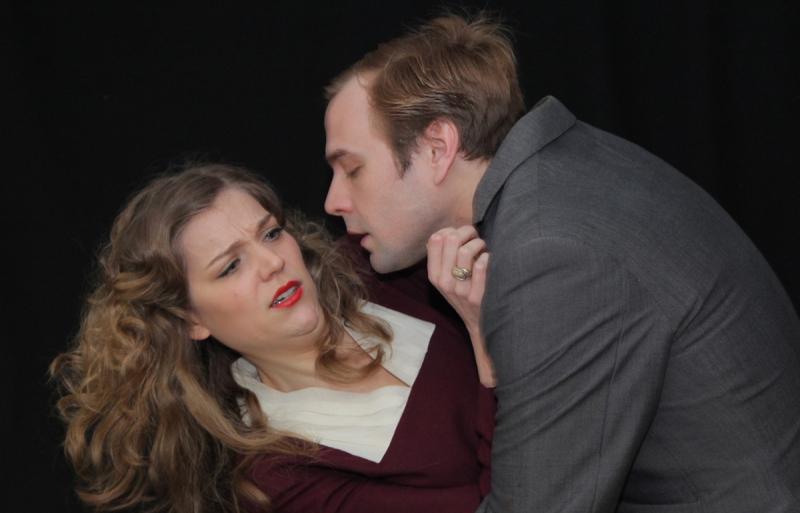 An ardent Mr Brewer (Alex Robertson) pounces on Miss Milligan (Maia Alexander)
The walls of the staircase to the Finborough Theatre off the Earls Court Road are lined with framed awards. Downstairs for the umpteenth time, the café/restaurant has gone bust. But no other London fringe theatre has achieved such stellar success as this tiny pub theatre under the helm of its restless, irrepressible artistic director Neil McPherson, who has made a cottage industry out of discovering forgotten gems.
This time, in cohorts with Tricia Thorns's excellent Two's Company, they've come up with an absolute charmer, John Van Druten's London Wall. Van Druten's claim to fame rests mainly on his adaptation of Christopher Isherwood's short stories, I Am a Camera (1951), which became the basis of Cabaret. In his day, however, in the 1930s and '40s, Van Druten was one of the most successful West End and Broadway playwrights. London Wall – made into a film with a young John Mills (1932) and later televised (1963) – charts the dilemmas of the single office girl with wry humour and rare insight (Alix Dunmore and Cara Theobold, pictured below).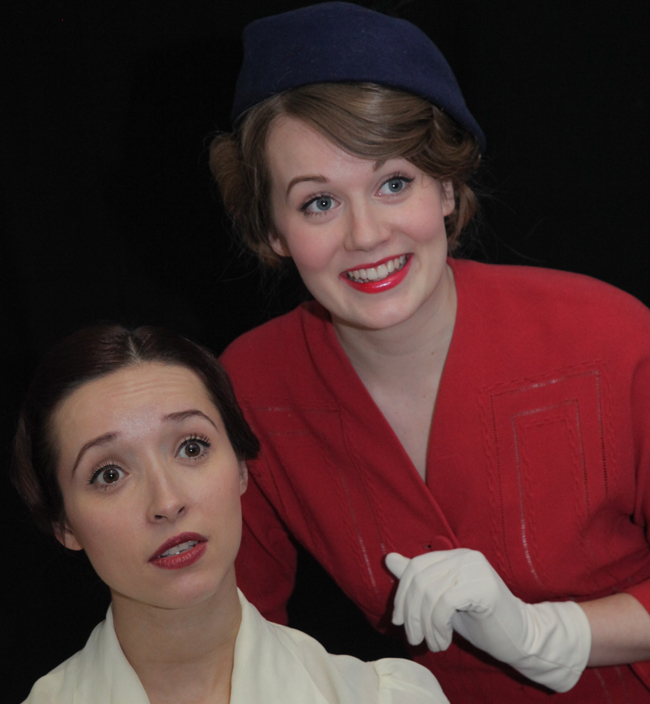 Set in the 1930s, the extraordinary thing is that 80 years on, notwithstanding bursts of feminism, the Pill and loosening of social corsets in all directions, much of the discussion between its workers could still be transplanted to the present day. Lowly paid employees (more often than not female) still scurry, obeying a "lord and master" in fear of losing their jobs. Talk over lunch and tea breaks is still of who is going out with whom, who may be near to getting their man to the altar, and who has just been jilted. It could be Mad Men but 20 years earlier; Silk or This Life, with the emphasis not on the lawyers but the unseen typists. And there is, as always, the office lothario, who can't believe any woman wouldn't find him irresistible.
Today the boot would be on the other foot. Young women have many more choices than Van Druten's Miss Hooper, Miss Milligan, and Miss Bufton, for whom being part of the typing pool at the law firm Walker, Windermere & Co serves as merely the hors d'oeuvres to the main course, which is lassoing a husband. Nor would Van Druten's dramatic denouement – the prospect of a 35-year-old being left unmarried – necessarily provoke quite the same sense of desperation as it does here in poor Miss Janus, though with a proto-feminist flourish, Van Druten provides her with something refreshingly more optimistic.
No wonder there were howls of applause at the end. Van Druten may follow a fairly traditional construction line but there is no mistaking the gloss and brilliantine Tricia Thorns brings to her production. Thorns and her producer partner, Graham Cowley – Max Stafford Clark's colleague from the Royal Court and now the Out of Joint company – have built up a terrific track record with previous undiscovered plays about World War One. They are a quietly modest force to be reckoned with.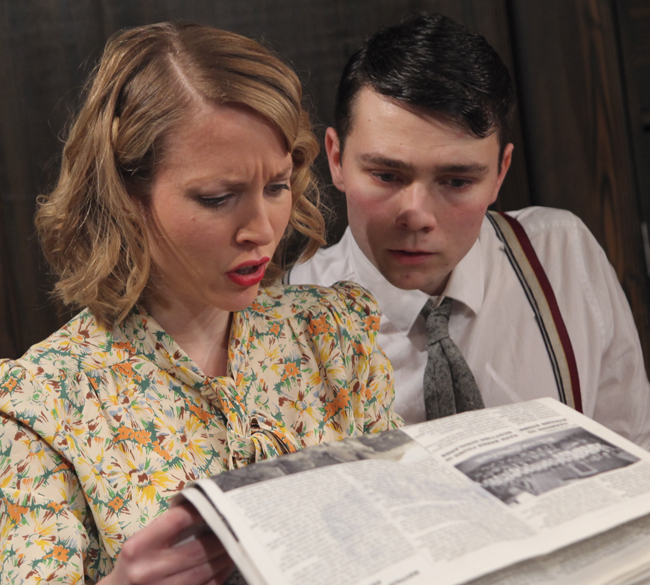 Thorn's hallmark is the detailed realism with which she creates a given period. You see it here not only in the frocks and suits, the female shoes and the old plug-in telephone exchange, but - with amazing ingenuity in such a postage-stamp space - in scene changes which turn tables, bookshelves and the rest inside out, conducted by the company without missing a beat.
It's scintillating stuff, and the acting is perfection. As well as experienced hands such as Marty Cruickshank (as rich spinster Miss Willesden, offering wise words about old age and loneliness despite her alleged battiness) and David Whitworth as the intimidating Mr Walker, you won't see better than Emily Bowker's Miss Hooper (pictured above with Jake Davies), Alix Dunmore's Miss Janus and Cara Theobold's Miss Bufton, with each character idiosyncratically defined. Maia Alexander's Milligan – the object of affection from Alex Robertson's lunging Mr Brewer and Timothy O'Hara's shy Hec – is something very special and a name to watch, genuine youth and innocence conveyed without any cloying or synthetic sweetness. The whole ensemble combines in a sharp reminder of the way things were and the games still played in the gentle arts of life, love and work.
Being part of the typing pool at the law firm Walker, Windermere & Co serves as merely the hors d'oeuvres to the main course, which is lassoing a husband
rating
Share this article